Looking for a way to beat the post-holiday season bulge? Will Jackson and Bennett Murray have a few suggestions to help you get back in shape – from NBA-regulation basketballs to local games.
Basketballs:
Shooting hoops can be a fun way to stay in shape, but not all basketballs are created equal. International Book Centre carries a wide variety of balls, ranging from cheap plastic generics to high quality, NBA-regulation basketballs made of leather. From between $14 to $59.
International Book Centre, #154 Eo Sihanouk Boulevard.
Dumbells:
Want to build muscle but have no time for the gym? Dumbbells provide a cheap, convenient way to work on upper body strength at home. Readily available at stores along Monivong Boulevard near the Central Market, they are priced by the kilogram at Homesport. As with all weight lifting exercises, avoid injury by making slow, steady movements and give your body time to recover between sessions. Cost: $2.50 per kilo.
Homesport, #226 Eo Monivong Boulevard.
Bikes
While you can pick up a Chinese-manufactured commuter bicycle for as little as $20 from the shops near Orussey Market, you're going to need something a little more durable for more serious riding. Flying Bikes 2 stocks a range of Taiwanese GT mountain bikes and Cannondale road bikes starting from about $350 for a basic GT Aggressor up to $10,000 for the limited edition Peter Sagan green Evo road bikes which was released in conjunction with the 100th anniversary of the Tour de France. The shop has new models in stock every month and already has most of the 2014 models in store along with a full range of accessories such as helmets, locks and lycra clothing so you can look the part while riding.
Flying Bikes 2, #131BEO, Street 51. Phone: 012 727 717.
Sey
One of the most popular ways to pass the time and keep fit in Cambodia is playing sey, sometimes known as jianzi. Similar to Hacky Sack, except with a shuttlecock-esque feathered weight, circles of shirtless men can be seen playing the game on practically every street in Phnom Penh. The basics – keep the sey in the air by any means except for hands – are easy to learn but difficult to master and it is surprisingly vigorous. You'll have worked up a little bit of a sweat up in no time.
You can pick up a sey for a couple of thousand riel at any of Phnom Penh's markets or general stores.
Court hire
Whether you're into football, volleyball or ping-pong there are venues for most any sport available around the city. Many schools are happy to rent out their sports courts and fields – for a price – while several commercial facilities are available. For example the 3g Pop Sports Centre has soccer fields ($20 per hour), volleyball courts ($10 per hour) and ping-pong tables ($2 per hour).
The basketball courts at the Beeline Arena are available for hire (when there's not an event on) for $15 an hour during the day and $20 per hour at night time. You can even play squash at the Murray's Place apartments for $10 an hour with rackets and balls costing $1 each per session.
3G Pop Sports Centre, Assembly Street. Phone: 097 9991 156.
Beeline Arena, Street Keo Chenda (near the Cambodia-Japan Friendship Bridge). Phone: 067 716 565.
Murray's Place #22, Street 197. Phone: 012 948 529.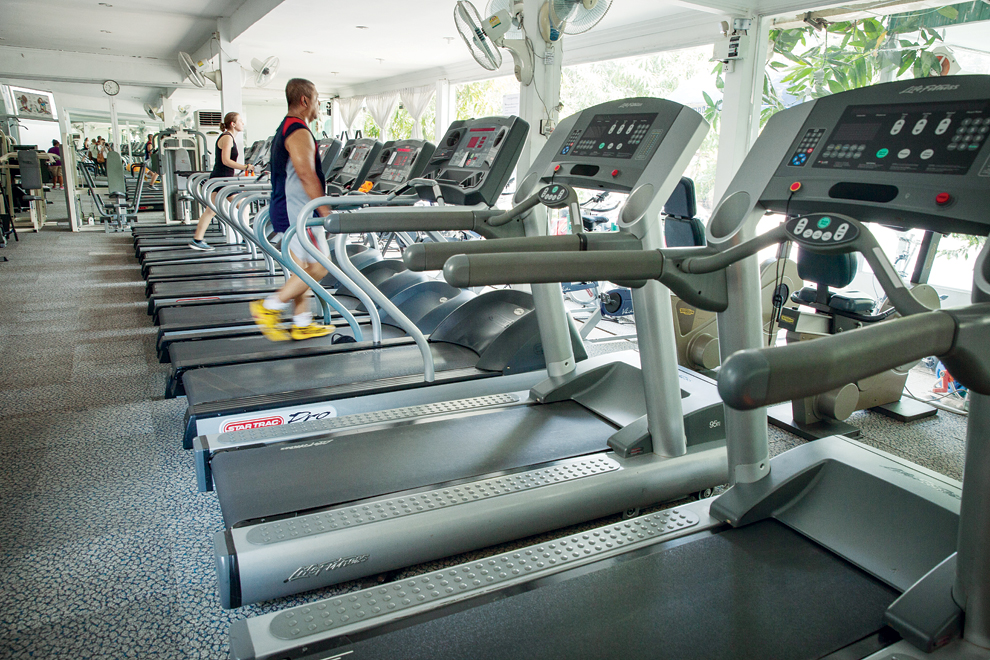 Gym Membership
There are a bunch of gyms in Phnom Penh catering to all sorts of budgets. From rundown operations with barely functional machines and no air conditioning that cost only a couple of thousand riel per visit, up to the likes of the So Fit gym at the Sofitel (which has gym, tennis court and squash facilities) which costs $15 per day or $160 for a monthly membership. A good budget option is the Muscle Fitness Centre (www.musclefitnesscentre.com) which has a range of fitness machines and weights and costs only $4 per visit or $35 for a monthly membership.
Muscles Fitness Centre, corner of streets 95 and 386.
Contact PhnomPenh Post for full article
Post Media Co Ltd
The Elements Condominium, Level 7
Hun Sen Boulevard
Phum Tuol Roka III
Sangkat Chak Angre Krom, Khan Meanchey


12353

Phnom Penh




Cambodia



Tel: +855(0) 23 888 161 / 162
Fax: +855(0) 23 214 318