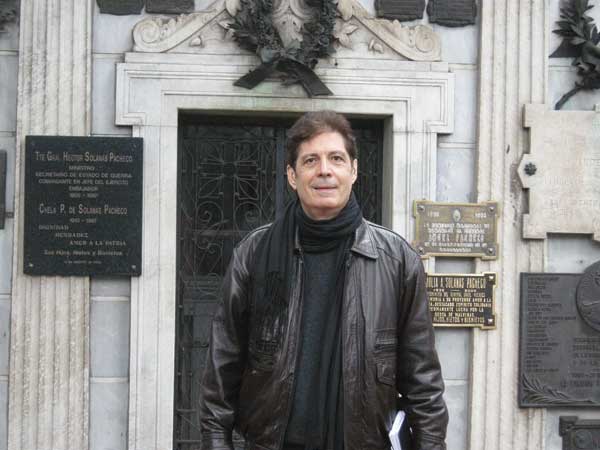 Where did the idea for Phnom Penh Noir come from?
Last year I edited (and contributed to) Bangkok Noir. We had a great line up writers including John Burdett, Colin Cotteril, Vasit Dejkunjorn, Tew Bunnag and Pico Iyer. The idea of gathering a group of international and Cambodia writers had enormous appeal.
Given the tragic history of Cambodia, the idea of noir is perfectly suited as an artform to express the dark side of the human condition.
What will make Phnom Penh Noir unique is the noir vision to expand beyond short stories to include lyrics from Krom, a wonderful Cambodian musical talent, the poetry of Kosol Kheiv, and the photography from a number of local and international artists. Prose, poetry, and visuals will make Phnom Penh Noir standout on the international stage.
How many stories are included in it and do you expect it to be popular internationally?
There will be more than 12 stories, with internationally recognised writers such as James Grady, John Burdett and film producer and director Roland Joffé, Phnom Penh Noir will draw attention and interest from readers around the world.
There is a curiosity about Cambodia; very little [of its] fiction is accessible to readers in English in the West. The idea is for Phnom Penh Noir to focus a light on the country, literature and artists.
Khmer writer Suong Mak is extremely prolific and young. This will be the first time one of his stories is published in English. Do you find this personally satisfying?
Suong Mak is a fine, young author and as he continues to write and mature, he will one day win an international following. I was very pleased to have his story as it adds greatly to the noir genre.
Suong Mak will one day join the ranks of international writers whose work captures the public's imagination. Hopefully looking back years from now, we can say Phnom Penh Noir helped him along his way.
My feeling is that Suong Mak would find an audience of fiction readers wherever he lived.
Almost all the books about Cambodia in English are written by expats or Cambodians who were refugees and returned after the Paris Peace Accords. It's almost as though the country's narrative has been colonised. As a writer do you believe that it is important for Cambodia's development that its literature gets translated so that Cambodians narrate their own past, present and future in English and other languages?
This is a good question. It is also an important one to address. I have spent 25 years writing about Southeast Asia.
As a Canadian, I bring an outsider's perspective on culture, language and history as a fictional narrative. In choosing authors for Phnom Penh Noir, I was sensitive to the need to combine insider and outsider perspectives within the collection of stories.
As far as I am aware, this is the first collection of crime fiction stories to include a female Cambodian writer has contributed a story. [The writer is Bopha Phorn, a reporter with the Cambodian Daily who was with Chut Wutty the day he was shot dead].
One goal of the project was to include talented, young Cambodian writers, photographers, and poets who can act as role models (and hopefully a mentor) for other Cambodian artist.
Creative people who want to be writers need role models. Phnom Penh Noir is the start of that process and I will be satisfied as editor if this volume will encourage Cambodians to see those with creative talent can break through to a larger audience.
Yes, there is an irony. Using the vehicle of noir fiction as a way to bring hope to Cambodian artists may be ironic, but if that is the case, it illustrates that despite the odds there is a ray of light in the wall of darkness.
The book will also include the lyrics of Krom: Songs from the Noir as well as paintings and photos by noir artist Chris Coles. Is this a sign that noir is growing as an artistic movement in Southeast Asia?
Krom has produced a work of enduring art in their last album. The lyrics and music unfolds multiple layers of the deep emotions that all people can relate to when it comes to expressing feeling of despair and loss.
And Chris Coles' paintings and photographs are on their way to becoming iconic symbols in an ongoing renaissance in Southeast Asia artistic circles. Noir, as a term, as a degree of elasticity to encompass many art forms, but one must be careful not to make it so vast that noir becomes meaningless.
In my view, noir examines the dark, shadowy side of anonymous city life, one corrupted by materialism, institutional corruption, a world where people rush to the exit doors only to find them bolted.
You're also working on Missing in Rangoon, your thirteenth novel about detective Vinny Calvino. It seems well-timed considering the changes occurring there. How long have your been working on it?
I have been working on Missing on Rangoon since January 2012. I spent 10 days in Rangoon in January to do research. I've been in and out of Burma many times since 1995.
In the past, I've used the Calvino series to capture the large historical moments when social, economic and political changes accelerate. Zero Hour in Phnom Penh captured such a moment in Cambodia during UNTAC in 1993, and Comfort Zone was set during in Vietnam as the American embargo was lifted in 1995.
Such a crucial moment has arisen in Burma. My challenge is to bring that atmosphere of change to readers in Missing in Rangoon.
You were in Argentina recently for a noir event. Is noir going global?
Argentina is a country remote to most of us in Southeast Asia. Having spent nine days in Buenos Aires with Latin American writers, I can confirm they have developed a tradition of noir crime writing that indicates this concept has gathered force around the world.
Contact PhnomPenh Post for full article
Post Media Co Ltd
The Elements Condominium, Level 7
Hun Sen Boulevard
Phum Tuol Roka III
Sangkat Chak Angre Krom, Khan Meanchey


12353

Phnom Penh




Cambodia



Tel: +855(0) 23 888 161 / 162
Fax: +855(0) 23 214 318