Typhoon Haiyan, which struck the Philippines earlier this month, was the country's deadliest typhoon on record, killing at least 5,000 people. Phnom Penh Post founder Michael Hayes managed to access the US military in its relief efforts. Here, he reports from the frontline on the disaster and its effects on the country, and what the international community is doing to help.
TACLOBAN, THE PHILIPPINES
"SPEAK softly and carry a big stick," US President Teddy Roosevelt said in a 1903 speech in Chicago.
Four years later 16 US Navy battleships set sail around the world in what became known as the Great White Fleet, signalling that the US had emerged as a force to project military muscle in the Atlantic and Pacific. The armada stopped in the Philippine islands, then an American colony, and spent a week in Manila Bay before sailing to Japan, Singapore, Ceylon (now called Sri Lanka) and then on to the Suez Canal.
Now, more than a century later, the US military is back in Philippine waters, this time as part of a massive relief effort for the victims of one of the most powerful storms ever to make landfall that was called Yolanda by Filipinos and Haiyan elsewhere, a beast that in the early hours of November 8 left four million long suffering Filipinos homeless and affected 14 million others.
The US government and its agencies including the military are playing down their role as the major provider in the relief effort at a time of political sensitivities over the Obama administration's push to strengthen its political and military influence in Asia.
"This was never an exclusively US operation. From day one, it was the armed forces of the Philippines and the US working together hand-in-hand, shoulder-to-shoulder," US Navy Rear Admiral Hugh Wetherald said on November 24.
Technically, the admiral is right. Sixteen militaries have been involved in helping out. The Aussies offered a navy ship and two C-130 cargo aircraft, while other nations were also quick to deploy assets included Indonesia, Japan, Malaysia, Singapore, South Korea and Sweden.
China, which is locked in a territorial dispute with the Philippines, initially offered US$1 million in aid, then as the scale of the devastation became clear upped its ante and deployed a hospital ship to care for the injured.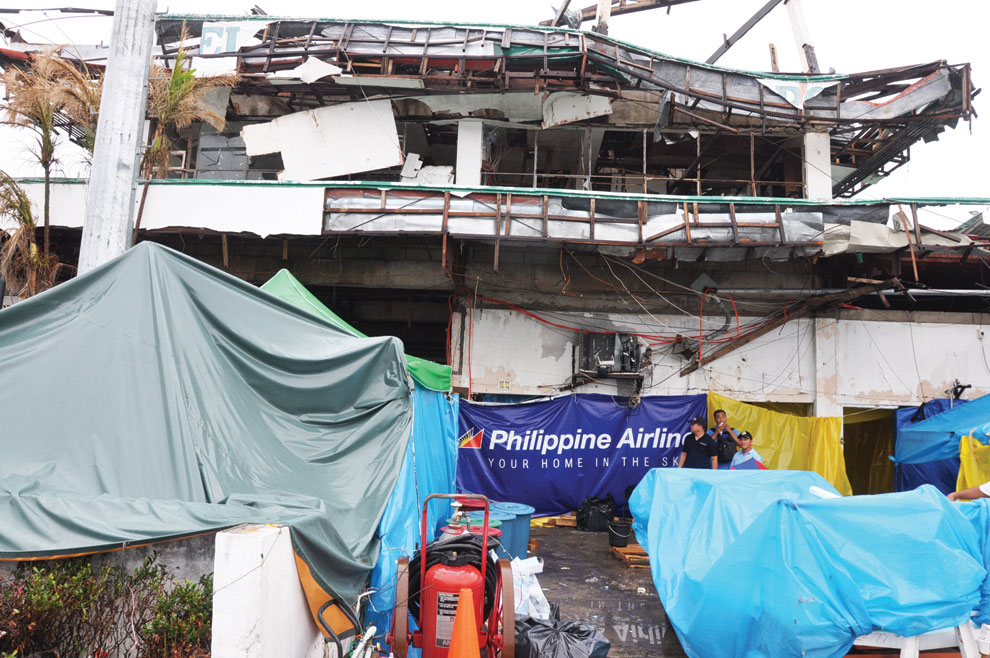 The Philippine military, for its part, has gone into overdrive to put boots on the ground to help restore order and provide aid as well. But the size of the US effort dwarfs that of other nations.
The US will deny it, but it knows this is the right time to "speak softly" as President Roosevelt suggested all those years ago.
I was amazed to see the massive assets of the US Marines and Navy swing into action to help the distressed Filipinos who will be eternally grateful. Multiple tons of US food aid and clean water have saved many lives – it's that simple.
Getting here was the hard part
When the super storm hit, I was sitting comfortably in Phnom Penh. Media reports said the US aircraft carrier USS George Washington was being dispatched to the area and I thought, "Damn it, the press will be all over this – how do I get out there?"
I emailed the US embassy in Cambodia and they put me in touch with US Embassy public affairs officer Tina Malone in Manila. She replied quickly and we did a few emails back and forth, but I didn't feel much progress in the air so I asked her who on the military side was the right person to deal with.
That got me in touch with Lt Frederick Martin and he said he would "put me on the list" for an embed on "a ship".
Bingo.
I grabbed a flight to Bangkok, bought some camera gear and waited impatiently.
Lt Martin had mentioned flights to ships would go from Clark, a former US airbase north of Manila. I threw caution to the wind, hopped on a flight to Manila and grabbed a cab to Angeles City, which sits astride Clark, about 600kms north of the typhoon-hit area.
I also knew that the entire press pack would be down south with all their gear and expense accounts. What was I going to do with few resources and no cash to hire a translator or transport?
The last thing I thought the hard hit areas needed was another mouth to feed, especially when about 1,000 Filipino and foreign hacks were already swarming across the coastal city of Tacloban, the capital of Leyte island where the most deaths occurred, and were starting to push out to other devastated areas across the central islands.
Lt Martin put me in touch with Marine Sgt Brian Marion who was based at Clark. We spoke on the phone and to make a long story short he told me to show up at Clark at five the next morning where he'd get me on a US Marine Osprey headed south.
The scene at the airport revealed how massive the US response was.
There was one Japanese, one Philippine and 23 American C-130s on the apron.
Also on deck were eight US Ospreys, the vertical take-off and landing craft with enormous propellers that shift in the air for horizontal flight. When I asked where we were headed, I was told: "Don't worry, you'll be busy. Have a good flight."
For the next 13 hours the Osprey I was on frog-hopped from one destroyed town to another, landing 12 times to drop off aid. We landed twice on the USS George Washington that was anchored off the coast of Samar island in the Gulf of Leyte, once for re-fuelling and a second time to drop off and pick up Marines.
The Osprey criss-crossed the area, dropping aid to flattened villages and ferrying Filipino officials, aid workers and media crews between Tacloban and Guiuan, a coastal town on Samar island where the typhoon made landfall. At 7:30pm we made it back to Clark.
The scenes I saw were heart wrenching. You will see what I mean from my photographs.
Alert readers will probably now ask: "Hey, where are the quotes from victims and officials helping out."
Here's my DISCLAIMER: this is not a "sole source" story, a journalistic no-no; rather, this is a "no source story".
I tried to talk to people on the aircraft, but the roar of the engines made it impossible. On the ground the noise was equally deafening. And there was no hard way to know when we were going to take off again so I ran around taking photos, keeping an eye on the plane so as not to miss our next departure.
We picked up three officials from the Philippines Department of Social Welfare in Guiuan and once airborne I yelled to one: "How's it going?" Not able to hear his response, he just gave me the "thumbs up" sign.
In Tacloban I tried to chat to a young US Marine loading food aid. Again I queried: "How's it going?" He replied: "It's going fine, sir."
"How long will you be helping?" I asked. "As long as they need us, sir," he said, and then it was time to jump on board and head off again.
Back at Clark, I checked in again with Sgt Marion. He asked me if I wanted to go out on a US Marine C-130 on November 22.
No problem on that one.
We flew first to Manila and spent two hours on the apron at Villamor Air Force base, loading USAID relief boxes filled with food, tarps and medical kits.
The tarmac was literally crammed with USAID stuff, all shipped in from Dubai, Pisa, Italy, and Miami, Florida.
US Gunny Sgt JA Zook, in charge of loading gear for more than a week, told me there was between 90,000 and 120,000 pounds of US aid waiting to go, and that he usually loaded that much or more every day.
He said he had already overseen about two million pounds of American aid loaded on C-130s and flown south.
We then flew again to Tacloban and while the aid was unloaded I ran around for another hour snapping as quickly as I could. Hundreds of people were still trying to get out of the destroyed airport, including the old and the infirm, people in wheelchairs and others who no doubt had lost everything.
What a tragic mess.
The US military was already scaling back its emergency relief effort, so we loaded two tons of water purification equipment and headed back to Clark.
The figures on US government aid to date are substantial. USAID says they have delivered 249,400 water containers, 2,000 rolls of plastic sheeting, 2.7 million food parcels with locally procured rice and emergency food and 45,792 hygiene kits.
According to an email from Carol Han, a USAID press officer, USG assistance has topped US$51 million: $31 million for emergency supplies and $21 million for the cost of the US military's logistics to transport the aid to hard-hit areas.
None of this is to downplay the support from others.
The Philippine newspapers are filled with lists of donations from other nations, companies, individuals, churches, NGOs – both foreign and local – and even movie stars and rock bands.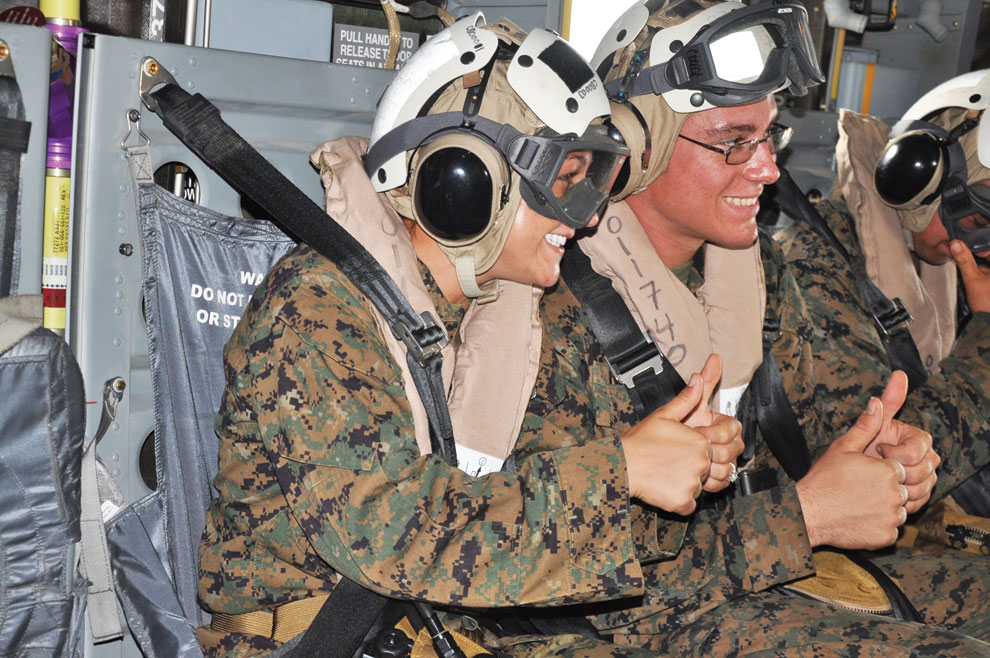 One story in the Philippine Inquirer noted how cases of lipstick had been delivered so female teachers could go back to school and feel normal.
But I witnessed the US military, once given the green light, rapidly moving mountains.
Within three days of the disaster they had 1,607 Marines, 154 Navy seamen and 117 Air Force personnel on the ground, spread out at Clark and Villamor airbases, in Tacloban, Cebu, Ormoc and Guiuan cities, not to mention those on the 11 US Navy ships anchored off the coast of Leyte.
To visit their coordinating offices at Clark and Villamor was like seeing a scene from Star Wars. They had high-tech computers and communication equipment (which I was told I could not photograph as it was a "security risk") set up overnight and running.
Colonels, majors, captains, lieutenants and enlisted men and women were all buzzing 24/7. They are all trained to take orders and when these are given they move – quickly, efficiently and quietly.
We all know the ugly stories associated with the US military. Who can forget Abu Ghraib, just for starters? But once in a while credit should be given where credit is due. Friends of mine who know the Filipinos better than I do note that the people are resilient and that they always somehow recover. They endure regular typhoons, earthquakes, volcanic eruptions, floods and mudslides.
One reporter who spent two weeks on the ground said he didn't see anyone complaining, just people setting about the hard task of re-building. And amidst all this destruction, I didn't see even one beggar on the ground anywhere. Now that's impressive.
The US military, for its part, is already starting to wind down its operation and turn over long-term relief to the Filipino government and aid agencies.
The USS George Washington has already sailed away, its US Marines not asking for any thanks but eyeing a bit of well-deserved R&R in Okinawa.
I hope the world doesn't forget the Philippines. This was a disaster of monumental proportions.
Not only did it kill more than 5,000 - several thousand more are still missing.
It will take years for millions of Filipinos to rebuild their shattered lives from ground zero.
Contact PhnomPenh Post for full article
Post Media Co Ltd
The Elements Condominium, Level 7
Hun Sen Boulevard
Phum Tuol Roka III
Sangkat Chak Angre Krom, Khan Meanchey


12353

Phnom Penh




Cambodia



Tel: +855(0) 23 888 161 / 162
Fax: +855(0) 23 214 318