From a garment industry in turmoil, a second public offering on Cambodia's stock exchange to the opening of Aeon Mall: the Post looks back on some of the major business stories of 2014
January
With the political deadlock entering its sixth month in January, Cambodia's economic uncertainty was heightened during the first week of the year, when security forces opened fire on protesters during a nationwide garment-worker strike over the country's minimum wage, leaving at least five people dead and many more injured.
For the Kingdom's largest export industry, the consequences of the January protest would be felt throughout the remainder of the year. Year-on-year exports in the third quarter were down 4 per cent, which industry representatives attributed to buyers reducing orders following the January strike. Major brands Levi Strauss and Target were among those to scale back their orders throughout the year.
There was controversy, too, for the banking industry, when on January 22, the Post revealed through leaked documents that ANZ Royal Bank had partially financed ruling party Senator Ly Yong Phat's controversial sugar plantation in Kampong Speu. Phat's Phnom Penh Sugar Company has been at the centre of years-long land disputes following the forced eviction of hundreds of families.
In lighter January news, Australia-based technology company Star8, unveiled their solar-powered factory in Phnom Penh's Por Sen Chey district. The company announced plans to roll out a slew of solar products for export, including solar glass, solar cars, solar motor bikes and even solar tuk-tuks.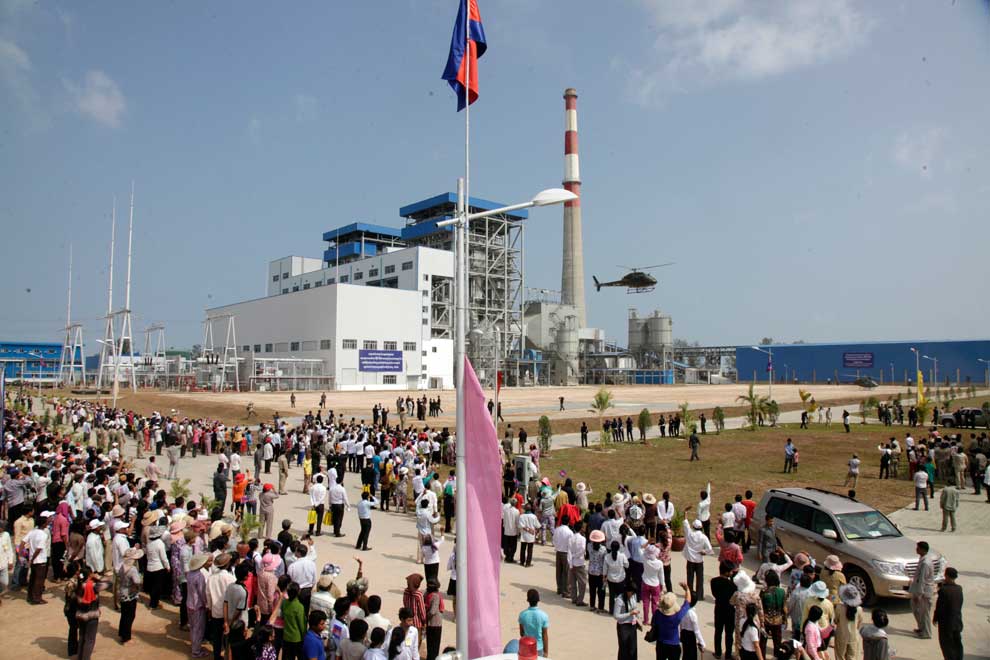 February
February marked an eventful start to the year for Cambodia's rice sector. Year-on-year exports were down in January from 25,700 tonnes in 2013 to 21,500 this year. Industry observers attributed the decline to a build-up of cheap rice in Thailand – a result of the former Thai Prime Minister Yingluck Shinawatra's controversial rice pledge. The trend would persist for much of the year.
Amid falling local production in Italy, rice officials there called on the EU to scrap Cambodia's duty-free preferences for rice exports to Europe, the Post reported on February 4.
Following allegations of Cambodian rice being mixed with Vietnamese rice prior to export to Europe, the Kingdom's exporters on February 16 signed up to a self-regulating agreement to safeguard against contamination and assure their European buyers greater confidence in the local supply.
While rice was got off to a slow start, Cambodia's signature pepper was booming. The Post revealed on February 21 that rising interest in Kampot pepper had seen industrial plantations established in region, with investors from Japan, India, Singapore, Malaysia, Hong Kong and China all looking to capture a piece of Cambodia's signature pepper market.
February 25 marked a significant milestone for Cambodia's energy sector, with the Kingdom's first coal-fired power plant starting operations in Preah Sihanouk province aiming to produce 100 megawatts of electricity every year.
March
On MARCH 1, local entrepreneur Ki Chong Tran submitted a proposal to the New York-based Bitcoin Foundation with the hope of receiving grants to introduce the digital currency to the local market. The National Bank of Cambodia announced later in the month that it would not recognise a currency that was not backed by a government.
The Kingdom's luxury car market continued to grow in 2014. The local distributor for Porsche broke ground on March 17 its dealership in Phnom Penh, joining the host of luxury cars, including BMW, Audi, Mercedes, Land Rover and Jaguar in the Kingdom.
The biggest story of the month, however, came on March 24 when Australia and New Zealand Banking Group CEO Mike Smith said he would prefer to have "a wholly owned business" in Cambodia, hinting at a break away from Royal Group. ANZ and Royal Group were in damage control the following day, when both companies said there were no plans to break up the venture.
April
The Asian Development Bank released a report on April 1 which found that political instability and unrest in the garment sector meant foreign investment had fallen. The bank projected growth in 2014 would decline slightly to 7 per cent down from 7.2 per cent in 2013.
April was a month of reforms at the Ministry of Commerce, where Minister Sun Chanthol announced a reshuffle of his ministry on the 8th to better align itself with the forthcoming Asian Economic Community. The shake-up was one of several ministry reforms, including the online automation of a requirement that exporters must provide a certificate of origin for their products.
Tourism continued its upward trajectory this year. During April's three-day Khmer New Year holiday, in Siem Reap local visitors were up 46 per cent year-on-year, while foreign tourists rose 17 per cent. Cambodia's coastal areas also recorded big increases in visitors, according to government data released on April 21.
May
CAMBODIA'S largest financial institution, Acleda Bank, on May 1 started receiving tax payments as the government began outsourcing its tax revenue collection. And, in an effort to rid the public sector of cash-paid salaries, Acleda Bank, Wing and Canadia Bank stepped up efforts to help manage the government's payroll, adding about 400,000 civil-servants to their systems.
In the Kingdom's mining sector, representatives from Ministry of Mines and Energy visited Western Australia on a weeklong fact-finding tour in the second week of May that would result in a review of Cambodia's mineral resources mining law.
More change was in store for the rice industry when Sok Puthyvuth, son of Deputy Prime Minister Sok An, was elected the president of the Cambodia Rice Federation on May 19. The industry body – aiming to bring the rice sector under one representative group – was formed just months before the election
"There are so many challenges in this sector, but so far standard rice quality and the lack of funds are the main challenges," Puthyvith said upon excepting his presidency.
Kith Meng, head of Royal Group, was also running for the presidency, but withdrew his candidacy at the last minute.
June
Rolls-Royce joined the growing list of luxury cars targeting the Kingdom's elite, announcing on June 9 that it would open a dealership in 2014.
Japanese technology provider NTT Communications revealed on June 12 its plans for 7,800 kilometre-long underwater cable the company said will significantly enhance internet services for the Kingdom. NTT did not confirm a date for completion of the cable.
The big news in June, however, and one of the largest business stories of the year was the long-awaited listing of garment manufacturer Grand Twins International (GTI) who joined the state-owned Phnom Penh Water Supply Authority as the second ever initial public offering on the Cambodia Stock Exchange. GTI floated a 20 per cent stake in the company opening on June 16 at 9,700 riel ($2.41) per share.
It was a tough launch for Taiwanese garment manufacturer, which closed on its first day 4.9 per cent down at $2.28. GTI's share price has since slid further, closing at $1.70 on December 26.
An event of similar stature was the opening of Aeon Mall on June 30. The $205 million shopping centre aims to capture a piece of Cambodia's rising middle class, with international retailers including American jeans-maker Levi Strauss, British shoe brand Clarks and European labels L'Occitaine, Valentino and Pierre Cardin all setting up shop at Aeon.
There was good news in June, too, for the gaming industry, with a government announcing on June 24 that it was drafting stricter laws for Cambodia's gaming industry, including a review of potential licensing for online gaming.
July
ANZ ROYAL Bank announced in July that it had severed ties with ruling party Senator Ly Yong Phat's controversial sugar plantation. "I can confirm that PPS has paid out its loan and is no longer a customer of ANZ," an ANZ spokesman said on July 6.
But families evicted to make room for the sugar plantation continued to protest at ANZ headquarters in Phnom Penh in the following months, claiming that the bank still had a role to play in resolving their losses. A complaint was later submitted to the OECD on behalf of the families affected.
With the political deadlock entering its 12th month, on July 8, US Ambassador to Cambodia William Todd said, on return from a trade mission to the United Sates, that a resolution in the standoff would spur a flow from foreign investors eyeing Cambodia.
Barely two weeks after his announcement, the deadlock came to an end, with the ruling Cambodian People's Party and the opposition Cambodia National Rescue Party striking a deal that would see the CNRP take its seats in the National Assembly.
The floodgate of foreign investors had yet to burst open, but Cambodia's business community breathed a sigh of relief when the news broke.
"It's a good sign for everybody; for potential investors, for existing investors – the whole package," Ken Loo, secretary-general of the Garment Manufacturers Association of Cambodia, said on July 22.
July marked the arrival of the National Commercial Arbitration Centre. After a year of preparing its governing framework and budget, Cambodia's first third-party dispute resolution body, said on July 11 that it was ready to accept its first case. Yet take up has been slow, the Arbitration Centre is yet to hear a single case.
The IT sector pulled together on July 24 with the launch of a new industry body in Cambodia – the Information and Communications Technology Federation.
The telecommunications sector were also united in July. The Post revealed on July 25, a draft law from the Ministry of Posts and Telecommunications that details of government plans to take tight control over the sector led to industry outrage. Among the many conditions labelled by industry insiders as a "draconian" effort to nationalise the industry, the draft law states that no company can both operate infrastructure assets, such as antenna towers and underground cables, and also provide services, such as mobile and data plans.
The aviation sector had its moments this year. On July 29, Sihanoukville International Airport received its first international flight, when South Korea-based Skywings Asia Airlines, an international charter carrier, arrived from Seoul.
August
THE state-run China National Cereals, Oils and Foodstuffs Corporation agreed on August 12 to import 100,000 tonnes of rice from Cambodia, giving the Kingdom's rice sector a much needed boost.
In banking, there were small movements in the crowded market this year. One of the more noteable was Japanese financial firm Sumitomo Mitsui Banking Corporation's buy-out of the International Finance Corporation's 27.6 million shares, or 12.25 per cent stake, in Acleda Bank for $110 million on August 19.
The story of the month, however, belonged to Cambodia's oil and gas industry, with the August 11 announcement of the sale of Chevron's stake in the offshore site known as Block A, in the Gulf of Thailand to Singaporean-listed firm KrisEnergy for $65 million. Hopes now hang on KrisEnergy to negotiate tax and revenue share conditions that would lead to Cambodia's first commercial oil extraction.
With ASEAN economic integration just around the corner, there were positive signs for Cambodia in a August 20 report from the International Labour Organisation. The UN's labour body predicted Cambodia could gain 19.9 per cent in its GDP value by 2025, provided ASEAN member states continue to reduce trade costs.
There were promising signs this year from new industries in Cambodia. Australia's agriculture minister announced on August 21 that 10,000 head of cattle had been approved for export to Cambodia. SLN Meat Supply, located in Preah Sihanouk province, whose $15 million slaughterhouse will finish construction early next year, is the only company expected to meet Australia's standards for cattle slaughter.
September
PRIME Minister Hun Sen defended his government and took aim at the private sector for initiating bribes at the Eighth Regional Conference of Anti-Corruption Initiative for Asia and the Pacific on September 3.
"Do not forget that the private sector is the one who pays bribes. If the private sector does not bribe, where does the official get the money from?" the Prime Minister asked.
To the delight of Cambodia's tourism industry, Cambodia's aviation authority, on September 16, approved operations for the first of three Chinese market-focused airlines, starting with Apsara International Air. Chinese-backed Bassaka Air and Bayon Airlines received there approval not long after.
October
The Post revealed on October 18, through leaked financial documents from the Garment Manufacturers Association in Cambodia, that the factory representative had made a cash contribution to the Ministry of Commerce totalling $5,000 and has been paying membership fees for senior government officials at an exclusive country club. GMAC, in defence of the payment, said that all government ministries regularly solicited payments from the industry body.
The Ministry of Commerce said via a statement on its Facebook page that the funds were part of a corporate social responsibility program and the money went towards assisting troops serving along in Preah Vihear.
More aid piled in for infrastructure development this year. With the help of a $80 million loan from the Japanese government, the Sihanoukville Autonomous Port said on October 27 that it will undergo expansion works to increase the dock's shipping capacity, with work to be completed by 2017.
November
AFTER several delays, the Labour Advisory Committee finally voted on November 12 to raise the garment sector minimum wage from $100 to $128. Unions had asked for $140, while the Garment Manufacturers Association in Cambodia said the wage hike was likely to bankrupt some factories.
Cambodia's rice sector had another big month in November. For the third year in a row, Cambodian rice was named the World's Best Rice on November 20 during the closing day of the sixth World Rice Conference in Phnom Penh. Two days earlier, at the event's opening, the Minister of Commerce Sun Chanthol, said it was time for Cambodia to step out of the past and improve its image.
"Don't let others in the world only know that Cambodia has been victim to a genocide regime. Some people even ask if they should be afraid of stepping on landmines when they visit Cambodia. That is simply not the reality, so we need to promote and improve our country's image," the minister said.
China agreed to loan Cambodia up to $300 million to build a series of warehouses aimed at boosting the Kingdom's rice industry, Mey Kalyan, senior adviser to the Supreme Economic Council confirmed on November 16.
Beach tourism received a boost on November 25, when the ADB announced an $18 million loan to boost transport and infrastructure in Cambodia's lesser-known beach tourism destinations. A new ferry terminal is to built in Kampot by 2019.
December
A report from investment firm Mekong Strategic Partners, reveals that the majority of Cambodian banks are underperforming, providing poor returns on their shareholder investment. Outside of Cambodia's big four banks – Acleda, Canadia, Cambodia Public Bank and ANZ Royal – the average return on equity in 2013 for the remaining 39 banks was just 6 per cent. Some banks, who have been in the market for 20 years, are not earning enough revenue to cover their costs.
In December, five more companies seeking a clean pathway through Cambodian corruption followed the lead set by Coca-Cola a year earlier and signed agreements with Cambodia's Anti-Corruption Unit, on December 9, promising to eliminate bribery from their companies.
On December 18, Prime Minister Hun Sen admitted the government target of meeting 1 million tonnes of rice exports by 2015 is likely to fail.
"Our rice production has overtaken rice milling capacity. Most rice millers do not have capital to buy paddy and then stock it for export, which results in Cambodia losing value-added gains for the rice industry," the PM said.
And finally, in a surprise announcement, Australian logistics firm Toll Group said on December 22 that it had offloaded its 55 per cent stake in the Toll Royal Railway concession to its joint venture partner, Royal Group. Toll said years of project setbacks along the troubled railway made the firm's prospects economically unviable.
Contact PhnomPenh Post for full article
Post Media Co Ltd
The Elements Condominium, Level 7
Hun Sen Boulevard
Phum Tuol Roka III
Sangkat Chak Angre Krom, Khan Meanchey


12353

Phnom Penh




Cambodia



Tel: +855(0) 23 888 161 / 162
Fax: +855(0) 23 214 318