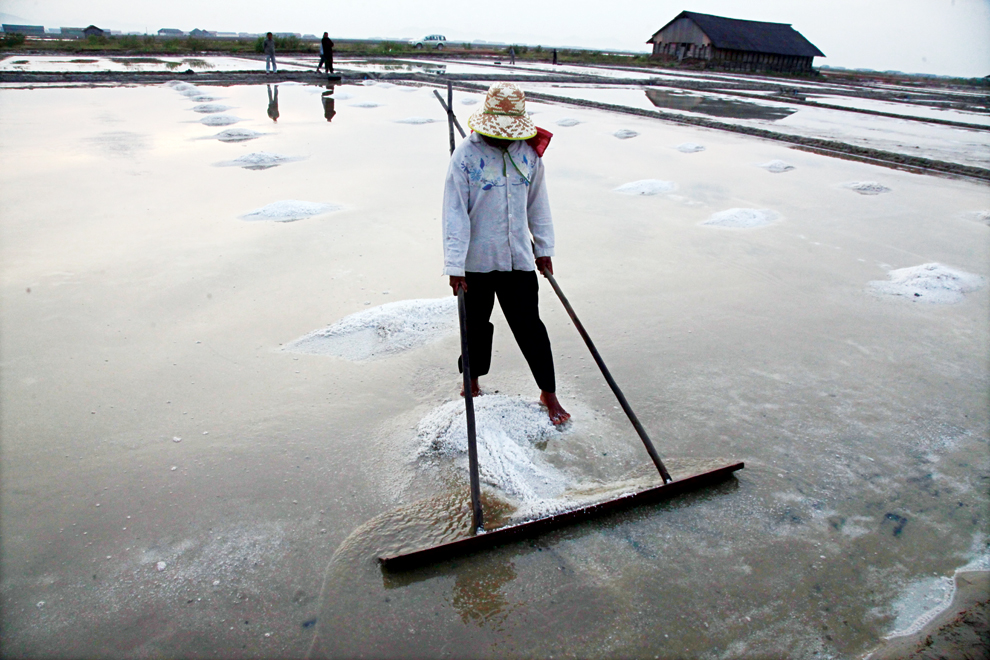 Salt producers in Kep and Kampot say their revenues have plummeted over the last two years as cheaper and better-quality salt from Thailand floods the local market.
Bun Baraing, co-director of the Kep-Kampot Salt Producers Community, said local consumers have switched to imported Thai salt, which has eroded local producers' market share and revenue, and made it difficult to offset input costs.
"We have an increasing amount of surplus of salt for the last two years as there has been an increase in salt imported from neighbouring countries", he said.
According to Baraing, the local market consumes around 100,000 tonnes of salt a year, of which Cambodian salt farmers supply only 30,000 tonnes, which was only a fraction of the 170,000 tonnes they produced this year. This has led to a surplus of 230,000 tonnes.
Making matters worse, the price of salt continues to fall, and has gone from $80 per tonne last year to $50 per tonne this year.
"We are finding it difficult to compete on price with [Thai producers] as we do not have sophisticated technology to help cut the cost of production," Baraing said.
While Thai producers are using technology that allows them to use groundwater to produce salt, Cambodian farmers must rely on seawater, which makes them dependent on climatic conditions, and increases the production needed to iodise the salt, he explained.
Thai salt's superior appearance – it is whiter, iodised and cheaper – has given it a leg up in the Cambodian market, where consumers tend to prefer aesthetics over quality, said Phat Sitha, who produces iodised salt under the Shark brand.
"Thai salt products look nicer but Cambodian salt is natural and tasty, though not as white as Thai salt," he said.
Sitha said that he supplied around 14 tonnes a day to the market last year, but lower demand had reduced his turnover to four tonnes a day this year.
"I have tried to sell varying qualities of local salt to market sellers, but they say they will choose the product that is cheaper and attractive," Sitha said, adding that the difference between the two products was just 2,000 riel ($0.50) per 50 kilo bag.
According to Baraing, production in Kep and Kampot provinces involves 190 groups of farmers, employing around 5,000 workers.
He said the declining market has made it increasingly difficult to find labour – and to pay them.
"It is hard to find market share, but it is also difficult finding workers, who would rather work for the garment industry, which is a comfortable work place, compared to working in the salt pans," he said.
Um Sotha, spokesman for the Ministry of Industry and Handicraft, said that the ministry was aware of the challenges faced by the salt sector and that an inter-ministerial working group had been created to look into the issue.
"We want to try and protect the salt farms, which are part of our heritage and a national product, and we do not want farmers to give up on their salt fields," Sotha said.
"The ministry is seeking ways to improve the quality of salt so that it can compete and increase its market share."
Contact PhnomPenh Post for full article
Post Media Co Ltd
The Elements Condominium, Level 7
Hun Sen Boulevard
Phum Tuol Roka III
Sangkat Chak Angre Krom, Khan Meanchey


12353

Phnom Penh




Cambodia



Tel: +855(0) 23 888 161 / 162
Fax: +855(0) 23 214 318