Corporate Social Responsibility (CSR) has been getting remarkable momentum in Cambodia over the last several years. With more and more companies and institutions now having embedded CSR programs as part of their annual priorities with budget allocated to resource relevant social initiatives.
Not only are the immediate impacts that these CSR initiatives can bring crucial, but also the long term impact on the mentality and mindset of the many people involved, which is normally extended to their professional and family networks as well as youths in general.
The success of some of the CSR programs and initiatives in Cambodia also attracted attention of its regional and international colleagues. This year, the Australian Centre of Education (ACE) in Cambodia was recognised for its trailblazing CSR programs.
ACE won two awards at the 11th Annual Global CSR Summit and Awards 2019, one of Asia's most prestigious CSR awards, held in April 2019 in Malaysia. From over 300 nominations, ACE was awarded Bronze for the Best Community Program Award and Gold for the Excellence in Provision of Literacy & Education Award.
ACE was established by IDP Education in 1992. A world leader in the provision of international education and student placement services, IDP Education has over 100 offices in more than 30 countries across the globe, including in Cambodia, helping students realise their career and business dreams through access to international education opportunities. Its school in Cambodia, ACE, is a leading provider of English language teaching services in South East Asia operating on five campuses in Phnom Penh and Siem Reap.
ACE was also recognised and put forward as one of the top four global institutions for the Best Educator of the Year Award at the PIEoneer Awards ceremony held in London last year organised by the Professionals in International Education (PIE), celebrating innovation and achievements in international education.
"CSR sits among our top priorities and we have a strong commitment to contribute to help further develop this concept among youths in Cambodia. It is pleasing to see that many colleagues are also embarking on this social contribution front", said Mr Mao Sreng, Country Director of IDP Education in Cambodia and ACE.
With five campuses in Cambodia with 20,000 students of more than 20 nationalities, ACE Principal Ashley Irving stressed the importance of helping students achieve the best possible academic outcomes and also personal quality as good corporate citizens by making social engagement opportunities available through the school.
"The school isn't just about teaching students English but the curriculum also integrates exposure to developing soft skills such as critical thinking, public speaking, debating, information management and technology, cultural awareness, communication, interpersonal skills and general world knowledge," he explained.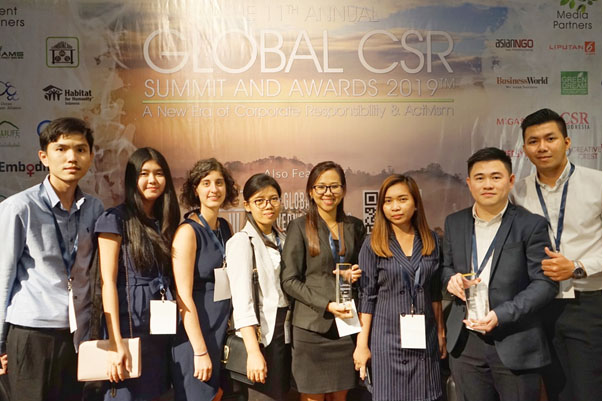 "The ACE Social Committee coordinates and mobilises the support and engagement of staff, teachers, students and their families as well as the general public through ACE annual charity events in the fields of environment, health, education, literacy, disaster relief, and youth empowerment. The committee is supported by the ACE Student Ambassadors, volunteering students and staff", said Ms Chendamony Chea, Chair of the ACE CSR Committee.