At Phnom Penh's newest night market – featuring pubs, restaurants and shops all built into and on top of cargo containers – there's a buzz of anticipation, and of power tools, in the air.
At the Sushi Box, a Japanese restaurant along a row of bars and eateries, co-owner Saron Nhoung chats with a paintbrush in his hand, as he puts the last touches on his space.
"I think this location will become a popular place for people," Saron says. "There's good fresh air from the river. We're expecting a lot of locals, and maybe in the future tourists will be brought here by tour companies."
Even though on a recent Wednesday evening nearly half of the stalls, all of which have been rented out, were not yet open, the market is already drawing crowds from across the spectrum of urban Cambodia. Bands were playing on three stages, as people crowded around outdoor tables trying out the market's myriad selections from ramen to Korean dishes to pizza.
While many of the market vendors have technically been open since February, the official grand opening of the container market will be on March 15. Srey Chanthorn, the chairman of Jet's Group, previously told The Phnom Penh Post that the company has invested $400,000 into the market, which will have 224 stalls.
Based on a cargo container concept that is popular in Thailand, Jet's Group's version features several long corridors of shops and restaurants, many with seating on top of the containers, and a plaza in front of one of several music stages.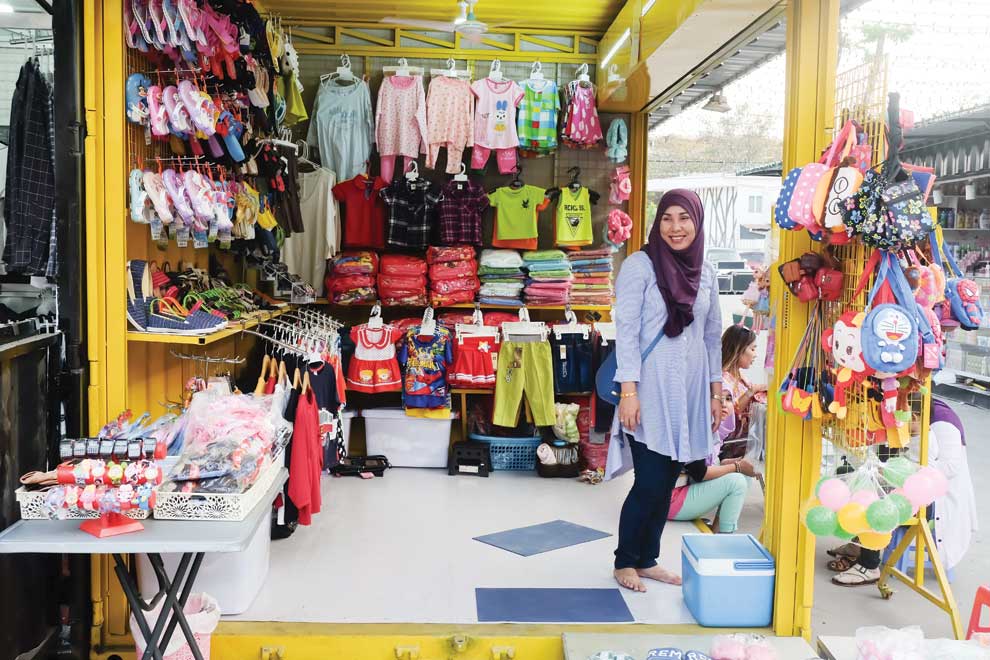 "The design is amazing," says Ly Vouchleant, while sorting through a bag of clothes in her stall. "This place is interesting because it's the first one in Cambodia and it's very creative."
Indeed, vendors throughout the market have spruced up the industrial containers with their own touches.
At Rama, a 3-metre-wide bar situated at the corner of a row of restaurants, owner Linna Boren has put up a collage of 1950s and 1960s Khmer singers, as well as an assortment of flags from different periods in Cambodian history. "All my bars are to remind everybody of the country's history," says Boren, who also operates a pub in Siem Reap.
At Numtok, a small eatery serving a Thai black beef blood noodle soup, owner Roxy Leak shows off her sense of design. A mural on the wall celebrates the dish's ingredients, and upstairs she has built outdoor tables out of car tyres. "We all want to make our style," she says.
Sitting at a table around the corner from Numtok, Sopohrttra Sothy came to the market to see a few friends who had opened up a shop. He praises the market for its location close to Aeon Mall and a cluster of clubs just off of Sothearos Boulevards.
"It think it's really good," he says. "There's Epic Club and Base Club right here so people can leave the club, chill here for a few hours, and then go right back."
The container market is located on National Assembly Street, near Street 78. Its hours are 4pm-11pm every day, with a later closing time to be determined on weekends.
Contact PhnomPenh Post for full article
Post Media Co Ltd
The Elements Condominium, Level 7
Hun Sen Boulevard
Phum Tuol Roka III
Sangkat Chak Angre Krom, Khan Meanchey


12353

Phnom Penh




Cambodia



Tel: +855(0) 23 888 161 / 162
Fax: +855(0) 23 214 318