Phare Ponleu Selpak Cambodian Circus have announced the return of the Tini Tinou Circus Festival later this year after they had to cancel it when it was last scheduled to take place in 2020.
The festival is a celebration of contemporary circuses and circus arts from around the world that was founded in 2003 and has been staged at irregular intervals over the years depending on the amount of funding required and the availability of other circuses to participate.
"We are thrilled that Phare – with the support of the governor of Battambang province Sok Lou – can host Tini Tinou International Circus Festival once again after cancelling the 2020 edition due to the pandemic," said Phare Ponleu Selpak Director Osman Khawaja.
"I believe the festival will be held mostly outdoors though some events may happen in our big top or in other circus arenas," Khawaja told The Post.
Tini Tinou means "here and there" in Khmer and it is an international celebration of the circus, its culture and its history that will bring together artists from Cambodia, Thailand, Taiwan and France for the 2022 edition.
There have been 10 Tini Tinou festivals organised by Phare Ponleu Selpak – at first with the French Institute – but starting in 2008 it has solely been a Phare production, with the last festival taking place in 2016 prior to 2020's cancelled revival.
Khawaja said the festival initially only took place in Battambang and was later extended to Phnom Penh and then to Siem Reap for the festivals that took place in 2014, 2015 and 2016.
The 2016 Tini Tinou International Circus Festival was held with circus troupes from France, Australia, Canada, Nepal, Indonesia, Afghanistan and Cambodia, who all worked together to bring their collective and individual performances out into the streets and onto stages indoors.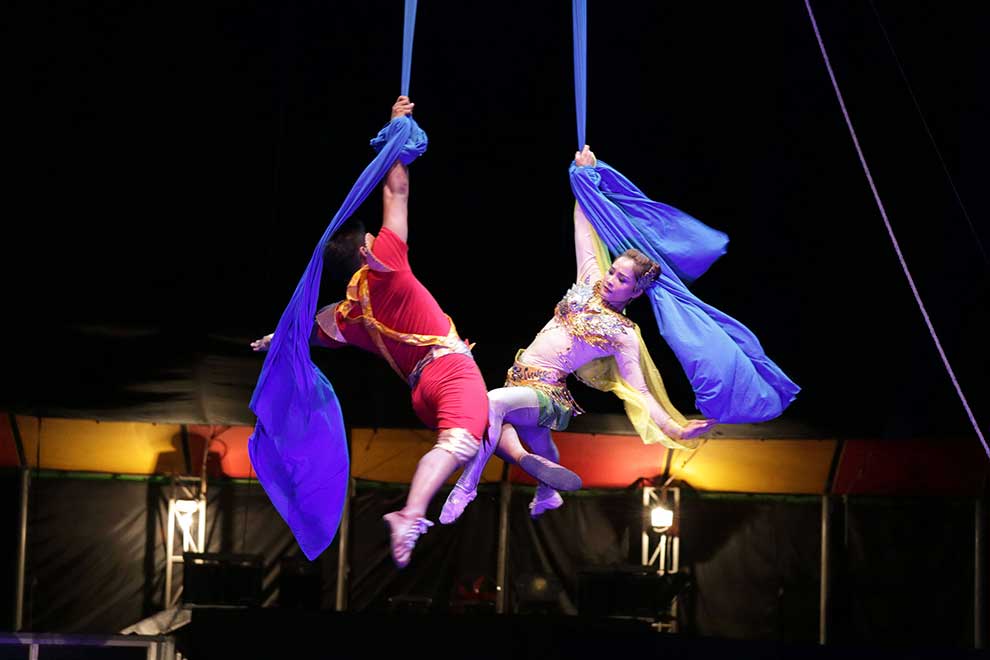 That 12 day festival took place in Phnom Penh, Battambang and Siem Reap, and in addition to the international troupe's various performances, Phare also debuted its latest show circa 2016 called Influence.
The 2018 edition was cancelled due to financial difficulties but the festival was rescheduled and set to take place in 2020 but the novel coronavirus arrived and closed all or most international borders for long periods of time as well as orders to remain indoors at all times – in some places locking down neighbourhoods and in other places locking down entire cities or countries.
For the revived festival this year the artists will gather in Battambang town to perform and hold an open dialogue forum for their circus arts students in order to inspire them to pursue their dreams through the arts, according to Phare.
"Organising festivals is part of Phare's strategy to bring arts to the people and engage with the community to build cultural identity around shared heritage," Khawaja says.
The festival in Battambang will be held from May 29 to June 3, 2022 for the 11th edition, serving as a platform that artists can use to share experiences, participate in workshops, inspire young people, engage with the local community and promote the arts in Cambodian society, which helps the nation by bringing unity and understanding through shared values.
"We hope festivals like this will raise Battambang's profile as we work towards making it the creative arts and cultural hub of Cambodia," said Khawaja.
He said that Battambang is the perfect city for festivals given its size, large population of creative professionals and availability of artists to participate. He said he hoped more festivals like Tini Tinou will come to Battambang and help it to reclaim its historical title as the true home of art and culture in Cambodia.
Including all of the circus exchanges and workshops, puppet and circus parades, shows and concerts there are around 150 artists involved in the festival, with 85 of them being circus artists and the rest are a wide mix of dancers, musicians, singers and visual artists according to Khawaja.
The six-day festival will have different circus shows performing every evening on Phare Ponleu Selpak's Campus, where festival goers will also be able to engage with art activities, watch free performances, and taste local food delicacies, according to Phare.
This year the festival will again only be held in Battambang for severreasons, one of them being that there has been little time to plan out a festival stretching across three cities and it would have required a lot more sponsorship money and support to pull it off.
"Even for the current festival – we have no big sponsorships this year. The foreign artists are able to travel here and perform mostly because of support from the cultural ministries in their own countries.
"Without the support from those large sponsorships, it is too costly to take a festival involving hundreds of artists to three different cities," Khawaja said. "Despite the short preparation time since just after the country re-opened, we will ensure there will be lots of fun and shared laughter for everyone."
This year the festival was given some help in organising and coordinating the event by La Region Occitanie, Organisation Internationale de la Francophonie and the Ministry of Culture in Taipei as well as Phare Ponleu Selpak.
Khawaja said it was the perfect occasion to begin receiving international troupes and artists once again and that hopefully they would encourage the regular tourists to come back to Battambang.
Phare has faced an acute financial crisis during the pandemic because its funding was so heavily reliant on ticket sales to world travellers and tourists attending its performances.
The financial losses has left Phare in a state of emergency which could result in cuts to both its regular schooling and arts education services, which will leave hundreds of disadvantaged Cambodians without access to a proper education or any opportunities in life provided to them through training in the arts.
Nevertheless, they are determined that their arts programmes, circus school, regular public school and social support work will all survive the Covid-19 crisis no matter what.
During the pandemic, Phare circus and its Battambang-based Cambodian non-profit art school made history by setting the Guinness World Record for the "longest-ever circus performance".
Phare's 90 circus performers succeeded in staging a 24-hour non-stop circus performance to set the world record on March 7-8.
The performers took to the stage in shifts, making sure there were no repetitions of acts or songs and they were able to take breaks between their performances through this rotation sytem.
Phare Ponleu Selpak (PPS) – meaning The Brightness of the Arts – has empowered children, youth and communities through artistic, educational, social and community outreach programs since 1994.
Phare Ponleu Selpak was founded by eight Cambodians who were evacuated from Phnom Penh by the Khmer Rouge but managed to survive the perils of Democratic Kampuchea until they all ended up living at the Site 2 refugee camp together.
Phare aims to improve the development of their local communities and now the association welcomes more than 1,000 students nationwide through different classes and workshops.
Tini Tinou kicks off Sunday May 29, with an engaging Puppet and Circus Parade across the heritage neighbourhoods of Battambang.
The week's celebrations will close on Friday, June 3, with a final concert performed by artists from the independent Cambodian hip- hop and alternative music record label Klapyahandz.
Moving forward, Tini Tinou International Circus Festival will hopefully be held on a regular schedule every two years with the next event in 2024, with plans to alternate years with the S'Art Urban Art Festival, which was also launched by Phare in 2019 and is planning for its next edition in 2023.
People can book their tickets through: [email protected] or by calling 077-93-554-0413
For more information about Phare you can check out their website http://www.phareps.org or Facebook page: @phareponleuselpak