A total of 27 looted Cambodian artefacts arrived back home from the US on June 15, a year after a court in Manhattan district of New York state ordered their seizure from collectors and return to Cambodia, according to the culture ministry.
In a June 17 press statement, the Ministry of Culture and Fine Arts listed some of the pieces as a bronze meditating Buddha on a Naga throne, a Shiva idol, and a sandstone sculpture depicting Prajnaparamita of the Buddhist tradition.
The artefacts are currently being stored at the National Museum in Phnom Penh for experts to gauge, clean, restore and build containers to hold the pieces, before an official ceremonial handover is held at a convenient time.
Culture minister Phoeurng Sackona said in the statement: "These cultural heritage items carry the very spirits and souls of our Khmer ancestors over many generations and embody the advanced civilisation of Cambodia, and had been away for many years during the periods of war and insecurity.
"With the win-win policy and leadership of Prime Minister Hun Sen, which have brought comprehensive peace, Cambodia had the opportunity to cooperate with others to search and bring these lost legacies back to the homeland," she said.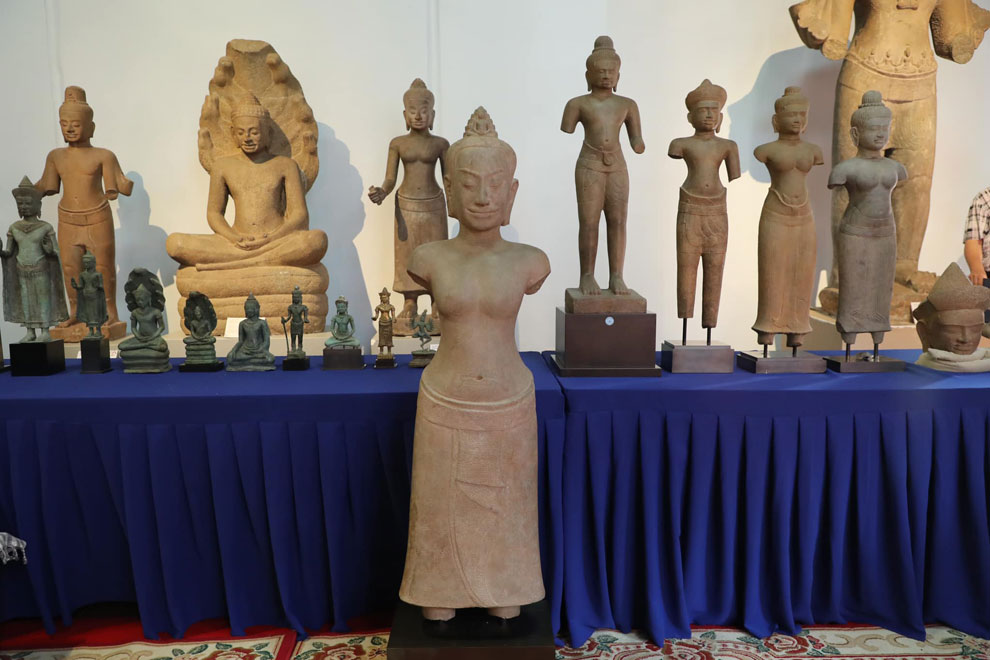 The US embassy in Phnom Penh said last June that Manhattan District Attorney Cy Vance Jr had ordered the return of the artefacts, citing a total value of around $3.8 million.
The Cambodian embassy in Washington DC and the Manhattan District Attorney's Office held a signing ceremony on June 9, 2021 for the transfer of the pieces.
In response, ambassador Patrick Murphy said that the US "is proud to play a role in securing the cultural heritage of the Cambodian people".
"This ceremony is a tribute to the cooperation between our two countries on preventing the looting and trafficking of Khmer artefacts," he said.
In the June 17 statement, Sackona thanked everyone who made the return of this collection of antiquities possible, including US Homeland Security Investigations (HSI) in New York, the Manhattan District Attorney's Office, the US embassy, Edenbridge Asia founder Bradley J Gordon and Heinberg Barr LLP's Steven Heimberg.
The minister also appealed to all museums and artefact collectors around the world to cooperate and return Khmer cultural heritage items back to Cambodia.