This year marks the 70th anniversary of diplomatic ties between Cambodia and Australia, which were established in 1952.
Since then, Australia has played a prominent role in supporting Cambodia's human capital development.
The education journey started when Cambodia joined Australia's Colombo Plan scholarship scheme.
Colombo Plan scholarships brought Cambodia's brightest scholars to Australia, helping build the economic and social cooperation that underpins the friendship today.
In the 1980s, Australia provided support for English language training courses that were later transformed into the Bachelor of Education in Teaching English as a Foreign Language programme at the well-known Institute of Foreign Languages at the Royal University of Phnom Penh.
The programme is now a leading degree programme producing skilled teachers to support English language education across Cambodia.
The Australian Centre for Education (ACE) was established in Cambodia in 1992 in response to the language training needs of the United Nations Transitional Authority in Cambodia (UNTAC), and has gone on to become the leading English language training provider in Cambodia.
ACE now comprises five campuses in Phnom Penh and one in Siem Reap province.
Since 1994, more than 21,800 Cambodians have studied in Australia. Among them are 945 students who received Australia Awards Scholarships.
Australia Awards Scholarships are prestigious scholarships funded by the Australian government for masters or doctoral degrees at Australian universities. Many awardees become leaders in their fields, significantly contributing to Cambodia's development.
Last week the Australian Embassy hosted an event to celebrate 70 years of the "Australia-Cambodia Education Journeys".
At the event, 60 Australia Awards Scholarship alumni who recently returned to Cambodia were welcomed back and 80 scholarship awardees departing to Australia were farewelled.
Minister for Women's Affairs Ing Kantha Phavi, the event's guest of honour, said: "Australia Awards Scholarships have made a significant contribution to building the capacity of Cambodia in many fields across government, civil society, NGOs and the private sector."
She added that the scholarships have had a transformative impact on both Cambodia's development and the personal development of Australia Award scholars.
At the event, two departing Australia Award recipients shared their thoughts on Australia's support for Cambodia's human capital development.
"Cambodian students are the main beneficiaries of the relationship between the Cambodian and Australian governments.
"Because of this, my dream of pursuing a master's degree abroad has come true," said Nang Nakrisakpheak.
Another student Soeu Panhary said: "The very good relations between Australia and Cambodia provide very significant benefits to Cambodian students.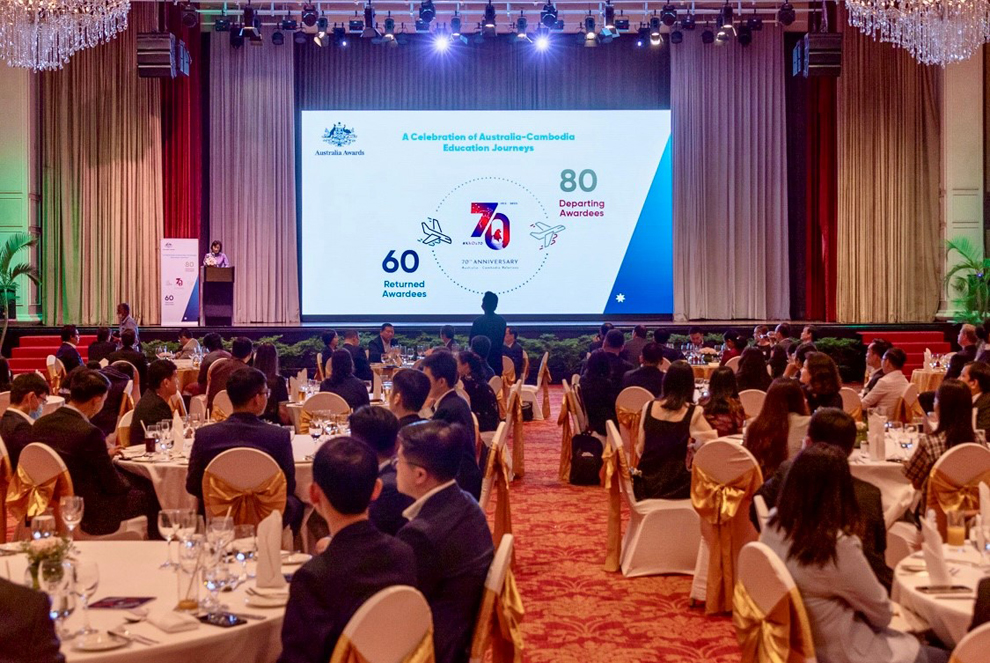 "For example, for people like me, my family and my community have greatly benefited from the good relationship."
Application for the 2023 Australia Awards Scholarships intake for Cambodians has just closed.
Once a merit-based selection process is completed, further Cambodian scholars will be awarded a highly prized opportunity to pursue postgraduate study in Australia.
Through this prestigious scholarship programme and other development initiatives, Australia will continue to support Cambodia's economic and human capital development, strengthening the Australia-Cambodia friendship.
The Australia Embassy wishes departing awardees the best of luck in Australia and looks forward to working with returned alumni to contribute to Cambodia's development.