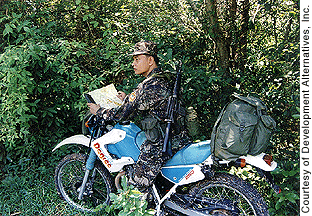 FORESTRY COMMANDO
DAI envisions 700 of these forestry rangers patroling Cambodiaís forests for illegal loggers.
SENIOR government officials and donors met May 22 to hear the findings of the World Bank-organized Forestry Policy Reform Project. After spending two years and "a substantial amount of money" on the project, they were told the same thing that environmentalists have repeatedly scre-amed at them free of charge: if something isn't done, in five years Cambodia will have no trees worth cutting down.
However, the World Bank project can hardly be considered a waste of money, at least not yet. Along with the bleak findings of the study, the four contributors to the report offered up six detailed proposals designed to create a sustainable, and more profitable, forestry policy for the government.
The most talked about of the proposals is the most radical: the creation of a 700-strong force of armed forestry rangers that will be trained to track down and apprehend illegal loggers.
The brainchild of Development Alternatives, Inc (DAI), the Cambodian Forest Action Center (CFAC) is billed as a well-trained, well-equipped and well-paid policing force. Using patrol boats, trail bikes, fixed-wing aircraft, satellite imaging and GPS compasses, CFAC is designed to patrol forested areas and significantly reduce the illegal felling of trees.
As CFAC's name suggests, its creators have borrowed many aspects in their proposal from the successful Cambodian Mine Action Center (CMAC).
"It is one of the most important components we're recommending," DAI Vice President Tony Babb said, adding that CFAC is designed to provide "dependable law enforcement" that will support other reforms recommended in the report.
Considering the task at hand, CFAC will need all the training and equipment it can get if it is going to help break the chain of corruption that has gripped Cambodia's timber industry.
According to the reform project's report, illegal timber felling accounted for 92% of total timber production in 1997, and 65% of last year's harvest was shipped out of the country illegally.
And although government ministers and army generals are making personal fortunes on the timber trade, very little money is reaching the national treasury, where donors footing roughly half of Cambodia's budget want it.
The report stated that only $9 million in taxes and fees was collected by the government in 1997, an estimated loss of $77 million in potential revenue.
Recovery of this loss is expected to pay for implementation of the proposed reform plan - CFAC alone is expected to cost about $3 million a year - and still leave substantially more money for other government functions.
To ensure CFAC rangers do not become corrupted like the police and army in forested areas have, DAI representatives said they will be paid decent wages of $160 a month and be monitored by expatriate technical advisers. CFAC will also operate outside the normal chains of command for the police and military, reporting instead to the National Steering Committee on Forestry Policy.
"We think this system will work pretty well in Cambodia," Babb said. "There will always be some problems... but we will have a mechanism in place to keep those problems to a minimum."
Although the overall reform project was well-received by the two prime ministers at the May 22 meeting, the government and the World Bank are already having second thoughts about CFAC because many fear that the rangers could be forced into armed confrontations with the greatest perpetrators of illegal logging, the Royal Cambodian Armed Forces.
"There could be a fight and people could get killed. Then the World Bank would be blamed for setting this up," one forestry expert said.
"Besides, do you think Hun Sen is going to allow a well-equipped paramilitary force of 600 or so inside his country if it is not completely under his control? No country would allow that, so this is very controversial."
DAI reps contend that CFAC rangers' extensive training and military dress have fostered misconceptions that the force would be a kind of independent army.
"CFAC would belong to the government, it just wouldn't report to the military structure. They are not outside the government," Babb said.
He added that CFAC's mandate would be to enforce forestry laws like policemen, not engage corrupted RCAF units in battle.
"Taking on military units would not be their role," Babb said. "If it is found that a military unit is breaking the law, CFAC would not confront them but instead report back so discipline would then go through the proper channels."
But no matter what degrees of power and expertise CFAC wields, and no matter how much money and effort is placed into the broader forestry reform plan, the plan's architects agree they will have no effect on the illegal logging if the government leaders who commissioned the report do not stop signing new concessions and export agreements while looking the other way as their generals haul as much timber out of the country as they can each dry season.
"The government has to be in full support, the Prime Minister and the Council of Ministers have to be in full support," Babb said. "If they are not committed to reform, CFAC cannot do anything on its own."
Contact PhnomPenh Post for full article
Post Media Co Ltd
The Elements Condominium, Level 7
Hun Sen Boulevard
Phum Tuol Roka III
Sangkat Chak Angre Krom, Khan Meanchey


12353

Phnom Penh




Cambodia



Tel: +855(0) 23 888 161 / 162
Fax: +855(0) 23 214 318