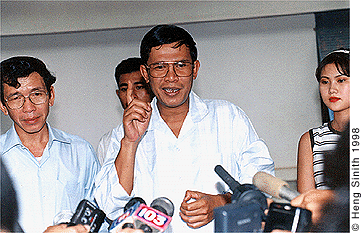 BACK ON HIS FEET
Translator on his right, his daughter Mana on his left, Hun Sen faces off
with foreign reporters at Calmette Hospital.
THREE days after an emergency appendectomy, a pyjama-clad Second Prime Minister Hun
Sen emerged from Calmette Hospital July 20 and met a jostling scrum of foreign reporters
in the hospital courtyard.
The swelling organ had temporarily knocked Hun Sen out of the public spotlight and
caused a shower of get-well-soon wishes from even his most bitter political enemies
Prince Norodom Ranariddh and Sam Rainsy.
But Hun Sen's quick responses to the press' barrage of questions proved his political
wit is as sharp as it ever was.
As he paused to light a 555, an Australian cameraman called out, "Don't you
know that's bad for your health?"
"Smoking means I am healthy," Hun Sen replied. "If I am sick, I cannot
smoke. When I am healthy, I can."
He brought his 18-year-old daughter, Mana, to his side. "I promised her I would
quit smoking when she graduated high school. Now I've told her I will quit when she
finishes college."
"Can you guarantee free and fair elections?" a reporter asked.
"Yes. They will be free and fair. Five million people will cast their votes.
My ballot is just like any other person's. I'm confident in these elections. This
time it is not being done by UNTAC but by the NEC and people of Cambodia. There is
no pressure on the voting. No intimidation, I can't even tell my daughter how to
vote. I think she will vote for me, but I'm not sure."
"Can you show us your scar?" another reporter called out.
Hun Sen looked down, paused, and smiled: "That's confidential."
Moments later, in response to a convoluted question about his eight-point security
plan of August 1997, Hun Sen replied: "I don't understand such a long question.
But where are you from?"
"The United States," the reporter answered.
"My daughter is studying in New York and on the telephone she complained about
her safety. She tells me of so many murders in New York.
"Here in Cambodia we rob motos and bicycles. In America, they rob cars and planes.
In Cambodia, we throw grenades. In Oklahoma, they bombed a whole building, 15 stories,
fell down.
"Why don't you blame President Clinton?"
Contact PhnomPenh Post for full article
Post Media Co Ltd
The Elements Condominium, Level 7
Hun Sen Boulevard
Phum Tuol Roka III
Sangkat Chak Angre Krom, Khan Meanchey


12353

Phnom Penh




Cambodia



Tel: +855(0) 23 888 161 / 162
Fax: +855(0) 23 214 318