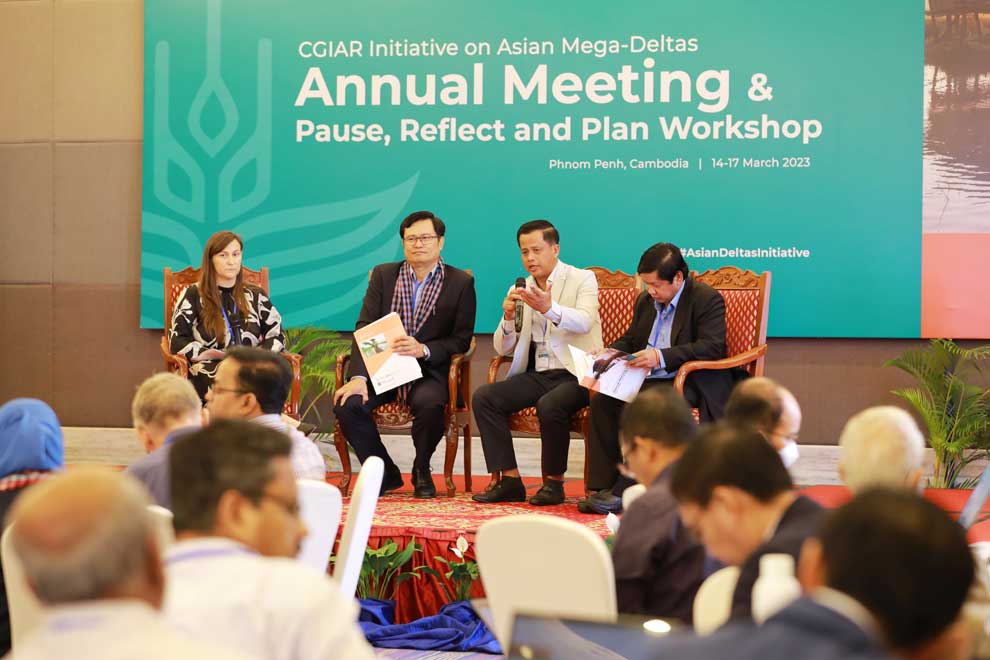 As climate change threatens to cause food scarcity in the future, scientific researchers in food production sector from the region held an annual meeting in Phnom Penh to seek pathways for strengthening strategy, cooperation and results management after launching the "CGIAR Initiative on Asian Mega-Deltas" (AMD) last June in Vietnam.
The four-day workshop, which kicked off on March 14, was attended by officials and representatives of various ministries and agencies, academics, international organisations, the private sector and other relevant stakeholders to provide a platform for researcher collaboration.
Jean Balie, regional director for Southeast Asia and the Pacific for CGIAR, said that AMD's initiative focuses on the three mega deltas in Asia: Mekong delta, Irrawaddy delta and the Bengal delta. The nations focused on mainly are Cambodia, Vietnam, Myanmar, Bangladesh and India.
He emphasised that the AMD initiative is part of the new One CGIAR portfolio of 33 multi-disciplinary research initiatives, which aim to deliver impacts on nutrition, health and food security; poverty reduction, livelihoods and jobs; gender equality, youth and social inclusion; climate adaptation and mitigation, and environmental health and biodiversity.
"Because the justification is clear – the Asian Mega Deltas are the main food production areas of Asia and at the same time, they are highly threatened by climate change," he said.
He added that the AMD Initiative aims to "create resilient, inclusive, and productive deltas by removing systemic barriers to the scaling of transformative technologies and practices at community, national, and regional levels".
"Sea levels are rising much stronger than we thought even five years ago. Salinity intrusion is a big problem.
"All the sectors working for the deltas will have a platform for collaborative research for development and knowledge sharing that will empower not only the research partners but most importantly the smallholders and vulnerable sectors that depend their livelihoods on the deltas," he said.
Chan Phaloeun, undersecretary of state at the Ministry of Agriculture, Forestry and Fisheries, acknowledged the work that the AMD Initiative has already started, such as the workshop to build a network of diverse stakeholders in the provinces of Takeo and Prey Veng and the training workshop on CS-MAP for the delta provinces.
"We are all aware that in Cambodia, a part of the agricultural area is in the Mekong Delta. At the same time, the Mekong Delta sustains the Tonle Sap Region, which is a significant source of food in the country," he said.
Bjoern Ole Sander, lead of AMD and senior scientist at the International Rice Research Institute (IRRI), said that for 2022, AMD not only produced almost 100 new knowledge products, provided input to nine policy changes in the AMD focus countries and curated eight innovations under development, but also reached out to 160,000 farmers and other innovation users and trained 7,000 people in 30 capacity development activities.
He noted that AMD innovations have been adopted in several national government policies, citing policies in Vietnam and Bangladesh as examples.
Sander reported that AMD has been supporting Cambodia's adaptation and mitigation strategies, particularly in the four delta provinces of Kandal, Takeo, Prey Veng, and Svay Rieng, by building learning alliances, promoting nutrition sensitive interventions, developing digital climate advisory, testing socially-inclusive governance models and supporting evidence-based development planning.
According to data shared by agriculture ministry officials, the demand for food and non-food commodities is likely to increase by as much as 60 per cent between 2010 and 2050 in many developing countries, including those in South Asia.
The data presentation noted that future food production will be limited by availability of land, water and energy.
It said agricultural transformation, as a foundation of the new sustainable development agenda, must therefore be an eco-efficient revolution in the next few decades, with at least 30-50 per cent increases in the efficiency of scarce resources used while also ensuring availability of nutritious food and minimising adverse environmental impacts.