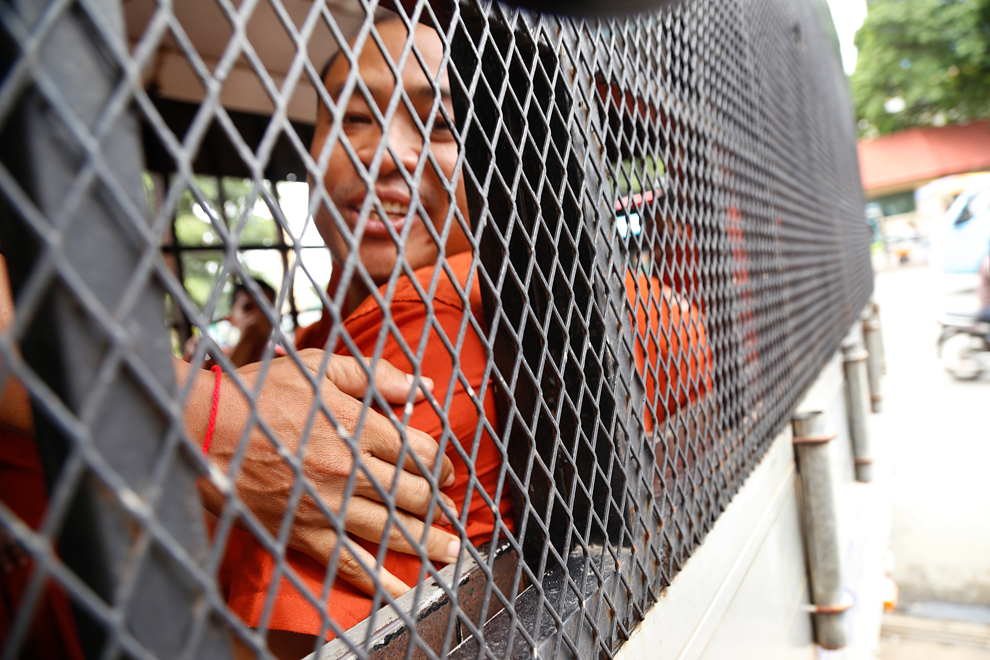 During his turbulent trial yesterday in an incitement and defamation case brought by Prime Minister Hun Sen, political analyst Kim Sok walked out of the Phnom Penh municipal courtroom in protest before being brought back in, only to theatrically plug his ears before the judge.
Much of the two-hour hearing in the case, which could result in fines of up to a half million dollars and jail time, was spent on a newly submitted request by Sok for the premier to testify.
The analyst was hit with two lawsuits in February – one after appearing to insinuate in a Radio Free Asia interview that the government was behind the killing of popular political analyst Kem Ley, who was gunned down in July last year, and the other after publicly attempting to clarify the offending remarks.
Judge Ky Rithy rejected Sok's request for Hun Sen to appear, saying the prime minister "is already represented by a lawyer".
The premier's lawyer, Ky Tech, argued that he was the voice of the prime minister in the case. "I am the complainant," he said. "[And] how can he request Samdech [Hun Sen] to stand with him?"
When the request was rejected, Sok demanded that he be escorted back to his cell.
"I don't accept Judge Ky Rithy anymore . . . Prison guards! Please bring me back to prison," Sok said, before being allowed to go the waiting room.
After Sok and his lawyer, Choung Choungy, had left, Tech and Prosecutor Sieng Sok reminded the court that the accused must be present, asking the judge to "control the activities of Kim Sok – he is so defiant".
Upon returning, this time without his lawyer, Sok emphatically tore up his reasoning for why Hun Sen should be made to appear, then stuffed the shredded paper in both ears to prevent himself from hearing.
Discussion of the original complaint lasted just 10 minutes, during which the court played the contested one-minute extract of Sok's radio interview.
Hun Sen's lawyer Tech then requested the maximum sentence for Sok.
"What Kim Sok said affected the innocence of the CPP, and we demand compensation of 2 billion riel [about $500,000] for that," Tech said.
Meanwhile, Prosecutor Sieng Sok claimed the accused intended to incite chaos throughout society. Incitement carries a prison sentence of up to two years.
While being escorted out, Sok questioned the independence of the court, saying it "only follows the dirty words of Hun Sen".
Tech, however, said allowing the prime minister to appear before the court would put its independence under scrutiny. "There must be a lot of security guards, and they would accuse him of putting pressure on the court, making the court shake," he said.
Reached by phone, defence lawyer Choungy likened Sok's imprisonment to the case of two men who were found innocent of slaying union leader Chea Vichea after spending more than five years in jail.
Meanwhile, legal expert Sok Sam Oeun yesterday criticised the broad interpretation of defamation and incitement in Cambodian courts. "Everything is incitement if you speak," he said. "Incite to do what? Incite to kill? Incite to shoot? . . . If you don't incite someone to a specific action, I don't think it's incitement."
Incitement and defamation charges have been brought repeatedly in cases many deem political in nature. Earlier this month, a woman was charged with incitement after she alleged in a video uploaded to Facebook that the premier was masterminding the murder of Ley.
Political analyst Meas Ny said these lawsuits formed part of a strategy to keep analysts fearful. "There are enough reasons for us to be afraid," he said.
He said there were "a lot of clues" that there was no independent investigation into Ley's killing – meaning there was also no proof of anyone masterminding it, leaving room open for such lawsuits.
"[These lawsuits] are hard to justify," he said. "The government often fears that we attack them or are part of the opposition, but in fact we don't. We just want to ensure that the voice of the people really is heard."
A verdict is due in Sok's case on August 10.
Contact PhnomPenh Post for full article
Post Media Co Ltd
The Elements Condominium, Level 7
Hun Sen Boulevard
Phum Tuol Roka III
Sangkat Chak Angre Krom, Khan Meanchey


12353

Phnom Penh




Cambodia



Tel: +855(0) 23 888 161 / 162
Fax: +855(0) 23 214 318