After receiving a sudden spiritual urge more than three decades ago, 'Grandmother' Lang left her comfortable domestic life to found a mountain-side meditation centre drawing hundreds of ascetics, monks, nuns and other followers hungry for enlightenment.
This story is the second in a two-part series about spirituality and faith in rural Battambang.
Grandmother Lang says spirits haunt the Battambang mountain cave where she spent four years of her life meditating. In a tiny hole at the base of the Neang Leam Mountain, its entrance surrounded by gnarled tree roots and twisted vines, the old woman says she has been visited by giants, angels, mountain spirits and ghosts.
"The giant is very noisy and clumsy and powerful, and he has fangs hanging out of his mouth," Lang says. "The faces of the ghosts are scary. They are the ghosts of dead people who cannot move on because they never did anything good, they never got married."
Thirty-six years ago, Grandmother Lang was a married mother of three living an ordinary life in Battambang town. Her life as a housewife consisted of cleaning and cooking for her husband and children. But when a close friend fell ill, she began to question the meaning of life and had a spiritual awakening.
She knew her friend was not religious and rarely went to the pagoda, and she wondered if her illness was caused by bad karma. Her friend eventually recovered, but a seed had been planted in Lang's mind.
"If I were to fall ill and die, what type of merit would I bring to the next life?" she wondered. She pleaded with her husband to let her begin a new life as a nun.
"At first he refused. He said I was too young to do such things," she says, recounting how she cried and begged for permission to dedicate her life to Buddhism.
For weeks, her husband ignored her pleas. "But one day we were all eating dinner and he turned to our children and told them their mother was going to live in a pagoda. I knew then that he had agreed, and I was so happy."
Today, Grandmother Lang can often be found sitting in front of her small home in the spiritual centre she founded near Neang Lem Mountain in Ratanak Mondol district, her arms moving wildly as she speaks.
The centre is sandwiched between a long, flat dirt road leading to a small cluster of villages and the forested mountain land towering above.
The nun's followers, who range from 11 to 64 years old, sit cross-legged on the floor so they can listen to her. In a small rectangular room nearby, a group of monks sit chanting and meditating. Monkeys run around the sunlit yard, noticeably less serene than the humans. Lang's eyes glow with devotion as she tells the story of the centre's establishment.
"When we first arrived in this place eight years ago, there were only two of us," she explains. "We held a ceremony and formally requested that the mountain spirits allow us to stay in the cave."
Lang chose this spot because the quiet mountain landscape seemed perfect for meditation. But first she needed to know if she was welcomed there. She and her companion did yoga and asked once again for permission. This time, they asked the spirits of the mountain to let them move in.
"Once we felt we had been accepted then it was time to bring in the supplies," Lang says, suddenly showing a practical streak. A small mattress and a mosquito net were the most important items, the only ones furnishing the tiny cave where Lang communed with the spirits.
Slowly, others began to arrive. Hundreds of monks and nuns have come to learn from Lang, and her small spiritual community grew. The centre focuses specifically on Vipassana, a type of Buddhist meditation whose name means "to see things as they really are". Today, Lang lives in a hut by the foot of the mountain, and others occupy the tiny caves carved into the rock in the mountain's base.
"People come here to meditate when they want to end their suffering," Lang explains. "They do Vipassana and yoga."
The mountain myths
Although Lang isn't native to Ratanak Mondol, she and her followers, who currently include 12 resident nuns, two monks and a group of adherents who come and go, are keeping alive the local belief in forest and mountain spirits.
The historian David Chandler has written that forests in Cambodia were long associated with "fearsome spiritual power".
According to the academic Lisa Arensen, who conducted extensive ethnographic research in the villages of Ratanak Mondol, forest and mountain landscapes are often viewed as hubs of this spiritual power, a place where ascetics can retreat and regenerate.
"Khmer cosmology is comprised of a general dual categorization between spirits of the srok [village] and spirits of the forested wilderness," Arensen writes in her paper Local Cosmologies in Northwest Cambodia, which was published in the journal Asian Ethnology in 2012.
"The neak ta prey, the guardian spirits of the forests, are commonly regarded as powerful, wild, and largely malevolent towards human beings."
According to local beliefs, there are two types of spirits who dwell in the forests: the neak ta prey, or forest guardians, and saccang, spirits who are similar to humans but also reside in the woods, usually under a shroud of invisibility.
Like Lang, the saccang are believed to dwell in beautiful caves. Lang and her followers say they have seen these spirits and more. One of Lang's students, a 64-year-old nun who is originally from Pursat, says she has seen angels living in the woods.
"The angels come flying in groups carrying bunches of flowers. They are very beautiful," she says.
Meanwhile, Lang claims to have seen the starving ghosts of the war dead who were killed by the Pol Pot regime.
"The spirits were naked, and very big and tall," she describes. "They were a man and a child and they were crying. They said they couldn't eat the food I offered if I put it on the ground."
People in the villages around Ratanak Mondol often talk of hungry ghosts and forest spirits. Villagers regularly pray to the spirits, light incense and leave offerings of food to appease them. But although they are ravenous, the spirits are thought to take kindly to those who are pure at heart. The wicked or deceitful will not last long in the forest, villagers say, as they quickly fall prey to illness.
In this context, Grandmother Lang is perceived as a symbol of spiritual purity, a woman who entered the woods and survived.
A powerful woman
In Cambodia, nuns are often relegated to performing domestic duties while their male counterparts meditate and study religious texts. Women almost never teach others about spirituality, especially not male monks.
But in the Neang Lem mountain spiritual centre, Lang is obviously the leader. Men and women alike wander around the centre's grounds, but everyone directs inquiries to her. She is so revered for her spiritual wisdom that male monks are willing to be her students. In the past eight years since she opened the centre, Lang says she encountered just one male monk who refused to learn from her.
Dressed in her purple robes, Lang hands her walking stick to her youngest protégé, an 11-year-old girl swathed in white, and begins leading several monks towards the gaping entrance of the mountain.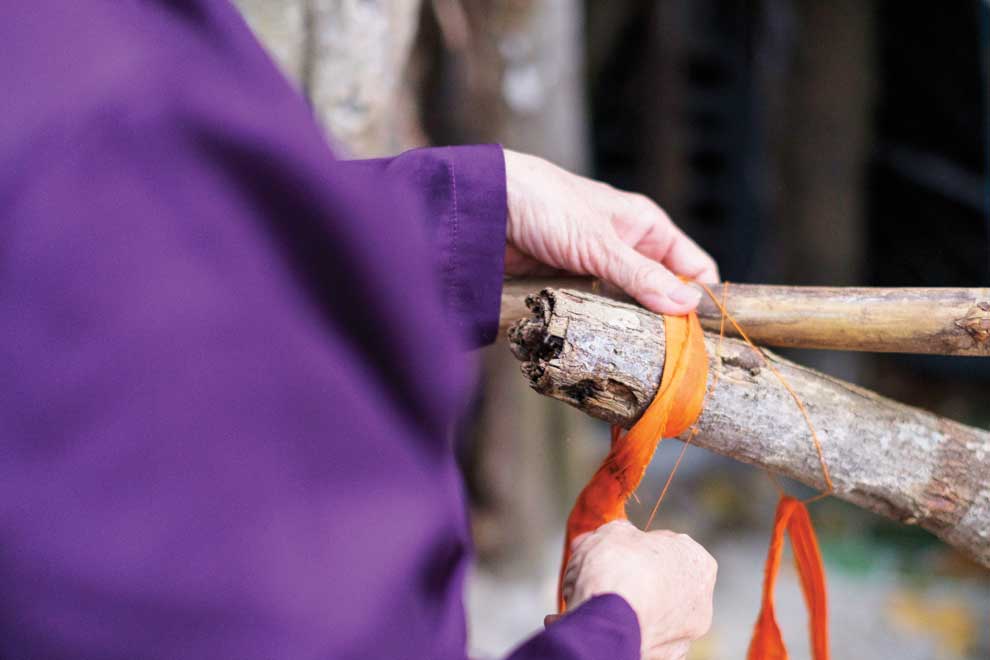 The cave's main entrance is dark and damp. Screens have been hung on the roof to catch the bat excrement, and the plastic is smeared with stains. The sound of bat cries bounce off the cavern walls, and candles burn dimly, letting off a faint heat that's insufficient to warm the dank cave.
"As long as you have faith you can come here," she says. "It depends on your spiritual knowledge and abilities."
The centre thrives on the rich belief in spirits and myths. But over the years, Lang has transformed into a type of myth herself, a fact that has allowed her to take on a leadership role.
Her habit of wearing purple robes – an anomaly among Cambodian nuns, who always dress in white – has caused people in Ratanak Mondol to murmur about the "mysterious woman in purple" who teaches Buddhism in a cave.
Lang, however, has more practical reasons for wearing purple than to develop a unique identity or a veil of mystique. "It doesn't get dirty as quickly," she says.
Nevertheless, this small act of rebellion may have helped her to carve out a special spot for herself in Cambodia's religious landscape. And according to Arensen, local legends have contributed, too.
The name Neang Lem comes from a famous female hermit who arrived in Ratanak Mondol just as the Khmer Rouge were beginning to emerge in the 1950s, Arensen says. She came in search of a cave for meditation, but the villagers thought she was a Khmer Rouge spy and tried to thwart her efforts to find the cave.
By the time Neang Lem found the cave she was close to reaching nirvana. She sent a message to the village chief explaining that she was about to leave her body, but that she would return. As such, her body should not be cremated.
Nevertheless, the woman's arrival coincided with a visit by King Norodom Sihanouk, who had come to bless the villages. In the frenzy and excitement of his visit, Lem's message was lost, and one of the villagers discovered her body and cremated it.
Upon the destruction of her body, the woman's spirit was transformed into the guardian of the mountain, the legend says.
"That was one of the reasons the woman in purple could get away with what she was doing," Arensen says. "Because it was a famous woman hermit's cave."
Contact PhnomPenh Post for full article
Post Media Co Ltd
The Elements Condominium, Level 7
Hun Sen Boulevard
Phum Tuol Roka III
Sangkat Chak Angre Krom, Khan Meanchey


12353

Phnom Penh




Cambodia



Tel: +855(0) 23 888 161 / 162
Fax: +855(0) 23 214 318