The Cambodian food and beverage market has seen increased development and good growth in recent years. Supply chain infrastructure and hygiene are constantly being improved. There is also a clear increase in the variety of new local and international offerings appearing in the city and increasingly in the provinces.
One of the local regional groups making such improvements and investments in the Kingdom is EM Food Services (EMFS).
EMFS employs Cambodian people in a wide variety of positions in its multi sector approach to the industry segment.
In an interview with The Post, CEO of EMFS, Eloi Courcoux, sat down to help us better understand EMFS operations.
EMFS has businesses targeting three core segments. EMCAT concentrates on airport Food and Beverege concessions.
In Cambodia that means both Phnom Penh International Airport as well as Siem Reap. International Airport Contract food services are covered by their Hagar Catering business. Finally, Mekong Food Services (MFS) is a retail and business to business food solution company.
"We are food experts. We produce, operate and manage food services…when we do something we do it well, to international standards." Said Courcoux, adding, "we focus on a diverse portfolio in order to satisfy our customers".
EMFS has been operational in the Kingdom since 2010, Courcoux noted, "we have more than doubled our footprint since we started".
This is despite some of the major challenges that larger scale production and supply chain management can throw at Cambodian businesses.
A major challenge for any business dealing in raw foods is hygiene, and this is true worldwide.
EMFS are the first halal and HACCP (Hazard Analysis Critical Control Point) certified business in Cambodia.
This core competency is crucial as a significant point of difference in the Kingdom, giving local and international travelers peace of mind when it comes to their businesses offerings, "HACCP is something we really insist on, we concentrate on that a lot" remarked Courcoux, adding, you can't operate without hygiene and quality control".
Supply chain management has been a slightly less difficult prospect as EMFS, through MFS, have control of their own produce and value added products, "we produce for all our clients from scratch, we produce a variety of different products" this is of real benefit to EMFS, "ïts a way for us to control the value chain", explained Courcoux, it is a clever approach that has paid dividends.
The markets that EMFS is targeting will always present difficulties for all players, as Courcoux noted "the market is a bit challenging, there are new offers that pop up everyday".
Courcoux remains positive that the varying strategies for the businesses under the EMFS umbrella are ready.
Courcoux stated, "we want to be more proactive and less reactive" in the market.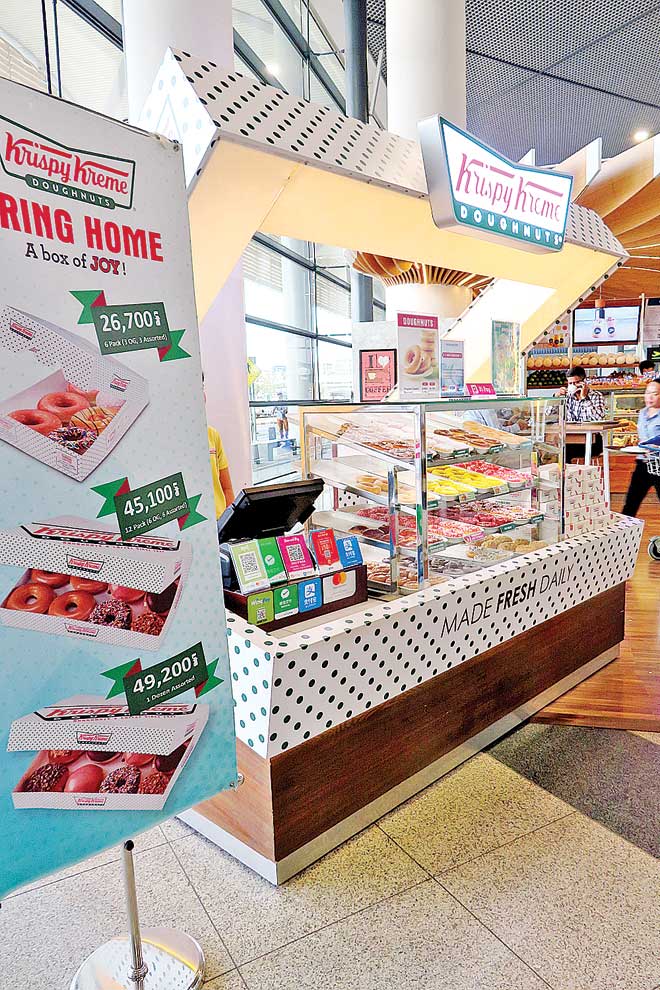 But EMFS are aware and ready for other possible challenge such as changing trends and international tastes, "We try to innovate in what we do well. We have new menu items and new recipes to serve our clients, we have targeted offerings" said Courcoux.
Ultimately EMFS are 100 per cent customer and service orientated, their secure supply chains can ensure healthy hygienic meals for end customers via the variety of market avenues.
Hagar Catering alone supply 24,000 meals a day from their central kitchens. In addition, Hagar Catering has recently expanded its operations to food court management at Phnom Penh International Airport and at Exchange Square.
Another example of the strategic approach taken by EMFS this will cater to a different demographic, "Nham food court is targeting affordable price points, meals are between about $2 and $5…what we need is the right mix" saidCourcoux.
Courcoux notes that the major challenge that EMFS will face going forward is the changing market, "complexity right now for us is knowing how to better serve tomorrows customer, we are always learning how we can better anticipate their needs".
With a diverse range of offerings, a well controlled and secure value chain, as well as key services proving successful in their three core segments, EMFS are on stable footing to develop their strategies and performance in years to come in addition to aiding in the development of the Kingdom while doing so, Courcoux said, "we are here to help develop the country, and that is very important".