The Lanmei Training Center (LTC) in Phnom Penh is bringing the highest international levels of instruction to develop the next generation of Cambodian pilots to ensure the Kingdom's aviation industry really takes off.
Demonstrating the centre's commitment to excellence, Cambodia's only professional airline industry training institute has recently invested in a multimillion-dollar flight simulator.
"There is a lack of aviation training expertise and facilities in Cambodia to cater for the Kingdom's aviation industry. Currently all aviation technical training is conducted outside Cambodia, which incurs high travel and logistics costs.
"With the simulator purchased, Lanmei Training Center can have all the pilot training completed locally. Our set-up has all the facilities required for pilot and aircraft engineer training.
"We have a single-engine aircraft for pilot training and a full maintenance workshop. We are just awaiting our final piece of equipment – a brand new $10 million A320 simulator, which we expect to arrive around June," said Captain Goh Chee Hong, LTC general manager.
Goh says that currently the vast majority of the pilots in the Kingdom's aviation industry are foreign, with only five to 10 per cent Cambodian – and an aim of LTC is to reverse these figures.
"LTC's intention to is bring more local talent into the Kingdom's aviation industry. Hiring foreign pilots is very costly and they usually don't stay long in Cambodia, so the whole process of rehiring and retraining is very expensive.
"With our MPL programme, Cambodians now have the opportunity to undergo their training here in Cambodia, while our current group of 16 cadets also includes people from countries such as Australia and China.
"We hope that one day the whole aviation industry in the Kingdom will be majority local Cambodians.
"In cooperation with the State Secretariat of Civil Aviation, we are aiming – by bringing in aircraft simulators, single-engine training aircraft and technical training expertise – to ensure this happens," said Goh.
LTC – established in December 2020 – is the only training organisation in the Kingdom approved by the Cambodian State Secretariat of Civil Aviation (SSCA), receiving a two-year renewal in February.
A major draw of the LTC courses, Goh said, is that those who pass are guaranteed a job with Lanmei Airlines – and will fill the natural expansion of the Kingdom's aviation sector.
Cadet pilots undergo 245 hours of flight training – 75 in the single engine aircraft and 170 in the simulator, with the MPL programme taking a minimum of 18 months.
Goh says it takes around two years of rigorous training before cadets earn their wings, after which they will join the Lanmei Airlines crew, serving a number of destinations across Southeast Asia and China from Cambodia's Phnom Penh, Sihanoukville and Siem Reap international airports.
Lanmei Airlines was established in 2017 and – currently with six Airbus A320s – is the largest airline in Cambodia in terms of fleet, passenger volume and cargo volume.
"We run Multi Pilot Licence [MPL] and Aircraft Maintenance Engineer courses, with training conducted by technical experts from Lanmei Airlines, SSCA and certified instructors from other ATOs [Approved Training Organisations].
"LTC will also be offering Private Pilot Licence training by the fourth quarter of this year," said Goh, a qualified commercial pilot with 20 years' experience at such noted carriers as Singapore Airlines and Air Asia.
And private individuals in the Kingdom wishing to fly for fun will be taught to do so in the same state-of-the-art training aircraft as the cadet commercial pilots – a Sling 2 from South African manufacturer Sling Aircraft.
"Lanmei Training Center's commitment to the highest training standards means we have invested heavily in our Sling 2 training aircraft with the latest and most advanced avionics equipment for our cadet pilot training," said LTC head of maintenance Andrew Naidu.
Goh said the LTC's ultimate goal is to build a legacy for the Cambodian aviation industry and people.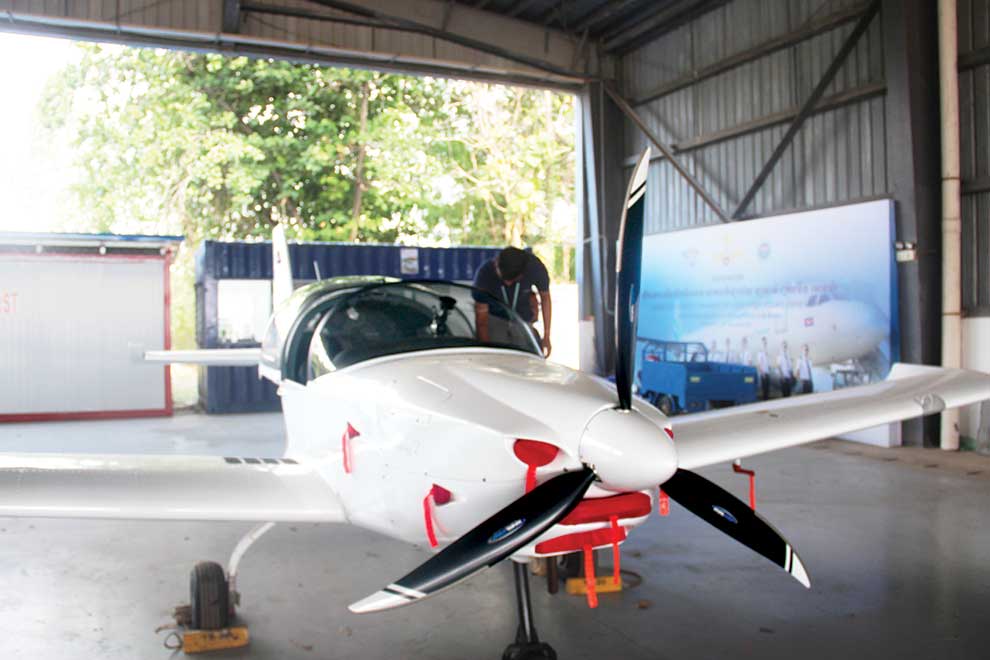 "There was an acute shortage of training facilities in the Kingdom, and a main purpose for us is to develop local expertise.
"We have good pilots here from major airlines such as Emirates and Singapore Airlines, and they will raise the level by bringing their international-standard working practices and ingraining them into the culture.
"The idea is to get more locals into the workforce. When the day comes that Cambodian professionals take over the running of the training centre, it will be mission accomplished," Goh said.