The Vine – Phnom Penh's unique hairdressers-restaurant-bar business concept – is set to move in spite of the disruptions of the Covid-19 pandemic as it looks to deliver its loyal "family" of customers an even better experience.
Having been delighting the capital's foodies since 2018, co-owners Joel Shipsides and Sara Collins are taking The Vine from its St172 home for larger premises a short walk away on St244.
Shipsides said the relocation – due before December and promising the same contemporary but laidback vibe – comes with The Vine well positioned, partly as a result of the success of its original "multi-business" model.
"The Vine was originally a space for my partner Sara – an experienced Western hairdresser – to operate a salon out of, and we had the concept of combining this with a cocktail bar. The idea was to cater to travellers, where their friends could wait and have a drink while they had their hair cut.
"This proved popular immediately, with The Vine growing and evolving seamlessly into its own entity. When customers began requesting to bring food in, we realised we could provide better food for them ourselves, and so we set up the kitchen.
"This gained traction straight away, and is still proving so popular that the time is right, despite Covid-19, to move to bigger premises," the Australian said.
Sara, who worked at one of the most prestigious salons in the Melbourne area for 18 years, said her approach to hairdressing reflected The Vine's ethos as a whole, combining expertise and trusted service.
"Hairdressing is forever changing, with new trends and styles meaning you need to keep current, but what will not change is my insistence on doing what is best for my clients, who include local Khmer people and expats, women and men.
"I would rather refuse someone's money than give them a style that wouldn't suit them or carry out a treatment that could damage their hair, and I believe that such trust is essential," she said.
Shipsides said the multi-business model has proved invaluable to The Vine successfully navigating the global pandemic, with the tourism industry ravaged by its impacts.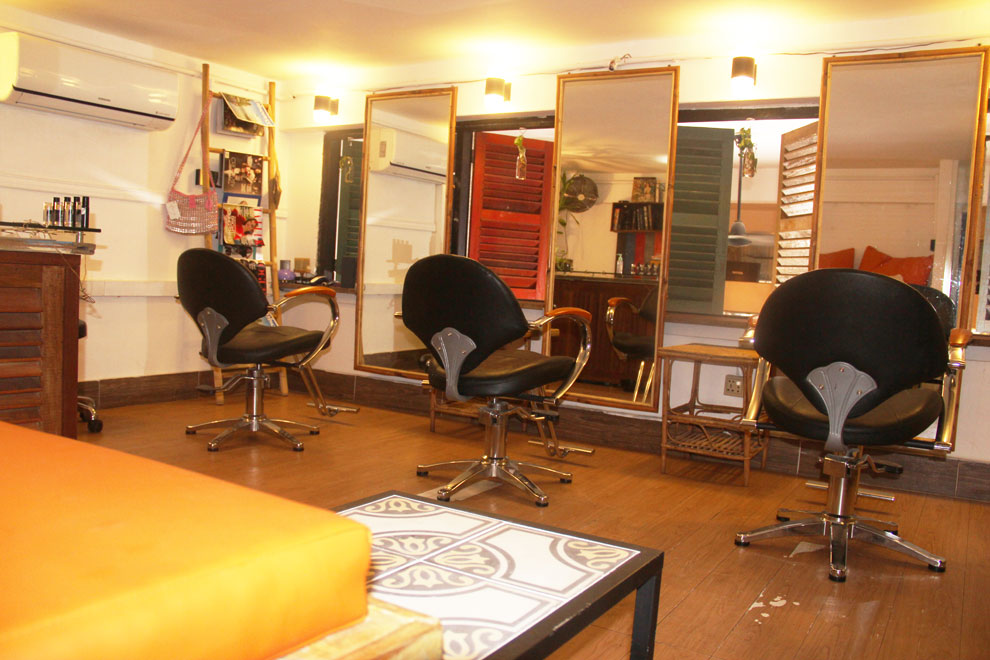 "It's been very exciting over the past three years to be running a business with such a unique model. On the food side of things, it would be roughly 50-50 among Cambodians and expats, while the hairdressers and bar would be enjoyed mostly by expats.
"We have found the concept to be very sustainable so far, especially during these tough pandemic times, and we are lucky enough to have lots of regular customers, who together with our staff we consider all part of The Vine family," Shipsides said.
With deliveries up as customers remained loyal during the pandemic, the Melbourne native says The Vine is well positioned for the future.
"Before the measures were brought in to combat Covid-19, about 30 per cent of our food business was delivery. This has increased to around 50 per cent since the pandemic struck.
"While we expect this to return to normal when restrictions are finally lifted, we also foresee outside dining to be increasingly preferred post-pandemic, and our new location boasts a much larger space for this," Shipsides said.
The Vine's contemporary Western cuisine – with a focus on interesting specials – has gained some renown among the capital's expat community, particularly for its version of a world famous burger creation.
"One day I really fancied a Big Mac-style burger, and as we don't have McDonald's in Cambodia, I decided to try and recreate the taste myself. And the response from customers suggests it worked.
"While we are a place with an inspired take on some familiar classics, we also have a strong focus on unique specials that elevate the cuisine from just an average burger," Shipsides said.
While The Vine's unique business model has helped it prosper, Shipsides says its success has been built on a traditional emphasis on consistency and quality.
"I think ours is an original strategy, and I believe originality can be a great driver if you get the basics right.
"We have our style, and I think there should be room for lots of different types of places in town. You shouldn't be overly concerned with what others are doing, but rather focus on your own strengths and work hard.
"Having worked in hospitality in Australia for more than a decade, what I wanted to bring to Cambodia was quality and consistency – and I reckon this is the cornerstone of our success," Shipsides said.