The Sacred Dancers of Angkor will be holding their debut public performance in Phnom Penh on Thursday, presenting epic poem the Reamker in its entirety at the recently renovated Chaktomuk Theatre.
The troupe is made up of dancers from the villages surrounding the temple of Banteay Srei, and holds the dual honours of royal patronage from Princess Buppha Devi and international backing from UNESCO.
Later this year, the dancers will embark on a three-month tour of Europe – their longest stint abroad to date.
The troupe's founder, Swiss-Khmer Ravynn Karet-Coxen, said on Thursday that the hastily organised performance had come about when she realised she was running out of time to present the Reamker to a local audience before it went on tour.
"I really kicked myself in the bottom by saying: 'You cannot go and perform abroad not having presented them to Cambodia,'" Karet-Coxen said, speaking via phone from Siem Reap.
"I'd insult my country to bypass it."
The Sacred Dancers of Angkor were established in 2007, as an offshoot of the Nginn Karet foundation – a larger charitable project that helps 14 remote villages around Angkor with agriculture, health and hygiene that Karet-Coxen has been running since1999.
Their foundation myth is more colourful than that of most NGO programs, and it's one that the 64-year-old Karet-Coxen doesn't tire of telling almost a decade on.
She recounts how the villagers she worked with seemed to be in "limbo" even in the 2000s – still struggling to process the trauma of Cambodia's turbulent past.
"I thought maybe a film that would show them the past – the good times before – maybe then they will wake up," she explained.
The film she chose was Apsara – King Norodom Sihanouk's 1966 Cambodia showcase, which starred his daughter, the Princess Buppha Devi, and boasted a cameo from legendary crooner Sinn Sisamouth.
"My god, they were crying," she said of the reaction. "It was such an emotionally charged evening. And then they came to me and asked for a dance school."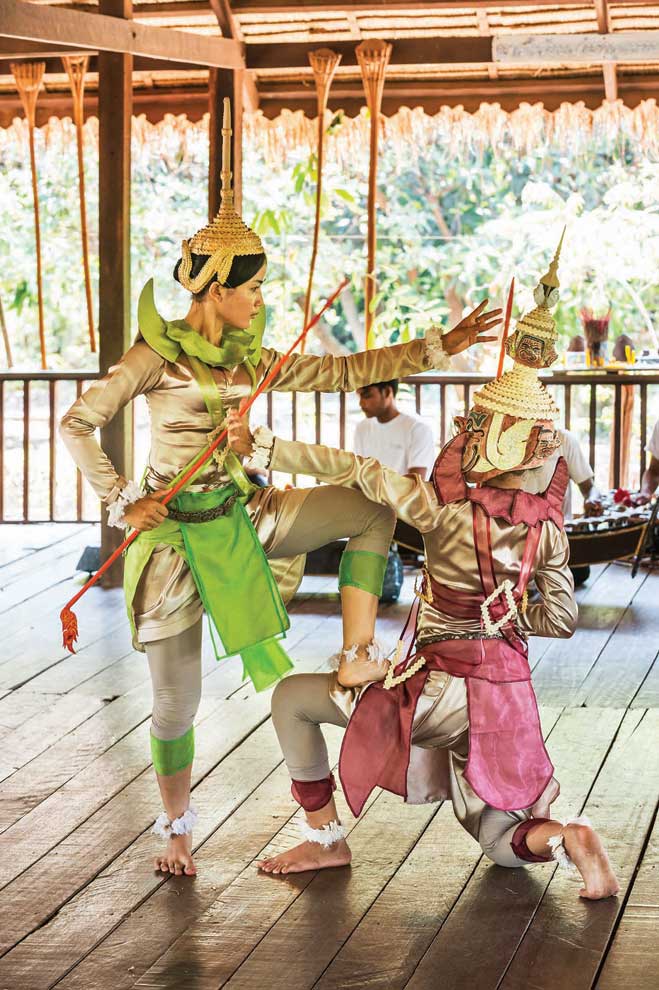 Karet-Coxen's success in transforming this into reality came in part thanks to her illustrious family lineage, and ensuing royal connections. Her father, Nginn Karet, was a cabinet minister under Sihanouk and a leading cartographer in post-independence Cambodia. Married to the Swiss daughter of pioneering abstract artist Gerard Schneider, he was a key player in securing the return of the Preah Vihear temple complex to Cambodia during the Hague deliberations of 1962.
As a result, in 2007 Karet-Coxen was able to take her idea for a dance school directly to Cambodia's then-Minister of Culture and Apsara's star, the Princess Buppha Devi.
Initially, the princess was sceptical: Apsara dancing was traditionally the preserve of palace children.
Karet-Coxen relayed her passionate response: "I said, 'Princess, maybe they're not royal children but they are the children of the gods of Angkor, so let me do it."
The princess not only agreed, but allowed the new rural dance school to be named after her: the Conservatoire Preah Ream Bopha Devi.
In the years since its founding, the "children of Angkor" image has remained integral to the style of the elegant dance troupe. It's an approach that Karet-Coxen sees as fitting, given the traditionally sacred function of dancers as communicating between gods and mortals. "I want people to have the impression they're coming out of the stone," she said.
To date, the dancers have dedicated 31 sacred dance rituals in the temples: Apsara shows performed with minimal make-up and costume, intended to mimic the function of the vestal virgins of ancient Rome and "put back the spiritual energy into all these temples".
Karet-Coxen says that these sunset rituals are not open to the public. "I have occasional friends, but they are people who are spiritually inclined. They are not voyeurs."
The Sacred Dancers of Angkor perform occasionally in upmarket hotels around Siem Reap, but are strict about enforcing a no eating and a no talking rule that rarely applies during commercialised apsara performances in the town.
As a result of the scarcity of public performances, money can be tight. Karet-Coxen is unsatisfied with the "yo-yo land" lives that her dancers lead, often skipping class to boost the family's income with day-labouring. For their last international tour to the United States, her UK-based husband put up $100,000.
In order to maximise income, overheads for the Phnom Penh visit are staying low: the 45-strong group of visitors will all be camping out in a single house belonging to Karet-Coxen's friend. She hopes that the show will bring in funding to help support the dancers with $60 a month each during the upcoming months of preparation for the international tour.
For audiences not sure of what to expect, Karet-Coxen can point to the ringing endorsement of a second royal fan, won over in 2009 when the troupe performed privately for King Father Norodom Sihanouk outside the Royal Palace.
"The King was completely amazed," she recalled. "He said: 'I can't believe that they can have such control of the movement and of their rhythm. I don't know how you did it, they must be guided from 'up there'."
The Sacred Dancers of Angkor will perform the Reamker at Chaktomuk Conference Hall, Sisowath Quay on January 28 at 7pm. Tickets cost between 5,000 riel and $20 and can be purchased at the door.
Contact PhnomPenh Post for full article
Post Media Co Ltd
The Elements Condominium, Level 7
Hun Sen Boulevard
Phum Tuol Roka III
Sangkat Chak Angre Krom, Khan Meanchey


12353

Phnom Penh




Cambodia



Tel: +855(0) 23 888 161 / 162
Fax: +855(0) 23 214 318