Stevo Joslin Comedian Stevo Joslin is a well-known name in Phnom Penh's comedy scene. One half of the couple behind the travel and expat life blog twocantravel.com, he works as a school manager for The Giving Tree in Tuol Kork by day and pulls out the punchlines as a stand-up comedian by night. This week, he sat down with Anna Koo to discuss the spaces that have shaped his career as a comedian
The Box Office
This place [on Street 244] is really important to me because of my show. I produce it, I host it, I work with the venue and I know the guys [there] very well. I've never done anything like it before. Professional comics I've spoken to say that a big step in developing as a professional is turning your talent or ability into a business – into something that people want to pay money for. The Box Office is the opportunity that I've had to take a step forward to being a [professional] comic, to really get into the business side of things instead of just writing jokes. For almost a year now, we've brought in professional comics every first Friday of the month to perform here [including this week]. It's been awesome and really cool working with professional comics and venues and sponsors and learning how to run a small side-hustle and make a couple of bucks to buy new mics and equipment like that. It doesn't pay the bills, but it definitely makes me happy.
Chinese Noodle Restaurant
We used to do professional shows at Show Box until 11pm. We'd stick around for a while at the party until they kicked us out at closing time at midnight, then walk down the road to Monivong [and Street 310] to get some dumplings afterwards. We'd be there, a couple of drunk comedians at two o'clock in the morning. It was nice to spend some time with my guard down after a show and interact with international professional comics, which is a rarity here in Cambodia. I appreciate just having a meal and a fun conversation with someone who is making their living doing comedy – which is something I am shooting for – and to learn how they got started, and to see where I'm at, compare it to where they're at, and try to find out the steps that I need to take to make that transition.
Sundance Inn & Saloon
We run a show here [on Street 172] maybe once or twice a month. They're very generous, and after the show they give us a beer tower each. We just hang out after the show and talk to a bunch of old drunks and backpackers. It's always nice to just hang out in the back and chat as comedians. When you talk to [someone in the same line of work] you have a shared experience. It's hard to tell someone "Oh, this is what it's like to stand in front of people who don't want to listen to you, who don't want to laugh and want you to shut up so they can keep talking, and to make them laugh", so it's really nice to spend time with them after the show and have a chance to talk to someone who does the same thing that I do.
Roots & Burgers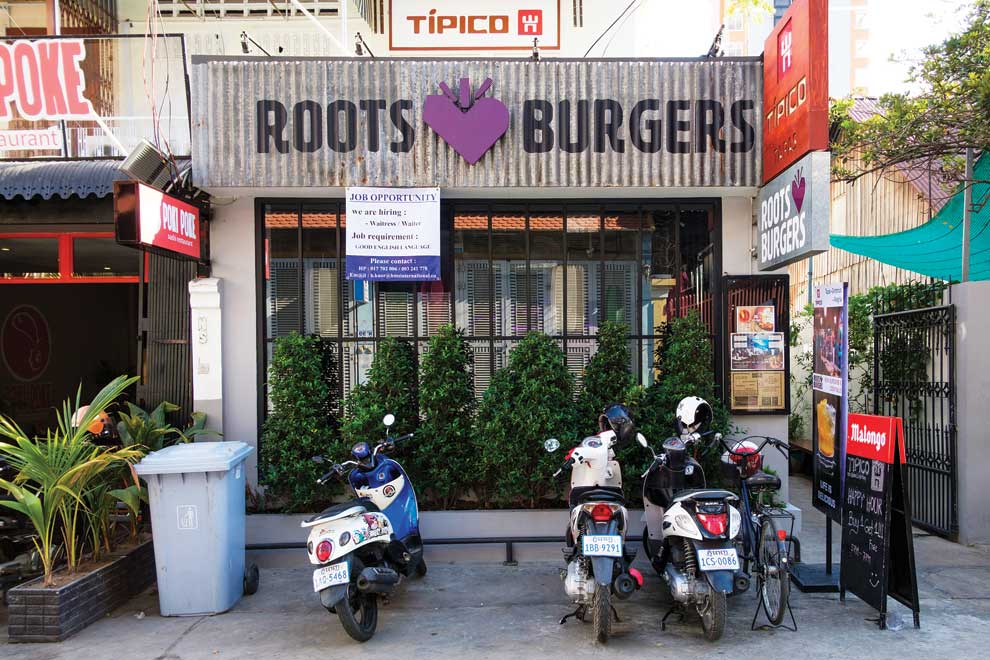 If I'm sitting at home trying to find an idea, it's easier sometimes to just go outside and get out of that comfort zone and get the wheels turning. Roots and Burgers [on street 454] is where I often go and write my jokes. I know the owners there, so sometimes they'll give me a discount. They have burgers, Vietnamese baos, salads and cocktails. I like their classic R&B burger and baos. It's in the neighbourhood that I live in, so I always see somebody I know. It's a good distraction for the jokes, because I can ignore what I'm doing for a while and get back to it with a new perspective. We do a show there every last Thursday of the month as well, and the complimentary red wine sangria they give me after the show is really good.
Mae Sai Kham Boat Noodle Restaurant
I really enjoy this Thai restaurant [at Street 163 and Street 470]. The owner is a very nice Thai guy and I teach him English when I'm there. They also have really good Thai iced milk tea and tom yam soup. Of the Thai restaurants in Phnom Penh, there are the really expensive ones and there are the "you'll get sick if you eat here" kind of places. This is the "you'll get sick if you eat here" kind, but I haven't gotten sick yet – knock on wood – but I really enjoy this spot. It's cheap, they let me stay for as long as I want, and I can eat while getting a good view of the street I live on and the people riding by. Being outside of the house and in the heat also helps the wheels turn. I promise myself "I'm going to sit here until I write five jokes", and being hot and uncomfortable makes those jokes come along much faster.
Contact PhnomPenh Post for full article
Post Media Co Ltd
The Elements Condominium, Level 7
Hun Sen Boulevard
Phum Tuol Roka III
Sangkat Chak Angre Krom, Khan Meanchey


12353

Phnom Penh




Cambodia



Tel: +855(0) 23 888 161 / 162
Fax: +855(0) 23 214 318