Over its 30 years as a highly respected, independent media outlet in Cambodia, The Phnom Penh Post has built a strong reputation as the place for budding journalists to train, benefitting from the vast experience of its staff.
Since its founding in July 1992, The Post has, in addition to its professional and independent news coverage, offered opportunities for students and young people to learn and hone their journalistic skills as a proving ground for the Kingdom's news gatherers.
Sovan Philong, who is now the vice-president of the Photo Phnom Penh Association, joined The Post as a stringer in 2008. He said his time at the paper sharpened his skills both as a photographer and a journalist.
"Unlike other photographers who had experience in this area, working as a photojournalist at The Phnom Penh Post was a new experience for me, one where I learned significantly on the job.
"As a young photographer, it was a very valuable time for me, as before I only knew how to take photos. I knew about general photography but had no experience in photojournalism at all.
"I joined The Post to gain experience, and I learned so much from my time at this institution," Philong said.
During three years of working at The Post, he was able to gain invaluable experience, from how to work in a professional environment, form strong relationships with colleagues, and in particular, develop his use of language.
As part of projects in collaboration with The Post, Philong even got to work with Hollywood star Jackie Chan, known as Chhin Long in Cambodia, and other celebrities.
"For me, I am proud to have worked for The Phnom Penh Post from 2009 through 2011. The Post helped me to develop many new ideas and gave me the opportunity to attend workshops with foreign photographers and other journalists," he said.
Ith Sothoeuth, the director of the Cambodian Centre for Independent Media (CCIM), an NGO, said The Phnom Penh Post was the first media outlet he joined, in 2009.
He started as an intern for two months during a vacation after his second year of study at the Department of Media and Communication (DMC) at the Royal University of Phnom Penh (RUPP), before joining full-time.
"During my time at The Phnom Penh Post, I gained a lot of experience in news writing and covering stories, as well as meeting in person with high- and low-ranking officials, and the general public.
"I worked at The Post full-time for nearly a year, which gave me an important base for continuing in the field of journalism," he said.
Sothoeuth added that such a foundation had been invaluable as he continued his career.
And The Post continues to offer such opportunities to budding news hounds.
Ro Kimlong, a student from the DMC, spent six months as an intern at The Post last year.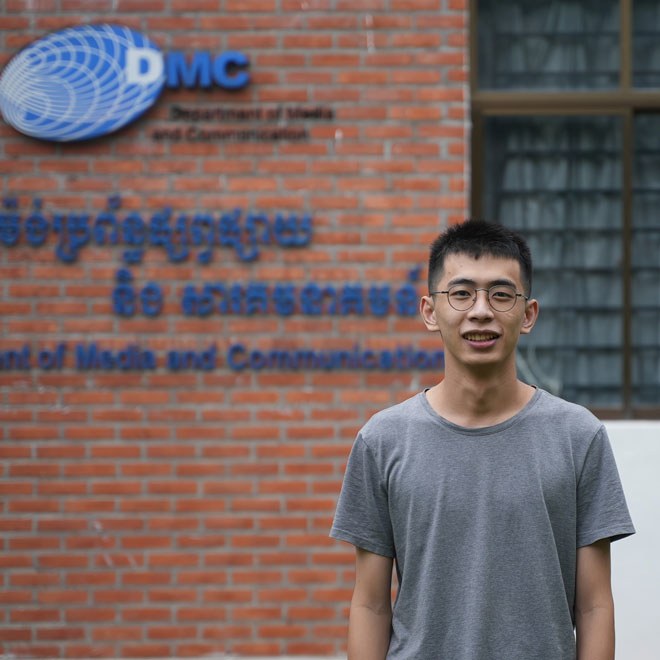 Kimlong said he was interested in an internship at The Post because it is a well-established media outlet with decades of experience in covering current affairs.
Covering stories ethically and professionally to readers of all ages, The Post occupies an important space in Cambodian society, he added.
"I think that there are currently very few media outlets that produce and publish their articles as accurately and comprehensively, and according to professional ethics.
"This was a factor in my determination to do an internship at The Phnom Penh Post, due to the value of its work," he said.
During his six-month stint on the national news desk, he learned a lot about the process of working in a professional outlet that produces daily news articles, from the production process, writing compellingly and with clarity, to contacting commentators, he added.
"Working at The Post showed me what journalistic standards and professional ethics are, and provided me with the opportunities to strengthen my hard and soft journalistic skills in addition to my previous classroom experience," Kimlong said.
Ministry of Environment secretary of state and spokesman Neth Pheaktra praised The Post for its role over the past 30 years and for providing a strong foundation for Cambodia's journalists.
Pheaktra worked as a deputy chief of staff at The Post from November 2008 until May 31, 2011, and then as managing editor of the Khmer-language edition of The Post.
He left to take on a new role as a spokesman for the Extraordinary Chambers in the Courts of Cambodia (ECCC), commonly known as the Khmer Rouge Tribunal, on June 1, 2011.
"The Post provided the opportunity to apply the theory I learned at journalism school and from an internship experience in France, and it is where I reached the apex of my career in journalism and accomplished my proudest achievements," he said.
The Post has had an important role in promoting national stability and public understanding of Cambodian politics, by providing accurate, fast and reliable news based on clearly-sourced information, he said.
Pheaktra recalled one incident in particular that highlighted the crucial role that The Post has played as the voice of Cambodia.
"During the conflict over the Preah Vihear temple, Thailand could marshal much greater media resources to amplify its messages.
"But The Post was able to balance that by providing accurate information about Cambodia and its views as other nations looked on, unsure of what the situation might portend," Pheaktra said.
Eli Lillis was a photographic intern for seven months at The Post, from late 2016 to mid-2017.
He said the internship at The Post was his first position after graduating from university, so the knowledge he got from the job was extensive.
"Learning the daily realities of a press photojournalist, both good and bad was the biggest lesson. The biggest benefit from working there was realising where my interests lie in photography, and growth in my photography in general," he said.
He added that he will be forever grateful for his time at the newspaper, and wished it could have been longer.
The Post provided the opportunity to apply the theory I learned at journalism school and from an internship experience in France, and it is where I reached the apex of my career in journalism and accomplished my proudest achievements.