Among the exotic wildlife that prowls Cambodia's forests are large furry creatures that may be far more familiar to European and North American visitors than the ever-dwindling populations of large cats and beastly elephants. The Kingdom's bears climb trees and devour honey just like their Western counterparts, but their existence is under threat from human encroachment.
"Unfortunately, a big amount of them are sold to restaurants for bear paw soup or for Chinese medicine," said Vuthy Choun, country director for the Australia-based Free the Bears conservation NGO.
He estimates that fewer than 1,000 bears remain in Cambodia. While some of the bears are sold for their body parts, others fall victim to the illegal pet trade.
"Some people buy bear cubs when they are young, and they keep them as pets in their house or garden," said Chuon, adding that wealthy people sometimes keep bears as status symbols.
"But generally when the bears grow into adults, the bears start to fight them and they always get hurt by bears and their furniture gets ripped out by bears."
When bears are rescued from human detainment, either because they were confiscated from the owners or voluntarily surrendered when they became too much to handle, Free the Bears takes them in at their centre at Phnom Tamao Zoological Park and Wildlife Rescue Centre in Takeo province. Having operated in conjunction with the Forestry Administration since it opened in 1997, the refuge is now home to 130 bears.
Choun estimates that they receive around one bear per month on average, with spikes occurring after mating season when cubs are born and subsequently targeted by poachers. A total of eight bears were rescued last year, with one five-week period yielding four individuals.
Brandy
Brandy, a 19-year-old Asiatic black bear (also known as a moon bear) who weighs 135 kilograms has lived with Free the Bears since she was rescued from a Kampot palm oil plantation in 1999. Her owner donated her to the centre aged five, when he could no longer bring her out of her cage for fear of being mauled. Unlike most moon bears, Brandy has a benign genetic abnormality which gave her a blonde coat.
Asiatic black bears, closely related to the North American black bear, are the rarer of Cambodia's two bear species and only live in the Cardamom mountains. Outside the country, they live across East Asia and north towards Siberia. Only 35 of the centre's 130 bears are moon bears, and there have been no new arrivals since 2008.
Moon bears are also at great risk of being captured and killed for use in Chinese medicine due to their desirable gall bladders, which contain a chemical with analgesic qualities similar to aspirin or paracetamol.
"You don't need to kill a bear for one Panadol," said Free the Bears zookeeper Anuradha Jayasinghe, adding that poachers in Cambodia smuggle captured bears to Vietnam, where some 3,500 bear bile farms operate. On such farms, the bears are either killed outright or "milked" by inserting tubes into their abdomens several times a day.
Hefty
Hefty, a five-year-old Malayan sun bear, was rescued last Valentine's Day after being discovered in a Kandal garment factory. After the factory's Singaporean owner abruptly fled Cambodia after going bankrupt, two bears were found on the premises locked in cages. With thousands of factory workers giving scraps of food to the bears, Hefty was found weighing 144 kilograms, so obese that he was mostly immobilised. His cellmate, Ellie B, meanwhile, was emaciated.
"[Hefty] was bigger, so he'd fill up his stomach and leave no food for the female," said Choun, adding that obesity had rendered Hefty immobile.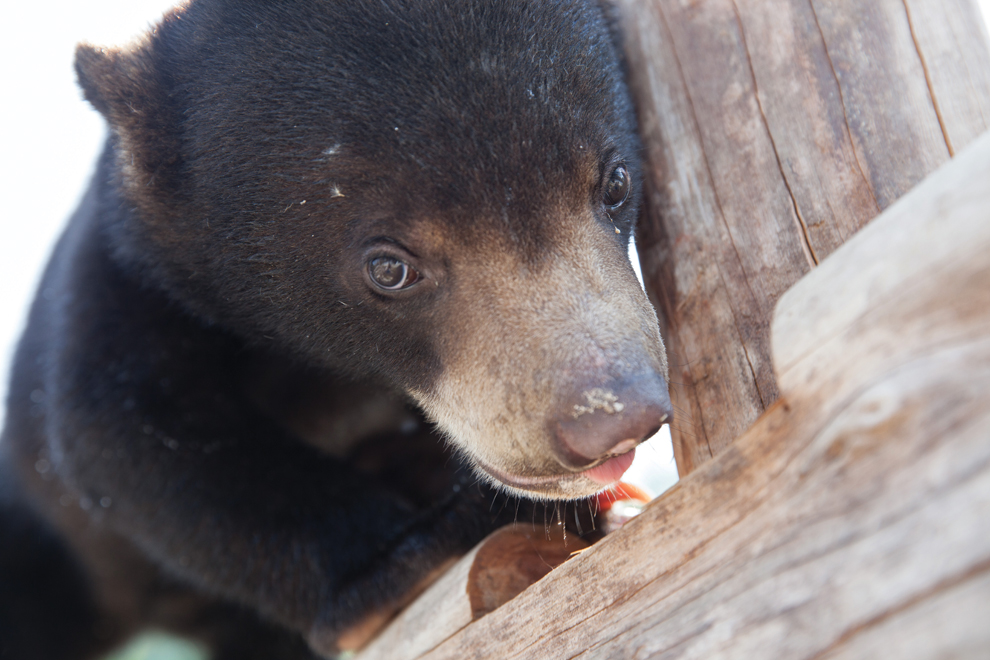 Although Hefty has been on a diet since he arrived at the centre a year ago, he is still a little overweight at 85 kilograms.
Sun bears are the more prevalent of Cambodia's two native species, with 95 of the centre's 130 bears falling into the category. As one of the world's smallest bear species, the average sun bear weighs only 80 kilograms. The Malayan sun bear's roaming ground includes much of Indochina plus Sumatra, while its cousin, the Borneo sun bear, only lives in Borneo.
174
Free the Bears' newest arrival is a five-month-old sun bear which was donated last December by a military police commander in Ratanakiri. Currently known only as 174, indicating that she is the 174th bear to arrive at the centre, she is awaiting a sponsor to give her a proper name.
When the cub became too large for the commander, he turned her over to a mobile wildlife rescue unit operated by Wildlife Alliance, the Forestry Administration and the Military Police. Her diet of watered-down condensed milk had left her undernourished.
"Before you could tell her apart from the other cubs just by her colour," said Jayasinghe, adding that malnourishment made her fur a reddish brown.
Since most poachers kill mother bears before taking their babies alive, the majority of bears enter the sanctuary as cubs. Although their stories are sad, Jayasinghe said, the silver lining is that the centre has an easier time rehabilitating them.
"They normally have health problems, but behaviourally they're not screwed up yet."
The cost of naming a bear is A$3,000 ($2,665), which includes a full year of bear support. ​
Contact PhnomPenh Post for full article
Post Media Co Ltd
The Elements Condominium, Level 7
Hun Sen Boulevard
Phum Tuol Roka III
Sangkat Chak Angre Krom, Khan Meanchey


12353

Phnom Penh




Cambodia



Tel: +855(0) 23 888 161 / 162
Fax: +855(0) 23 214 318