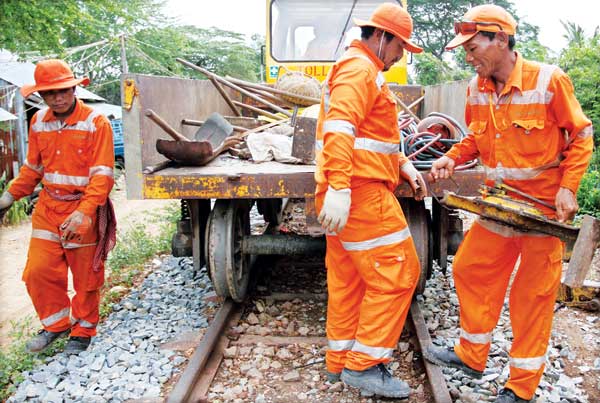 A company with ties to one of China's top state-owned firms will look to push Toll Royal Railways and its local partner Royal Group of Companies out of a 30-year railroad concession with pledge to invest nearly US$850 million to revamp existing lines and build an additional one.
The company, Rail Services (Cambodia) Ltd, pitched its plan for what it calls "Kampuchea Rail" to government officials on August 3, Chairman and Chief Executive Daryl Dealehr said a company statement obtained by the Post.
With backing from Sino-Pacific Construction Consultancy Co, Ltd, Rail Services, along with Hikmat Asia Sdn Bdh of Malaysia, claimed that they were prepared to invest nearly $850 million in Cambodia's existing rail lines that run between Sihanoukville, Phnom Penh and the Thai border, and build a link from the capital to Ho Chi Minh City, Vietnam.
The Cambodian government watched as Toll Royal cargo trains on its southern line rolled to a halt on May 1, weeks after the Post reported that the Australian company would suspend operations in the Kingdom.
Neither Toll or the government have commented publicly on the matter, although local media reported that cargo shipments would resume this month.
Rail Services yesterday in a statement hammered on that fact, listing the numerous issues that have plagued Toll Royal through the rehabilitation, including Toll's failure to restart the cargo shipments, lack of investment, and seeking concessional fee waivers.
The statement failed to mention that the delays may have been caused by the resettlement of over 1,000 households, an issue that proved problematic for the project and garnered international condemnation due to the government's handling of the issue.
The statement said, "Toll Royal: ceased existing rail services and operations in February 2012; retrenched the majority of its workforce; has not invested in rolling stock and equipment; has not undertaken rail infrastructure improvements supplementing the existing rail network; advised the [Royal Cambodian Government] it was unlikely to recommence rail operations before March 2013; and demanded that the RGC forgo concession fees for years five through eight and half of year nine, amounting to a waiver of revenues estimated in excess of $9.5 million."
Rail Services' pitch should sound tempting to Cambodian officials, as it offers up to $850 million in foreign direct investment after years of concessional loans from regional donors. Rail Services said it would "at no cost to the RGC [. . .] fully finance [the project]".
In return, Rail Services would operate the railway concession between Phnom Penh and Ho Chi Minh City for at least 60 years and seek to list on the Cambodian Stock Exchange upon completion of the Kingdom's current rail network.
The current concession for the northern and southern lines would be extended from 30 to 40 years for Rail Services.
To work, either Toll Royal would need to give up its 30-year concession or the government would need to declare Toll in violation of its contract and push the company out.
Meanwhile, a Chinese consulting firm has surveyed the 280-kilometre link with Vietnam; previously no company has publicly shown interest in its development, let alone pledged up to $750 million needed to finance it.
Rail Services' interest in connecting the network to Vietnam is part of its plan to "postion Cambodia as a true-subregional transport hub", which would require further investment on the company's part to create additional rail spurs, intermodal rail and freight terminals and connections to the Special Economic Zones that can be found along the line.
The offering includes the $90 million to shore up the northern line shortfall and complete the rail rehabilitation; construction of a railway mechanical and technical trade school as well as a repair facility in Bat Doeng; and investment in Sihanoukville port, Poipet, Sisophon, Battambang, Pursat, Bat Doeng, Kampot and other locations.
"The government is considering the proposal. There was some interest in it. They were very polite and are considering its elements," said Rail Services spokesman Dealehr.
To contact the reporters on this story: Gregory Pellechi at [email protected]
Don Weinland at [email protected]
Contact PhnomPenh Post for full article
Post Media Co Ltd
The Elements Condominium, Level 7
Hun Sen Boulevard
Phum Tuol Roka III
Sangkat Chak Angre Krom, Khan Meanchey


12353

Phnom Penh




Cambodia



Tel: +855(0) 23 888 161 / 162
Fax: +855(0) 23 214 318