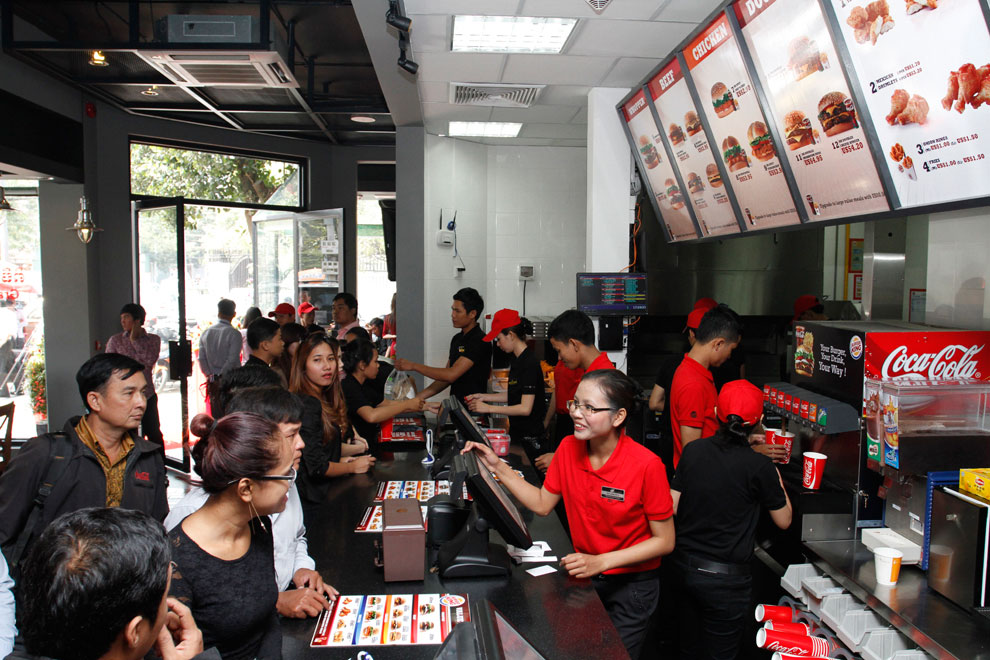 Burger King will launch another three restaurants in Cambodia by the end of the year, according to a company official, in a move that will bolster the fast food chain's share of a market dominated by KFC.
Somach Sovary, support manager for Burger King Cambodia, said in addition to opening a store inside the soon-to-be-completed Aeon Mall on Phnom Penh's Sothearos Boulevard next to the Sofitel, the company also has location plans for tourist hubs Siem Reap and Sihanoukville.
Aeon Mall is on track to open in June, while the remaining two restaurants are expected to be up and running before the year is out, though Sovary did not give an exact timetable.
Vietnamese firm Imex Pan-Pacific Group Inc (IPP) runs the Cambodian Burger King venture with local company HSC, which is owned by businessman Sok Hong.
The announcement comes two months after Burger King in Cambodia opened its second outlet in Phnom Penh's Boeung Keng Kang I commune. According to Sovary, the public response to the centrally located restaurant on Street 51 has outperformed all expectations.
"Over the first two months … we see sales increase by more than 90 per cent," Sovary said, adding that on an average day, the new restaurant sells up to 500 burgers. "The Whopper is our most popular."
Global fast food chains have taken off in larger Southeast Asian countries, but Cambodia and some of its neighbours are still lagging behind.
The Yum! Brands' KFC stores in Phnom Penh – a joint venture by Royal Group and Malaysian-born franchisee Benjamin Jerome under the company name Kampuchea Food Corporation – now number at least 10 restaurants after first arriving in Cambodia in 2008.
More recently, the world's largest fast-food restaurant chain, McDonald's, opened its first outlet in neighbouring Vietnam. Bloomberg reported yesterday that the new Vietnam McDonald's had served more than 400,000 customers in the first month and more than 22,500 in the first 24 hours of business.
During business hours at Phnom Penh's Street 51 Burger King, Sovary says students fill the new restaurant, while at night, families dine out.
Running out of supplies can be an issue, Sovary said. Trucks en route from Vietnam – where the restaurant receives the majority of its meat, vegetables and other produce – can get delayed at the border.
"We almost never run out. When we do, it is on the popular items," she said.
The new restaurant's success, however, has leveled out numbers elsewhere. The flagship store, which is located at the Phnom Penh International Airport and opened just over a year ago, has seen deflated sales figures over the past two months.
"People who used to drive from the city to our airport restaurant no longer need to. So the restaurant is now surviving only on traveller traffic," Sovary said.
At the store yesterday, university students were still filtering in after the lunch-time rush. The main dining floor was packed with customers while others stood waiting for takeaway orders.
Tun Kimmeng, a 21-year-old university student, eats at the new Burger King at least twice a week, both with his school friends and his family, spending between $7.50 and $10 each visit.
"I come here a lot," he said. "It's close to home, it tastes good and it's a comfortable place for young people to hang out."
He added that he would like to see more western fast food chains open in Cambodia, naming McDonald's and Pizza Hut as preferred choices.
McDonald's did not reply to requests for comment on whether they plan on establishing a foothold in the Kingdom.
Van Porleng, president of the Cambodian Restaurant Association and owner of Van's, a high-end French restaurant, said despite the calorie count, Cambodians are ready and willing to receive international fast food chains such as McDonald's due to their accessibility and price.
"If McDonald's does eventually come, the public will have more choice," she said, adding that she doubted such a large firm would venture into Cambodia's comparatively small fast-food market.
The potential onslaught of fast-food chains does not concern the CRA president. It is the existing state of Cambodia's culinary industry, which Porleng says largely goes unregulated, that needs attention.
"If we are talking about more competition, well, Cambodia is already affected. There is already an oversupply of food and beverage venues, which need proper licensing and registration guidelines in order to rein them in and promote longevity and hygiene," Porleng said.
Contact PhnomPenh Post for full article
Post Media Co Ltd
The Elements Condominium, Level 7
Hun Sen Boulevard
Phum Tuol Roka III
Sangkat Chak Angre Krom, Khan Meanchey


12353

Phnom Penh




Cambodia



Tel: +855(0) 23 888 161 / 162
Fax: +855(0) 23 214 318