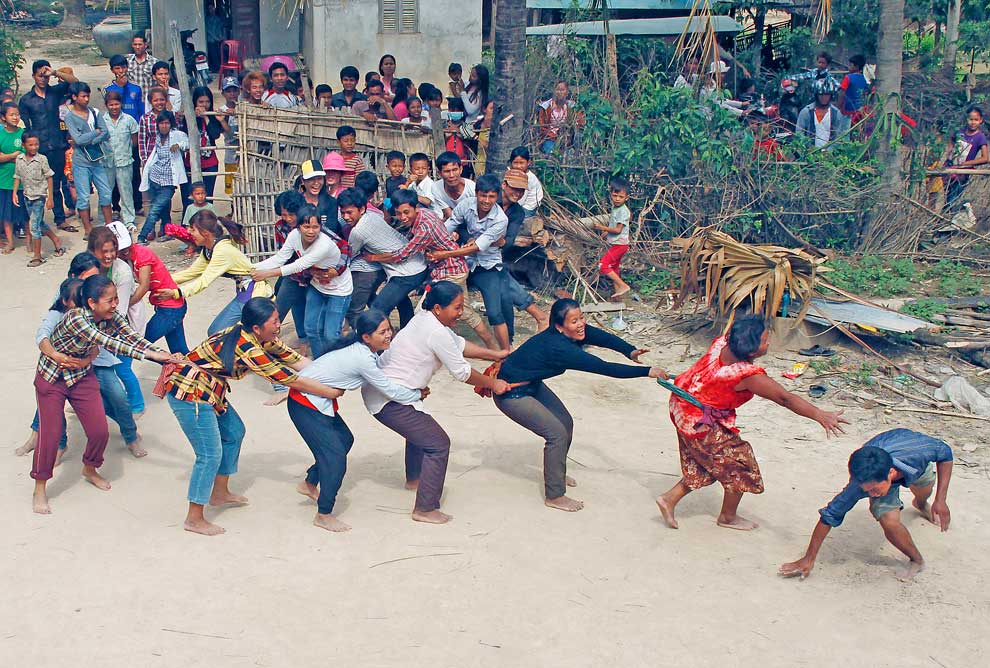 Preparations for this year's Angkor Sangkran, Siem Reap's largest cultural event, are almost complete, with half a million tourists expected to join in the celebration during Khmer New Year, according to provincial officials.
Of the anticipated 500,000 visitors this year, the majority are expected to be domestic tourists, with foreigners making up about 7 per cent of total visitors, said Chheuy Chhorn, deputy director of Siem Reap's Tourism Department.
"The festival last year attracted close to 400,000 visitors. Of that number, more than 20,000 were foreign tourists. This year, we expect the number of foreign tourists to reach close to 30,000 people," Chhorn said.
The three-day festival includes a 2,015-person Madison line dance in Angkor Wat, cow cart racing, art performances, and the exhibition of enormous, typically Cambodian products, such as a giant sticky rice cake and an oversized wooden filter used to make the Kingdom's signature fish paste, known as Prahok.
Som Rattana, spokesperson of the Union of Youth Federations of Cambodia (UYFC), the association behind the festivals organisation since 2013, said some of the events could break global records, citing a massive sticky rice cake which was touted by Prime Minister Hun Sen during a speech in Banteay Meanchey last month.
"The weight of the giant rice cake this year is around 3.2 tonnes, which is double compared to last year. We want to put it into Guinness Book of World Records, while we also want to break the world record on Madison dancing," he said.
"The aim is to make Cambodia a more well-known tourism destination."
He added that a recent commercial purchased from CNN to promote Angkor Sangkran internationally would help attract global visitors.
Domestic tourism typically booms during the annual Khmer New Year celebration, which marks the end of the harvesting season from April 14 to 16.
So Pheak, reservations agent at the Golden Temple hotel, said that the establishment had been fully booked for two weeks.
"There are around 20 customers who called for reservations recently, but we are already full from the 14th to 16th," he said.
Noun Teviphea, general manager of the four-star Apsara Angkor Hotel, said yesterday that bookings at the hotel were slow, but that he expected the number of walk-in clients to jump when all the lower-rate accommodation were sold out.
April marks the beginning of the low season for the tourism industry in Cambodia, but the festival has become an important marketing tool for tour operators to attract tourists, said Ang Kim Eang, president of the Cambodian Association of Travel Agents.
"Tour operators have included the festival into their tour package and we see that it has drawn attention from foreign tourists to experience very Cambodian cultural events," he said.
"It helps the local economy a lot as it attracts a huge crowd to the province. Everyone will pay for food, accommodation, and souvenirs which provides income for service providers and small business in the province," he added.
Kim Eang said the 30,000 foreign tourists expected to attend over a three-day period represented a significant increase over the average 5,000 foreign tourists who visit Siem Reap every day.
Contact PhnomPenh Post for full article
Post Media Co Ltd
The Elements Condominium, Level 7
Hun Sen Boulevard
Phum Tuol Roka III
Sangkat Chak Angre Krom, Khan Meanchey


12353

Phnom Penh




Cambodia



Tel: +855(0) 23 888 161 / 162
Fax: +855(0) 23 214 318