After spending time going back and forth between the Lion City and Phnom Penh a decade ago, the Singaporean singer and songwriter Joshua Chiang decided to call Cambodia home in 2013 due to his emotional attachment to the Kingdom of Wonder.
Chiang has been a steady presence in the Phnom Penh music scene since then – whether playing solo, with bands or at one of the city's many open mic nights – and he has earned the respect of local musicians on the strength of his voice, his songwriting ability and his friendly demeanour.
His debut solo album Everything Under The Sun was recently released on April 21, 2022 on Cerealbox Records. The mostly biographical lyrics to his songs trace his journey from Singapore to Cambodia and the album is infused with different episodes from the story of his life.
"The album is all about me, myself and the voices I can't turn off. That's a line from the title track. It is about getting older, but not necessarily wiser. I think I figured out a few things about how to love. I may have learned how to better cope with the reality of impermanence. But I still haven't figured out most of the world yet, so I write about those thoughts. Also, there's a song about how to survive nuclear holocausts, zombie apocalypses and robot uprisings. I don't know how it got in there," Chiang tells The Post.
The 12-track album – mixed and mastered by Singapore indie-rock veteran Patrick Chng – is a collection of original songs that walk a narrow line between rock and pop and showcase Chiang's musicianship and versatility – the former honed, the latter acquired – through nearly a decade of live performances with multitudes of musicians at a variety of venues in the capital.
The album has a mix of genre influences – indie pop, pop rock and even soul are all featured elements of Chiang's songs – along with his knack for crafting catchy melodies and memorable hooks. It is the culmination of many years of songwriting, which began when Chiang was in his late-twenties and documents his transition from young adulthood to middle-aged.
"I began writing songs again during my second year in Phnom Penh, but the idea for an album only came about in 2016 right after my then-girlfriend and now-wife and I had a life-changing experience that made us realise – just as I was also reaching my forties – that we needed to start working towards completing our bucket lists because of how unpredictable life can be. So I approached the making of the album as if it were my only and final statement to the world," says Chiang.
Everything Under The Sun was recorded by Chiang in his home studio and he plays most of the instruments on the album himself.
"I only recently began doing regular live performances again after a two-year break due to the Covid-19 pandemic. I did my album launch show at Cloud on April 22," Chiang says.
Chiang says that although he appreciates the positive feedback he gets from friends, in his experience it's always the responses from strangers that measure the true quality of the work – or at the very least, the musician's marketing skills, he jokes.
Chiang says he left Singapore for Phnom Penh because although Singapore may be a good place to live for many reasons he somehow never felt happy there.
The second time he visited Cambodia in late 2012, he stayed for two months while doing freelance work remotely to support himself. When it was time for him to go home he was struck by how sad that made him and he spent the next six months in Singapore wishing he was in Cambodia.
"I enjoy returning to Singapore every few months to visit my parents and friends. I also enjoy visiting the libraries and museums and hiking in the nature reserves, so I think my country is great – when taken in small doses," says Chiang.
Apart from being a well-known live musician around town, Chiang is also a prolific illustrator. Prints and greeting cards featuring the artwork from his series Candid Cambodia are some of the best-selling collectibles among expats and tourists alike.
"When I first got here, I was a freelance TV and animation scriptwriter, illustrator and storyboard artist. I still am, but since then I've added comic book artist, animator, business owner, educator and singer/songwriter to the list of occupations I currently have," he says.
Chiang says that Phnom Penh is a good place to be a musician because there are a many venues that are surprisingly open to people playing their own original songs instead of covers and that openness encouraged him to start writing his own songs again once he'd moved here.
He says he also likes the music scene here and how diverse and talented it is, which motivates him to continuously look for ways to improve his performances and songs while also exposing him to new sounds and inspiring him creatively.
"He may not even realise it himself, but one of the expat musicians whom I owe a great debt of gratitude to is Scott Bywater. He's one of humblest guys around and just by the mere act of showing up diligently every Sunday at the open mic at Tacos Kokopelli each week and playing his originals – which the audience sometimes sings along with – taught me not to be too concerned about performing my own original songs just because audiences may initially be unfamiliar with them," Chiang says.
Music is one of Chiang's passions, but it's his "day job" that pays the bills. He says his job as an illustrator is quite fulfilling and some would probably argue that he's a better illustrator than he is a singer, but he doesn't believe that the fact that one earns him enough to make a living while the other doesn't should privilege one activity over the other necessarily.
"I tend to be quite careful about the whole 'this is my calling' thing because it has this connotation that everyone's purpose in life is pre-determined by their 'calling' and that all you need to do is to have the courage to turn away from the well-trodden road and the happiness of following your 'calling' is waiting there for you," he says.
On some days, he says, he really doesn't know why he's still playing music because it's exhausting, difficult and often discouraging and he occasionally considers giving up on it.
"But then a tune will suddenly pop into my head and I reach for my phone and immediately record it lest I forget how it goes. It's not a calling, it's a compulsion," Chiang says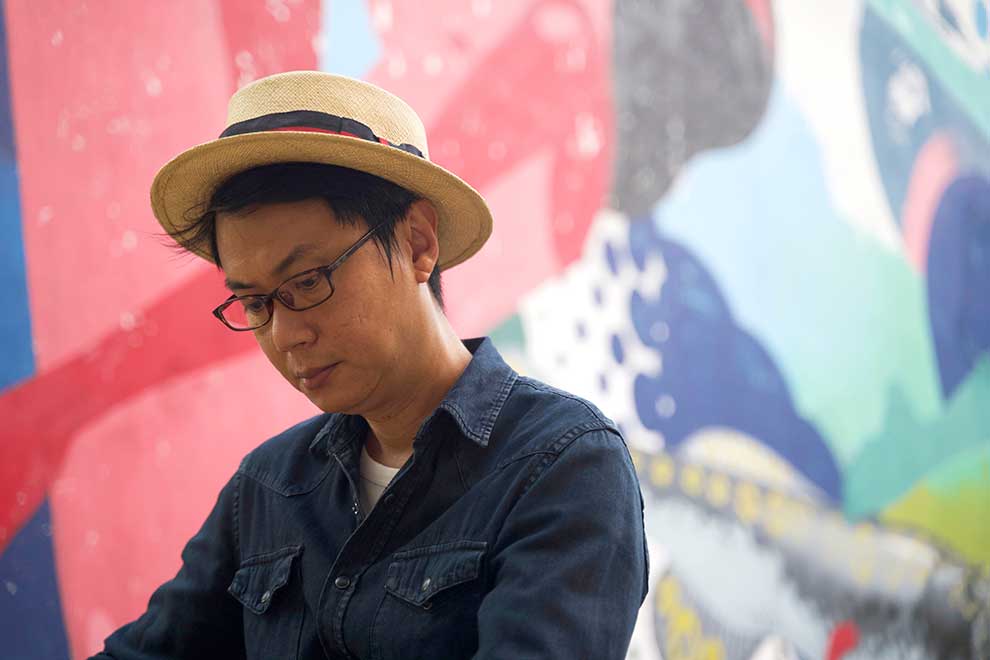 The sources of inspiration for his music were all things he just encountered organically and though he's pleased with cohesiveness of the album's sound, there wasn't any intention of coming up with a grand, over-arching concept or theme for it, according to Chiang.
"I actually wrote many more songs than are on the album, but I picked the 12 that felt like they belonged together. Maybe I'll use the other songs for an e.p. of B-sides or something," he says.
Chiang says that for his next project he has several songs that were written years ago when he was still living in Singapore that he has enough personal nostalgia for that he's decided to blow the dust off them and make proper recordings of them.
"Not all of us have a chance to make a living doing solely the things we like. But it's so important to always cultivate a space in your life for doing something creative that you love, because that makes all the other things you have to do to survive far more bearable," he says.
Beyond that, he says he's found he's in the mood these days for writing some straight up loud rock anthems – but his immediate priority and creative energy has to go into the seemingly endless work of promoting the album while it can still credibly be labelled as new and therefore "news" for music journalists and media outlets who might help him with some coverage.
He says he'll be doing live video performances, animated lyric videos, more shows and other projects and events that will hopefully help to increase his number of fans and listeners and get the word out to those who might enjoy his music.
When asked if he has parting words of advice – having attained the rare and venerable status of being an actively performing and recording middle-aged musician – Chiang doesn't hesitate or mince words.
"Spend less time passively watching videos on YouTube and more time actively making your own videos... or music, books, art – anything! But if you must watch more videos, then at least subscribe to my YouTube channel joshuachiangmusic," he says.
Chiang's music can also be found on Bandcamp, Spotify, Amazon Music, iTunes and Deezer.
You can find the links to his music here:
bit.ly/ChiangMusic
bit.ly/ChiangShows