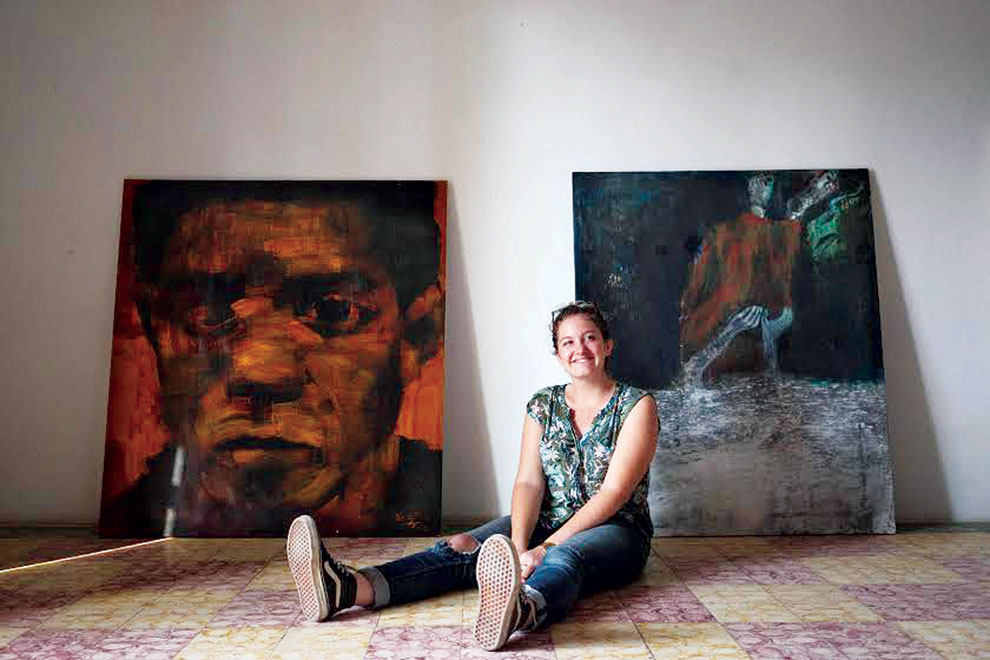 Romeet Gallery – the Street 178 gallery which four the past four years has been the Phnom Penh showroom for graduates of Battambang's Phare Ponleu Selpak art school – is closing for good, a statement on the gallery's Facebook page announced yesterday.
The statement did not offer a direct explanation for the closure, but stated: "It is natural that every organization evolves and changes over time.
"Phare Ponleu Selpak wants to take this chance to develop new projects that provide the best possible opportunities to a new generation of talented, motivated students."
The gallery will be shuttered when its current show – the group exhibition Phare Celebration: Last But Not Least – comes to an end on August 14.
Curator Camille Baczynski told the Post back in June that Phare Celebration would be the last show for a while, but that "crazy adventures will happen in September".
Speaking to the Post yesterday, Baczynski said that after reflection it had been decided that a planned September rebrand was unfeasible.
"We want to take our time," said Baczynski, speaking at the gallery.
"We think we really need to understand what is happening with the arts in Cambodia and artists from Phare.
"Phnom Penh is evolving really quickly right now, and the art scene as well."
Baczynski said that there were several possible options for the future shape of a Phnom Penh-based satellite of Phare.
One option, she said, was to move away from an exhibition space and towards establishing a dynamic creative hub in the city: a place where artists were able to undertake residencies, and conduct workshops.
But, she added, moving to the other extreme was also on the cards, with Phare perhaps taking on a purely advisory role for artists looking to exhibit in Phnom Penh.
"Maybe there are enough places in Phnom Penh for them to exhibit," she said.
"Maybe we don't want to keep [the artists] with the Phare community, we want them to fly away."
Phare Performing Social Enterprise chief executive Hout Dara, who is a member of the Romeet advisory board, said that the decision to close the space had been taken at the beginning of July, "after several years of talking about the same subject".
Dara said the proliferation of attractive art spaces in the city had been one reason for the shuttering.
"The other consideration is the financial costs of running the gallery, which is a liability to the organisation," he said, adding that Phare felt it "should be focussing on the education of the underprivileged in Battambang".
Pointing out that "galleries are generally not money makers", Dara said that any future exhibition outlets run by Phare in the capital would have to put commercial considerations front and centre – perhaps by incorporating other streams of revenue, such as a café.
He added that any such relaunch would not take place until at least 2016.
At Romeet, Baczynski said that she felt the closure would be felt hardest by those on the cusp of graduating from the art school in Battambang.
"I know it's really something they think about when they finish school – they really want to do an exhibition here."
She said that for more mature artists who had already used Romeet as a springboard to secure shows elsewhere in the country and abroad, the loss would be less profound.
"Maybe they're going to be sad about the memory but not really about the place."
Contact PhnomPenh Post for full article
Post Media Co Ltd
The Elements Condominium, Level 7
Hun Sen Boulevard
Phum Tuol Roka III
Sangkat Chak Angre Krom, Khan Meanchey


12353

Phnom Penh




Cambodia



Tel: +855(0) 23 888 161 / 162
Fax: +855(0) 23 214 318