Prime Minister Hun Sen issued a scathing critique of his political opposition on Wednesday, conflating them with fiery protesters in Australia and doubling down on his vow to keep politically sensitive prisoners behind bars.
Speaking to garment workers in Por Sen Chey district on Wednesday, the premier returned to the topic of demonstrations held against him in Sydney at a regional summit last weekend.
Before the summit, Hun Sen threatened to follow would-be Cambodian-Australian protesters to their homes and beat them if they burned effigies of him, which they subsequently did.
Hundreds of people also gathered to protest against Hun Sen on Friday evening in Sydney during an Asean summit, and again on Saturday with others from Southeast Asia protesting against human rights abuses in the region.
"When you burn my image, it means you are building more coffins" for yourselves, Hun Sen said on Wednesday.
"Hun Sen did not trap you, but you walk over the red line. So it means you are too weak on politics. You should have been patient, and you should urge for more negotiations – it's better," he said, appearing to address interchangeably both the protesters and the now defunct Cambodia National Rescue Party, which was forcibly "But instead you attack through burning more images of Hun Sen."
In fact, Hun Sen himself shot down an offer from former opposition leader Sam Rainsy to negotiate just before his trip to Australia, saying in a speech there was "no value" in the proposition.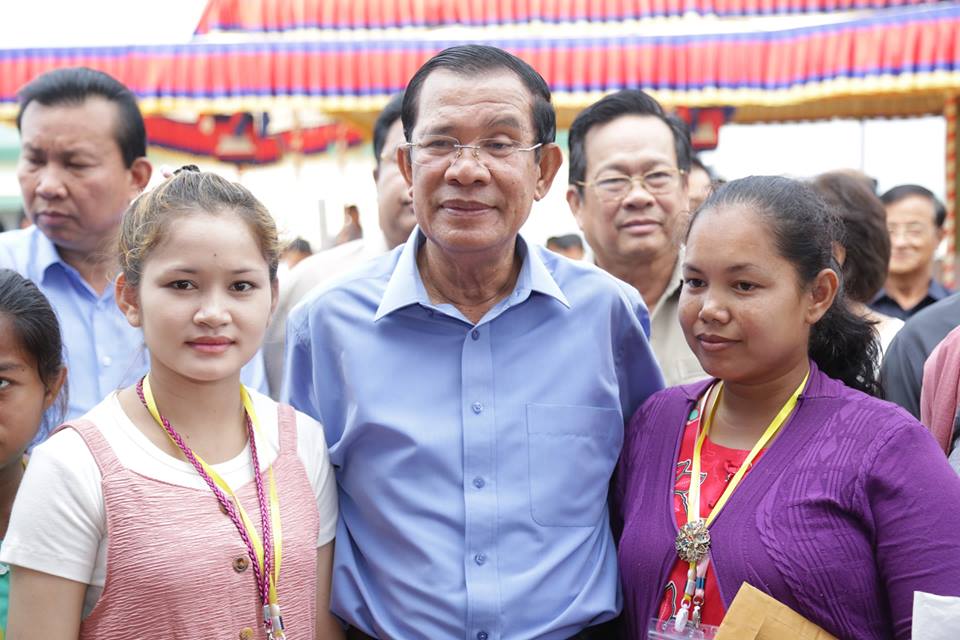 The premier on Wednesday also suggested he would not issue any pardons for a slew of political figures – including CNRP President Kem Sokha – held in Cambodian jails.
"Hun Sen doesn't need to negotiate with the ones who are in jail. There is no need," he said. "The key is in the hand of Hun Sen, and when you burn Hun Sen's images, it's the end."
The premier seemingly justified their continued detention by blaming Rainsy's behaviour for their punishment. "Keep them here, because their boss is too insolent," he said.
He added that the October pardon of Senator Hong Sok Hour was due to an apology letter the former opposition figure had penned to the premier, not, as Rainsy has claimed, because the French government lobbied for Sok Hour's release as he is a dual citizen. "I already released Hong Sok Hour, and they say it is because of international pressure," Hun Sen said. "I won't pardon for anyone. Be informed. It's ended."
"Those who are in jail, let them serve all the days and months," he said.
"Hun Sen will be prime minister only 10 more years, so some of those will have to wait until the next prime minister."
The pledge spells bad news for Cambodia's political prisoners – whose number rights groups put above 20 – including Australian filmmaker James Ricketson, who is awaiting trial on charges of espionage, an allegation for which no credible evidence has been presented. Politicians, journalists and other dissenters have been incarcerated in an ongoing crackdown by the government ahead of the national elections in July.
Rainsy on Wednesday said the premier's "silly statements" were not worth commenting on.
Ex-opposition lawmaker Ou Chanrath, meanwhile, said both Rainsy and Hun Sen should put their personal disputes aside for the sake of the nation, and that it was "unjust" for the premier to take his anger out on political prisoners when they should be shown mercy. "I believe it is not courageous … and I do not support using bad words between each other to increase political tension," he said.
"If we keep the political situation like that, the international community will look at Cambodia like a country which has endless problems between each other," he said, calling for dialogue.
Former Cambodia National Rescue Party Deputy President Mu Sochua echoed that call.
"The only path to end a conflict is dialogue," she said in a message, adding that Hun Sen's remarks would not stop protests against his regime abroad.
"[Two] CNRP MPs were brutally beaten following protest by overseas Cambodians," she added, referring to the assaults of Nhay Chamroeun and Kong Saphea in a counter-protest in Cambodia following protests in France against Hun Sen. "Even that won't deter protests by overseas Cambodians."
Although a reported 300 people were present for the Friday protest, the premier claimed there were just 100 at the demonstration, and suggested he had "thousands" of Australian supporters, some of whom he met with while in Sydney.
"It's deplorable, what they call a mass demonstration, they do it together to include Laos, Burma, Thailand and the Philippines, and they use their flag in front of others and take photographs to make it look like more people," he said. He still thanked the protesters, saying their demonstration was "so democratic", but stressed his supporters far outnumbered his detractors.
He also boasted about not having been arrested in Australia, after several Australian opposition politicians said his remarks threatening to perpetrate violence constituted a crime. "I wish to say to them, who dares to arrest Hun Sen? Please, try it," he said.
Phil Robertson of Human Rights Watch, which had called for Australia to take Southeast Asian leaders to task, said Hun Sen was becoming "a Frankenstein monster".
"Day by day, PM Hun Sen increasingly takes on the mannerisms of an absolute dictator, tearing off the mask of his pseudo democracy and doubling down on threats of violence," he said in an email.
"Using political prisoners as hostages in this way is appalling, and shows just how bad the situation has become in Cambodia."