Prime Minister Hun Sen announced on Monday that Cambodia has spent $40 million this year on Chinese-made weapons.
He also urged the US to freeze assets belonging to "corrupt" officials even before the "Cambodia Democracy Act 2019" passed into law.
Hun Sen on Monday inspected the under-construction Morodok Techo National Sports Complex, the main stadium for Cambodia's hosting of the 2023 Southeast Asian Games, which is being financially supported by China and costs some $170 million.
He revealing of the cost of weapons purchases this year came in response to a report by the Wall Street Journal that Cambodia had struck a "secret deal" allowing the Chinese military to use the Ream Naval Base in Preah Sihanouk province on the Gulf of Thailand for 30 years.
Hun Sen said the allegation was akin to claims made before 1970 that Vietnamese troops had been present in Cambodia, claims that led to a coup that overthrew Prince Norodom Sihanouk, the then Cambodian prime minister, by Marshal Lon Nol.
"You need to remember before 1970, before the coup, you talked about the presence of Vietnamese troops in Cambodian territory. Soon you launched a coup to topple Prince Norodom Sihanouk.
"You must remember this, and you have to remember Iraq, which you said had weapons of mass destruction. After invading Iraq, where were the weapons of mass destruction? [You] killed tens of thousands of people.
"Was the purpose of making up falsehoods then the same as in 1970? Cambodia and China have no need to sign a secret deal, no need at all.
"Now I can say frankly that I am transporting [weapons] by ship. I have spent $40 million on buying weapons from China, in addition to the $200 million previously spent on such purchases," he said.
The prime minister said it was normal for armies to possess modern weapons and that Cambodia's were old and needed to be replaced. He said Cambodia spent only $25 million on weapons in 2018.
In the past two weeks, the US House of Representatives passed the "Cambodia Democracy Act 2019", which if passed into law would allow visa sanctions and asset freezing against those the US president deemed responsible for undermining democracy in Cambodia.
Hun Sen denied claims Cambodia would suffer a financial crisis if the bill were to be passed.
The prime minister said Cambodia has $3.5 billion in reserves and that monthly revenues were $400 million, more than total monthly expenses of $300 million. Hence, he said the Act would have no impact on ordinary Cambodians.
However, if the US were to pass the Act and act against the 10 top Cambodian leaders, it would mean it was cutting off diplomatic ties with Cambodia.
"If they sanction [Minister of National Defence] Tea Banh, it means they cut military relations. If they sanction [Minister of Interior] Sar Kheng, it means they cut off relations in the field of policing.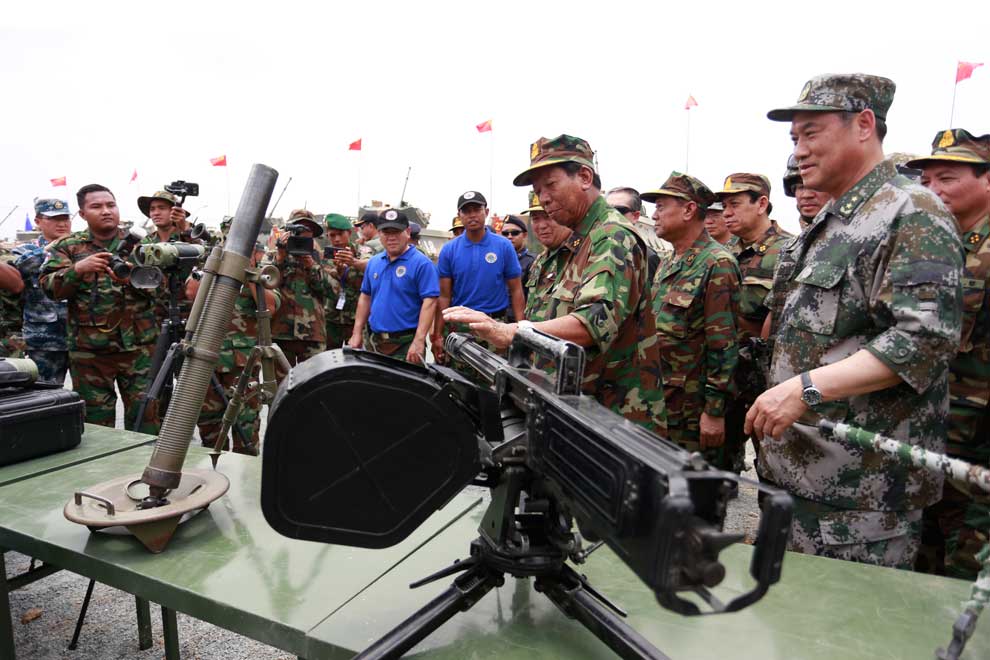 "If they sanction [Minister of Foreign Affairs] Prak Sokhonn, it equally means they cut diplomatic relations. If they were to put sanctions on [Minister of Economy] Aun Pornmoniroth, it means they cut economic relations.
"If they were to sanction me – please go ahead. And please confiscate all the assets of Hun Sen's family, which you have said were more than $2 billion. I appeal to the US to stop speaking too much – there is no need to wait for the law to pass, just freeze [the assets].
"I beg the US to stop being talkative – just freeze [the assets]. [You] said Hun Maly has hundreds of millions; Hun Manit has hundreds of millions and so on . . . just freeze it. If Hun Sen's children have such huge amounts of money, just take it away," Hun Sen said.
He said he welcomed the freezing of assets as he wanted to see the faces of "corrupt officials" who were so rich that they could not spend their money in Cambodia but threw it away abroad. However, he said he did not believe Donald Trump's administration was so wilfully ignorant to cut off diplomatic relations with Cambodia.
Emily Zeeberg, the US embassy in Phnom Penh's spokesperson, declined to comment on the reports of an alleged secret deal with China and the US bill.
Political analyst Lao Mong Hay said it seemed that China's "steel friendship" with Cambodia had won a loyal client for its arms industry.
"The latest purchase is not out of character for the prime minister in securing and consolidating his might and stature as among history's longest-serving prime ministers," Mong Hay said.
Hun Sen is a five-star general, superior to the country's current commander-in-chief, he added.
"It is, therefore, apparent the purchase is to meet the needs of the RCAF, which, like many other armies in the world, enjoys having new weapons all the time.
"A happy army is good for him," he said, adding that Cambodia should not be complacent and ensure it is capable of securing its interests.
"The acquisition of further new weapons, especially for its navy, is not inappropriate or untimely. Our maritime borders together with our islands and marine resources have been under-protected for too long," Mong Hay said.
Sok Touch, the president of the Royal Academy of Cambodia, said total spending of $240 million on arms as Hun Sen had said was a small amount compared to other countries.
"Other countries spend billions of dollars to buy 30 jets to strengthen their military. We all know countries need to strengthen their military as the army and air force need modern weapons. All nations need to protect their sovereignty at all times," Touch said.