At the Student Achievement Fair held at Preah Sisowath High School on August 26, Minister of Education, Youth and Sport Hang Chuon Naron praised parents, school leaders, teachers, and the local education NGO KAPE for championing a new era of schools.
A standout moment was Chuon Naron's commendation for parents and guardians, as many contribute between $30 and $50 monthly.
"The involvement of parents and guardians has been amazing," Chuon Naron remarked during the fair's opening ceremony.
Encouraged by the community's robust support, the education minister advocated for broadening the "New Generation School" model.
He suggested that KAPE work closely with the Department of Education, Youth, and Sport to evaluate the prospects of creating similar schools in various regions across the country.
Crucially, he emphasised the proposed expansion should not rely on the Ministry of Finance exclusively for funding but instead should actively involve parents.
"Prime Minister Hun Manet has started a collaboration between public schools and community parents to elevate the quality of education," he informed a gathering of parents and guardians at the event.
Preah Sisowath High School buzzed with activity as the Student Achievement Fair showcased a wide range of talents and ideas. Over 400 booths formed a backdrop as students from varied backgrounds exhibited their creations.
"The fair underscored the importance of the fifth Student Achievement Fair, revealing students' accomplishments and yearly academic scores," remarked Sam Komsan, deputy principal of Preah Sisowath High School and head of the New Generation School (NGS).
The event displayed an extensive array of exhibits, encapsulating the inventive and intellectual flair of the Kingdom's young minds.
From innovative sanitation solutions and cutting-edge robotics to explorations in chemical compounds and even culinary arts, it was a testament to the students' talents and abilities.
John Pov Sirano, a Grade 9 student from the New Generation at Preah Yukunthor High School branch, stood out at the event.
He introduced an innovative project using water to produce electricity.
Sirano's design featured a waterwheel using interconnected bottle caps to harness water flow. This mechanism generated rotational motion, powering a motor and producing electricity.
"I faced no significant issues planning this project as I have gained the necessary skills," Sirano shared.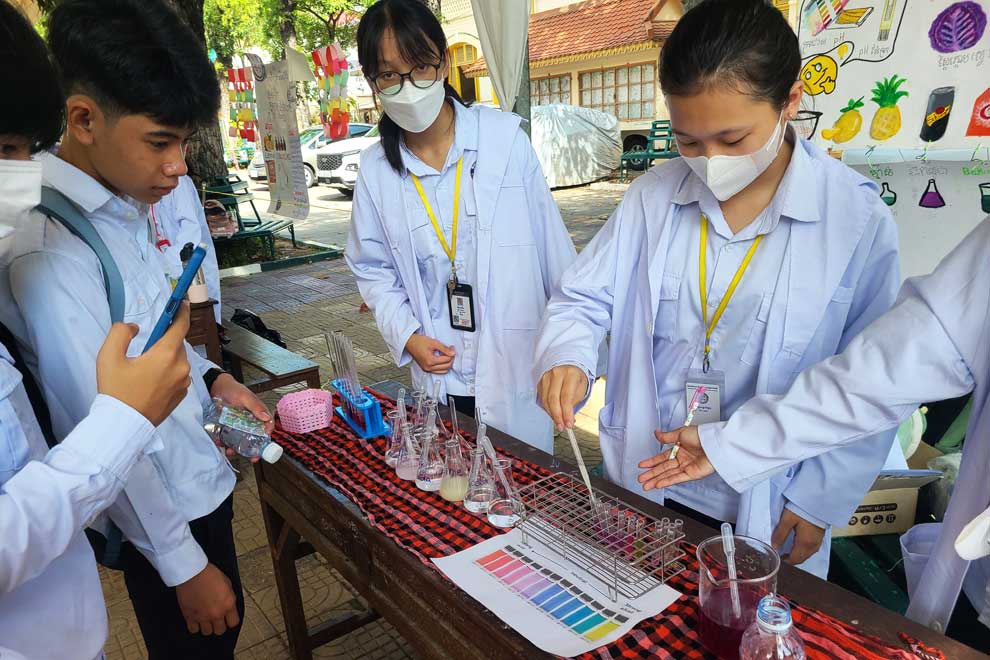 The students from the Chemistry Club, including Thong Panha Neary, Kun Keo Sokunpidor, Lor Ly Hour, and Khuon Madina, collaborated to develop a unique hand cream.
This student-formulated hand cream is available in three enchanting fragrances: cherry blossom, jasmine, and orchid. But the cream isn't just about its appealing scent; it also provides valuable protective qualities for the skin. Additionally, the cream is specially designed to combat dryness, ensuring users have soft and hydrated hands.
Neary, one of the creators, elaborated: "Our team independently developed the cream, selecting the ingredients and infusing fragrances like jasmine, cherry blossom, and orchid. The result is a product that deeply moisturises and nourishes the skin".
This year's Student Achievement Fair was a grand event, showcasing 809 clubs across over 400 booths. Exhibits ranged from science, intelligent parking, and performing arts, reflecting the breadth of student talent.
Principal Komsan highlighted the philosophy of New Generation Schools, emphasising their focus on quality education, 21st-century competencies, and embracing digital technology.
"Our schools are rooted in knowledge, skills, and attitudes," he said.
"New Generation Schools have a team of 129 teachers spread across Preah Sisowath High School and Preah Yukunthor High School. Preah Sisowath accommodates 1,754 students across 35 classrooms, while Preah Yukunthor hosts 584 pupils in 17 classes," he added.
This academic year, 21 graduates from these schools won academic merit scholarships to study courses like Software Engineering and Artificial Intelligence in China.
An impressive 177 students have showcased their talents in a range of competitions. Their outstanding performances have garnered 231 gold medals, 214 silver, and 102 bronze. In addition to these medals, they have been recognised with 19 honorary titles and have brought home 22 trophies.
For those with a culinary inclination, the Bakery Club offers weekly two-hour baking sessions.
"I've recently joined as it's a new club. So far, we've crafted crab cakes, bread, and cookies," shared Grade 11 student Try Kim Leap.
Minister Chuon Naron recognises the achievements of these schools and believes they offer a replicable and successful blueprint for other educational institutions.
He envisions expanding these successful academic programmes to selected Phnom Penh schools soon.
The ultimate goal is to branch out to provinces that can match the programme's stringent standards.
He elaborated: "Schools that can garner parent contributions of around $300 to $400 annually should consider adopting the NGS-inspired programmes. They can aim to reach an academic benchmark similar to what we have achieved at Preah Sisowath High School".
This surge in academic excellence, demonstrated by the students' success, highlights the Kingdom's unwavering commitment to innovate in education, ensuring the holistic development of its learners and fostering community growth.