Tep Vanny stood beside four effigies on a dusky evening last August, marshalling other Boeung Kak residents to light incense sticks, hold lotus stems and throw rice at the four life-size dummies while shouting curses.
The long-time government foe was one of the few activists attempting to keep alive the civil society-initiated "Black Monday" protests – weekly peaceful demonstrations calling for the release of four human rights staffers and one election official jailed for allegedly bribing a hairdresser to deny a purported affair with a CNRP leader.
"We hope that the government will release human rights defenders, the NEC official and other prisoners of conscience," she said at the protest, which took place one year ago today.
Minutes later, around 20 Daun Penh security guards broke up the peaceful protest, taking Vanny and fellow activist Bov Sophea into custody. A year on, the so-called Adhoc 5 have been released on bail and are back with their families. But Vanny still remains at Prey Sar's Correctional Centre 2.
The Boeung Kak activist has been to prison before for her activism, but never for this long, and never alone. In the past, she was always surrounded by other lake activists also incarcerated at Prey Sar. This time, she said in a letter to The Post from prison, her incarceration has a different character.
"I have a clear feeling that the government will take another case to put the burden on me to stay in jail," she said.
"This time the government has arrested me in order to silence my voice and the activities of the Boeung Kak community" once and for all, she added.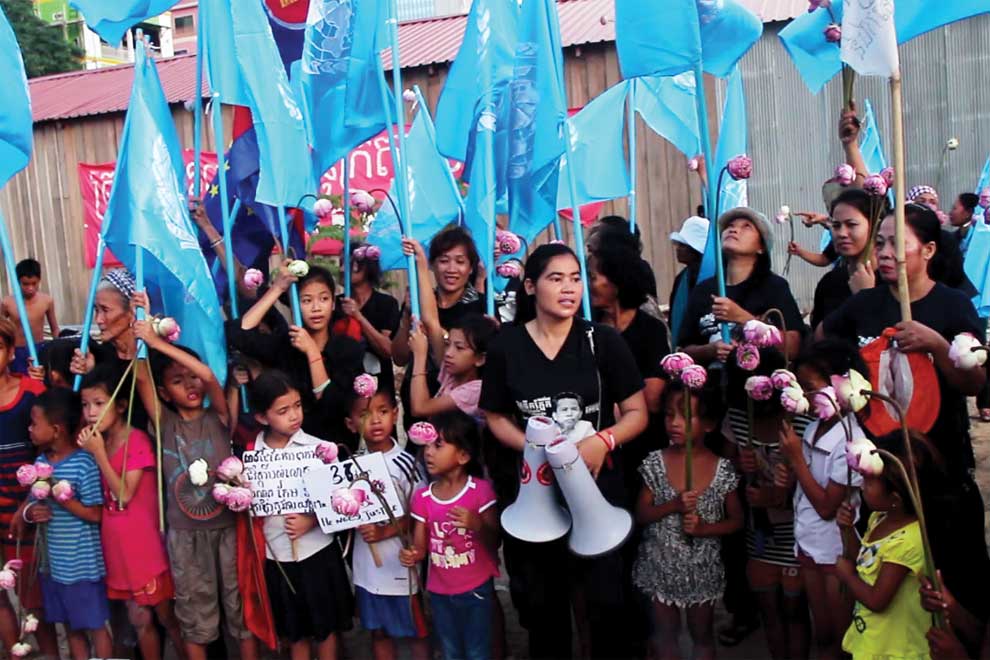 Her extended detention has led to an outcry among Cambodia's NGOs and rights activists, with Boeung Kak activists yesterday submitting another petition to the UN's Office of the High Commissioner for Human Rights – the second in seven days – asking the body to push for the release of Vanny.
The submission coincides with a 10-day visit by UN Special Rapporteur Rhona Smith, who said the Appeal Court's decision last week to uphold a 30-month sentence against Vanny – handed down in a years-old case that was suddenly resurrected – "did not meet evidentiary requirements".
Yesterday's petition, said Boeung Kak activist Chan Puthisak, was to remind Smith "about the anniversary of Tep Vanny's [detention] and request her to look at the human rights situation in Cambodia and the court system".
Sixty-four local and international civil society organisations, meanwhile, released a statement yesterday condemning Vanny's "grossly unjust imprisonment", and calling on the government to cease its concerted "harassment of Tep Vanny and other Boeung Kak Lake activists through arrests, prosecution and imprisonment".
While initially taken in for organising the cursing ceremony last year – for which she and Sophea were convicted of "insulting public officials" and handed six-day prison sentences – the courts have piled on three additional, but long-dormant, cases against the Boeung Kak resident.
In the first, Vanny and three other activists – Bo Chhorvy, Heng Mom and Kong Chantha – were handed six-month sentences for a 2011 scuffle with security personnel outside City Hall. Their appeal in the case was rejected in February.
That same month, Vanny was slapped with the 30-month prison term upheld last week by the Appeal Court, this one for allegedly instigating violence at a protest outside Prime Minister Hun Sen's residence in Phnom Penh in 2013.
The third case is yet to go to trial, but revolves around Vanny and five other activists allegedly threatening a former Boeung Kak resident.
Vanny and her co-accused have denied the allegations in all of the cases, and observers have called the cases political in nature, pointing out what they say are procedural and evidentiary shortcomings in the trials.
Vanny is acutely aware of the political nature of cases, as well as the charges piling up against her. In her letter, she said the government was intentionally prolonging her incarceration – and isolation, by not trying cases or enforcing sentences in cases involving other lake residents.
She said she feared her jailing would have an effect on the community's spirit, causing them to reduce their activities, and Puthisak, the Boeung Kak activist, agreed.
The community's energy has been depleted following Vanny's arrest, he said, a trend he saw across other land rights communities as well.
"Not only Boeung Kak, but other communities are also facing stricter restrictions, especially when [authorities] use the judicial system on the people – it makes people scared," he said.
Read more: Boeung Kak: A Disastrous Decade
While the trials of spending a year in prison have worn down Vanny – who has increasingly broken down in tears at her court appearances – it's the separation from her two children, Ou Kong Panha and Ou Sovann Neakreach, who are now living with their grandmother, that has taken the heaviest toll.
"My life is like hell. My mother is getting old and her health is not good but she has to work as a motorbike cleaner to raise my two children," Vanny said. "Whereas, I am living in prison as a poor divorcee."
At Vanny's partially completed home in the Boeung Kak resettlement area, the activist's daughter, Kong Panha, sits outside, the spitting image of her mother.
"When she is not at home, it is difficult for me because no one takes care of me," she said. "When [my brother] asks for our mother, I tell him that mum is about to come back to us."
Kong Panha is too shy to say much more about her mother's time in prison, but Vanny's mother, Sy Heap, pleaded with the court, local officials and even Prime Minister Hun Sen to stop charging her daughter with crimes she did not commit.
"She did not commit any crime. The court should find justice for my daughter. They put her in jail for a year and that should be enough," Heap said, wiping away her tears.
Vanny's extended detention has been slammed by both local and international groups, with Human Rights Watch saying her most recent appeal trial lacked evidence or witnesses to corroborate the charges – an issue that was also echoed by Special Rapporteur Smith and local NGOs.
"We find it appalling that she is in prison for multiple charges and convictions for old cases. And every trial that has happened had no evidence and lots of procedural errors," said Licadho's deputy director for advocacy, Naly Pilorge.
Pilorge added there have been examples of numerous Boeung Kak representatives being arrested as groups only to emerge stronger upon their release. Vanny's isolation this time around, she continued, could be a strategy to break her down.
"There is a question about whether or not the courts intentionally left her in prison to distance her from her family, other Boeung Kak representatives and other urban land communities," Pilorge said. "Because she was perceived as a leader, an orator and activist, and in some instances she is the face of the Boeung Kak lake issue."
Justice Ministry spokesmen Chin Malin and Kim Santepheap, as well as Phnom Penh Municipal Court spokesman Ly Sophanna, could not be reached for comment but have maintained in the past that the court was only following procedures.
As Vanny starts her second year in prison, she said the release of her fellow inmates, the Adhoc 5, offered her the "only hope" she has had in a while.
"And when they were released, I had another feeling that the light of justice is not too far from me," she said. "I hope that I have freedom soon."
"Even though I am in jail, I am handcuffed and I am wearing prison uniform, the reality is that I am forever innocent."
Contact PhnomPenh Post for full article
Post Media Co Ltd
The Elements Condominium, Level 7
Hun Sen Boulevard
Phum Tuol Roka III
Sangkat Chak Angre Krom, Khan Meanchey


12353

Phnom Penh




Cambodia



Tel: +855(0) 23 888 161 / 162
Fax: +855(0) 23 214 318