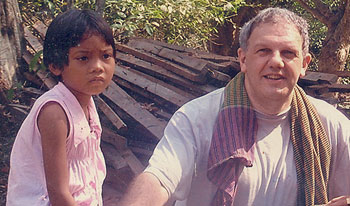 Banteay Meanchey Provine
Photo by: Photo courtesy of Mon Ny
Convicted paedophile Philippe Dessart poses one of his sponsored children, Mon Ny, during a trip to Siem Reap province. 
Philippe Dessart sponsored a dozen children in Sisophon, one of whom became his victim.
ONE Wednesday afternoon earlier this month, a group of women and children gathered in an alleyway behind the University of Management and Economics in Sisophon, Banteay Meanchey province, and stared at a photograph of a smiling barang.
The man in the photograph looked altogether plain, with a large body, round face and thin, grey hair. But the women and children - who had just been told that the man, Philippe Dessart, had a history of paedophilia - looked shocked. One of the girls, Mon Ny, 12, began to cry.
Five years ago, Mon Ny was one of 12 children to have been sponsored by Dessart, a Belgian who operated through the French NGO Enfants du Mekong.
Dessart kept hidden from the families of the children his criminal past, which included a three-year jail term in Belgium for child rape and torture. While one of the 12 children, 17-year-old Han Sopheak, was abused by Dessart, the rest - Mon Ny included - have fond memories of him.
"I always kept everything he gave to me," said Mon Ny. "But now I don't want to keep it anymore because he is not good like I thought. I really can't believe that he is a bad guy."
Dessart was released on April 15 from Prey Sar prison, where he served three years for indecent acts committed against a minor. His sentence was cut short by 15 years because of a 2006 change in Cambodian law stipulating that his offences - which did not include sexual penetration - amounted to "indecent acts". Previously, all sex crimes fell under the category of debauchery.
Waiting at the gates to greet him was his Cambodian fiancee, Han Mao, the stepmother of his Cambodian victim, Han Sopheak. (Their names have been changed to protect their identities.)
Huon Tim, child protection coordinator for the child rights NGO Action Pour les Enfants (APLE), which led the investigation that put Dessart behind bars, said the Belgian plans to marry Han Mao and settle in Cambodia for good.
Han Sopheak, whose biological parents are dead, has moved out of his stepmother's home and is currently studying in Phnom Penh. But his 10-year-old brother still lives in Sisophon, and APLE investigators and neighbours said they were concerned for his welfare.
"For me paedophilia is an incurable sickness, and in my experience working with paedophiles, I can say 80 percent commit another crime after their release," Huon Tim said.
Dessart could not be reached for comment for this story. Han Mao declined to comment on the pending marriage.
Though the Dessart case has prompted outrage among child rights groups and some government officials, the majority of Sisophon residents interviewed for this story said they were unaware of Dessart's past, while others said they had chosen to ignore it.
Lack of safeguards
Martin Maindiaux, country director for Enfants du Mekong, said the NGO did not have the resources to run background checks on its sponsors.
From the very beginning philippe was a difficult sponsor.
He said Dessart, who sponsored 10 boys and two girls through the NGO, placed high demands on his children, asking them to write frequently. 
In a letter to Mon Ny, he wrote, "It has been nearly six months already since I adopted you and I have never received any letter from you. I am unhappy and frustrated."
Maindiaux said: "From the very beginning Philippe was a difficult sponsor, and with time he became impossible to manage."
Dessart travelled to Cambodia on two or three occasions to visit his sponsored children. He took them on two trips - once to Sihanoukville and once to Siem Reap. Although he wanted to travel alone with the children, Enfants du Mekong insisted that staff accompany him, a condition to which he begrudgingly agreed, Maindiaux said.  
Maindiaux said Enfants du Mekong ended his sponsorships in 2005 when he began to talk about moving to Cambodia permanently and marrying Han Mao.
Khy Saony said she never suspected Dessart would abuse Han Sopheak, as she was unaware that men could have sex with men, a claim repeated many times in recent interviews in Sisophon.
Enfants du Mekong staff and other children who went on the trips said Han Sopheak's behaviour became more aggressive and demanding as his relationship with Dessart developed.
"At the beginning Sopheak was a very nice boy, polite and respectful," Maindiaux said.  "But as Philippe started to pay him a lot of attention, he changed. He became rude and aggressive."
Dessart continued to live in Sisophon even after Enfants du Mekong terminated the sponsorships, and Toek Thla commune officials said they believed he was in love with Han Sopheak's stepmother.  
The officials said they were unaware of Dessart's recent stint at Prey Sar, saying they believed Dessart had been in Belgium for three years.
"We never knew foreigners could do bad things, and we thought Philippe was a very generous man who was in love with the victim's mother," said Hov Sovann, a deputy commune chief.
"The family is quiet. They keep to themselves. But we see now that they have been trying to hide a big secret."
Fallout
At the time of Dessart's arrest in April 2006, Han Sopheak's stepmother, who APLE and neighbours said was genuinely convinced he was in love with her, refused to believe that he had abused her stepson and offered to take his place in prison herself.
"Her trust of Dessart was so strong that even when her son eventually admitted the abuse she still refused to believe it," said Khoem Vando, an evidence analyst at APLE.
APLE dropped the case soon after the arrest and did not pursue the possibility that Dessart could have abused other children in Sisophon.
Huon Tim said recently that this might have been a mistake, adding that the other children Dessart sponsored - such as Mon Ny - had no knowledge of his history of paedophilia.
Oun Sath, an anti-human-trafficking officer in Serei Sophoan district, said officers there were well aware of Dessart's past and would continue to monitor him while he remained in the district.
"If we find out he still has sex with children we will arrest him - we are not careless," he said.
He said he believed Dessart had flown to Belgium on June 4 to obtain permission to marry Han Mao, but APLE investigators said they believed he had travelled to Bangkok. 
Contact PhnomPenh Post for full article
Post Media Co Ltd
The Elements Condominium, Level 7
Hun Sen Boulevard
Phum Tuol Roka III
Sangkat Chak Angre Krom, Khan Meanchey


12353

Phnom Penh




Cambodia



Tel: +855(0) 23 888 161 / 162
Fax: +855(0) 23 214 318