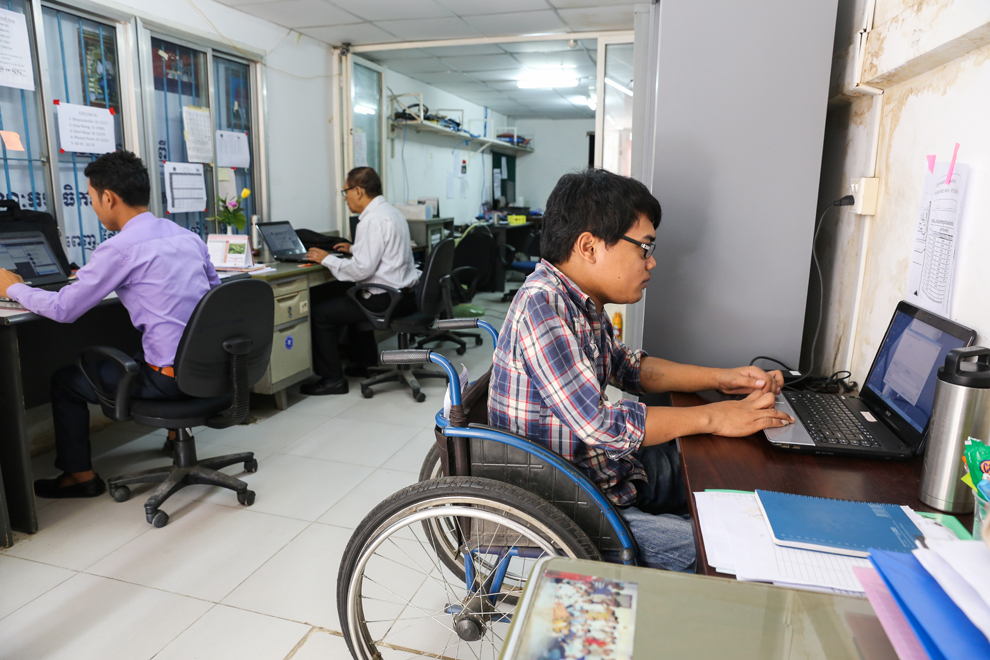 In what could be a world first, the Ministry of Education, Youth and Sport on Monday announced that disabled students who pass high school examinations will be given university scholarships automatically.
Speaking at an annual meeting to outline the ministry's achievements last year and goal setting for this year at the Institute of Technology of Cambodia (ITC), Minister of Education, Youth and Sport Hang Chuon Naron said the move was part of the government's inclusive education policy.
"Disabled students who pass high school exams will have the privilege to receive scholarships for their tertiary education automatically," he said.
Ministry spokesperson Ros Soveacha told The Post on Tuesday that the government is aiming to promote higher education across the country.
"The ministry has two major policies. First, we strive to ensure quality education and promote life-long learning opportunities for all. Our second major policy is to increase the maximum efficiency of leadership and the management of education officials at all levels," he said.
Soveacha said disabled high school graduates can apply for scholarships at the ministry's Department of Higher Education in Phnom Penh.
"This is a general policy. When they apply for scholarships at the Department of Higher Education, our technical teams will work out the details with them," he said.
Soveacha said scholarships for disabled students were also provided in previous academic years, though this was not officially publicised.
In the 2017-18 academic year, he said, 705 disabled students received scholarships, compared to 702 in 2018-19.
According to Chuon Naron, there are currently 125 higher education institutions nationwide, 48 of them public and 77 private. Of the 211,484 students currently enrolled in universities, 98,630, or 46.63 per cent, are female.
There are also a total of 158 foreign students who have received scholarships at Cambodian universities, 60 of them, or 33.97 per cent, are female.
Naron said the ministry has also expanded its pilot project to include entrepreneurship in the school curriculum throughout the country; executed its pilot project on an internet-based foundation programme; launched a number of career and employment consulting centres; offered social enterprise development programmes and foundation courses in scout leadership for youths; and provided short skill trainings to 1,544 youths, 959 of them female.
Em Chan Makara, the secretary-general for NGO Disability Action Council, applauded the ministry's move.
He regarded the granting of scholarships as a powerful incentive for disabled students throughout the Kingdom.
"This is one of the greatest opportunities [for the disabled]. The ministry's policy is in line with the government's national strategies in protecting and promoting their participation in social development."
"Previously, disabled people often felt they were isolated, unable to integrate into society and could only study with their fellow disabled persons. The [ministry's] scholarship programme is encouraging and enables the disabled to study in the same classes with able-bodied students," he added.
In the 2017-18 academic year, Makara said, disabled students were also offered equal opportunities to study with able-bodied students without any discrimination.
Of the Kingdom's 60,610 disabled students across all ages, 2,546 were enrolled in kindergarten, 43,344 in primary schools, 8,948 in secondary schools, 5,419 in high schools and 353 in higher education institutions.