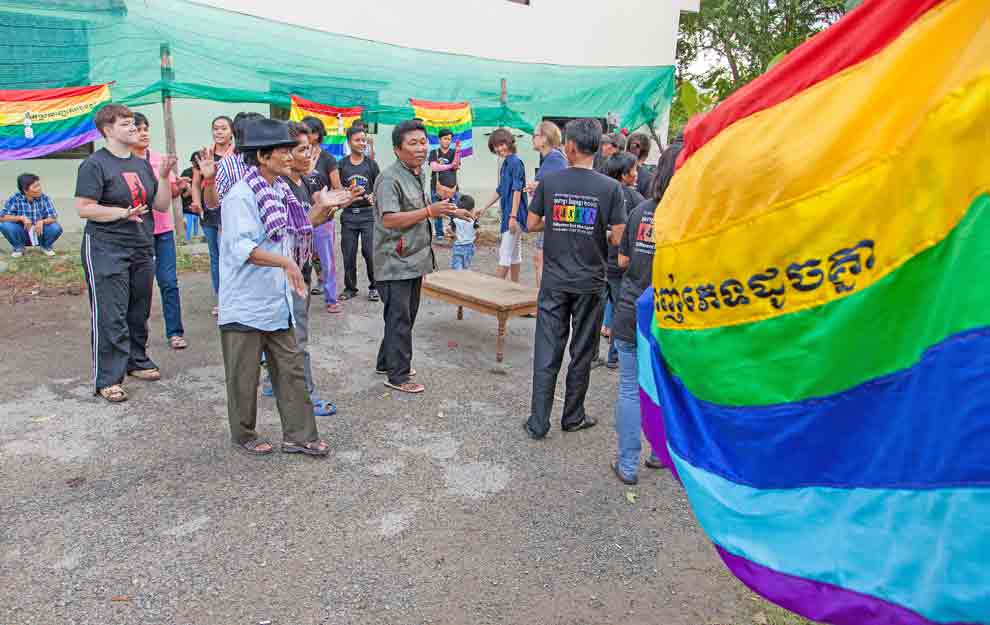 When Srorn Srun, founder of the human rights organisation CamASEAN, checked his Facebook account on Saturday, he found an upsetting, but not uncommon message. A transgender man in Kampong Thom province had written saying that he had just told his parents that he no longer wanted to live as a woman, and they had responded by beating him.
Yesterday marked the International Day Against Homophobia, Transphobia, and Biphobia (IDAHOT) – and the focal point of Phnom Penh LGBTI Pride week – but for many across the Kingdom, gender and sexual orientation-based discrimination remains part of day-to-day life.
"For young LGBTI [lesbian, gay, bisexual, transgender and intersex] people there is a lot of physical violence," Srun explained. He said it is common for parents to beat a child who comes out as transgender or gay. Often children are pulled from school, deprived of financial support or forced into marriage, despite their orientation. Too often, Srun added, children respond with suicide.
Srun estimates at least 100 incidents of violence against LGBTI people have been reported in the first four months of 2015. Police reports also indicate Siem Reap and Battambang provinces – tourist hubs where transgender women flock to sell sex – see a heightened number of abuses.
This year, CamASEAN and the Cambodia Center for Human Rights (CCHR) are targeting violence through the school system by working with the Ministry of Education to create an anti-discrimination policy for Cambodia's schools.
The first-ever anti-bullying workshop was also held last Thursday for high school students in Prey Veng province; an initiative spurred after a gay teacher was sacked for coming out last year.
"The principal told him that he should not be gay," Srun recalled. "We want to show that being LGBTI is not different from others – we are students; we are co-workers."
In 81 countries, same-sex relationships are a crime and nearly 70 per cent of the world's population is not free to express their sexual or gender identities, according to IDAHOT statistics.
"We are all concerned about the continued use of sexual orientation and gender identity to justify serious human rights violations around the world," EU Ambassador to Cambodia Jean-Francois Cautain said in a press release issued yesterday.
As a sign of solidarity, rainbow-striped flags were raised yesterday alongside the country flags of several European embassies in Phnom Penh.
Contact PhnomPenh Post for full article
Post Media Co Ltd
The Elements Condominium, Level 7
Hun Sen Boulevard
Phum Tuol Roka III
Sangkat Chak Angre Krom, Khan Meanchey


12353

Phnom Penh




Cambodia



Tel: +855(0) 23 888 161 / 162
Fax: +855(0) 23 214 318