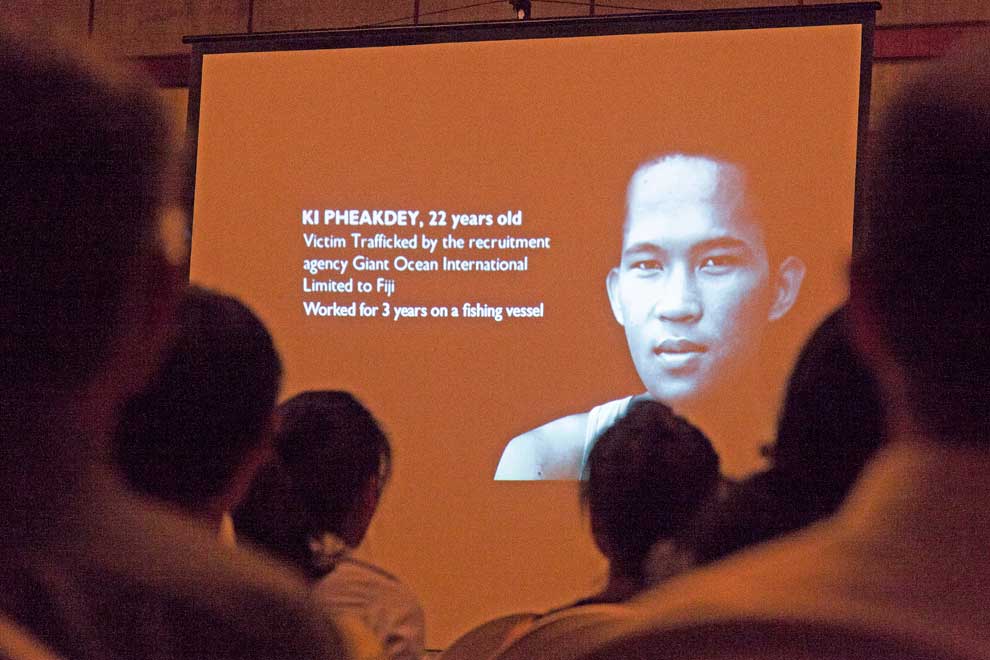 It has been two years since Ky Pheakdey returned to his home in Kampot province after three years working without pay on a Taiwanese fishing boat owned by Giant Ocean International.
He tells his story in a short documentary, The Giant Ocean Case: Challenges in Securing Justice for Exploited Fisherman, previewed yesterday. The documentary is the second film attempt by US-based nonprofit Winrock International to underscore the gaps in global accountability and motivate policymakers to curb human trafficking.
"The situation has not improved noticeably over the past several years," said Phil Robertson, deputy director of the Asia division at Human Rights Watch. "The numbers of those assisted are still in the dozens, while the numbers who are trafficked onto fishing boats ranges into the thousands."
In the three years since the UN launched an investigation into the exploitation of fisherman by Giant Ocean, Cambodia has been the only country to issue a jail sentence against someone indicted in these sorts of trafficking abuses.
This April, after an appeal, Lin Li-Chen, general manager of the Taiwanese company, was sentenced to serve 10 years in prison and compensate 127 victims on charges of sexual exploitation and human trafficking.
The one "appreciable change", Robertson said, has been the ability of more NGOs and international organisations to respond to calls for help from trafficking victims.
But 24-year-old Pheakdey has yet to see any compensation, while government actions in Cambodia and internationally have yet to curb the growing number of men trafficked to fishing boats each year, experts said yesterday. In addition, there has been zero accountability from those who drive the export market.
Poverty, meanwhile, remains a crushing element for those who are assisted and waiting for compensation according to Moeun Tola, head of the labour program at CLEC.
"Victims are quite poor in the community, that is why they decide to migrate," he said.
"Of course, this is frustrating, because they have waited for so long to be compensated," Sara Piazzano of Winrock International-CTIP, said at the screening. "But the verdict is important to them psychologically – to know, finally, 'I was right and this was wrong'".
Vichuta Ly, founder of Legal Support for Children and Women, said that moving forward, more evidence is required to hold the responsible parties accountable in the Giant Ocean case, as five people indicted in the lawsuit have not been punished. However, in June, the case will be brought to the prosecutor in Taiwan in hopes of compensation, she explained. "It may take more time, but we are started now," Ly said.
ADDITIONAL REPORTING BY PECH SOTHEARY
Contact PhnomPenh Post for full article
Post Media Co Ltd
The Elements Condominium, Level 7
Hun Sen Boulevard
Phum Tuol Roka III
Sangkat Chak Angre Krom, Khan Meanchey


12353

Phnom Penh




Cambodia



Tel: +855(0) 23 888 161 / 162
Fax: +855(0) 23 214 318