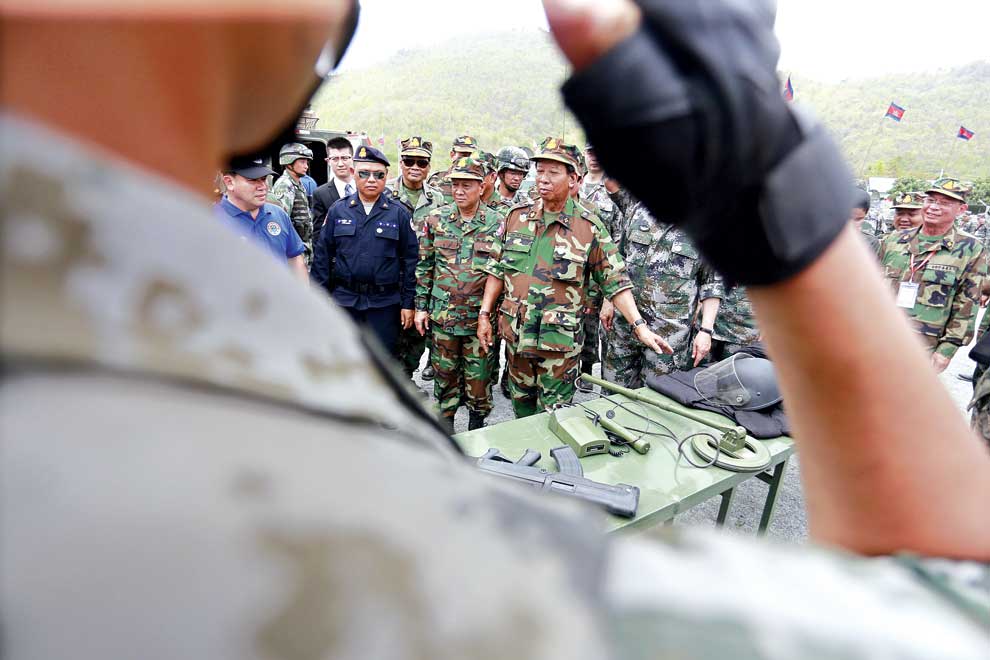 Amid a hail of 20,000 bullets, the thud of eight helicopters, a hostage rescue demonstration and choreographed martial arts performances, the joint Chinese-Cambodian Golden Dragon military exercises concluded yesterday as officials from both sides praised the expanding relationship between the two countries. Minister of Defence Tea Banh and Chinese Ambassador Xiong Bo oversaw the final drills on Thursday at Mreh Prov Mountain in Kampong Speu province, where hundreds of troops conducted heavy live-fire drills and deactivated chemical bombs as paratroopers jumped out of helicopters. In his speech, Banh praised the growing friendship between China and Cambodia, which has increasingly pivoted towards Beijing as it alienates traditional Western development partners, particularly amid a widely criticised crackdown on the political opposition and civil society. "With Chinese aid, it does not only help to develop Cambodia's economy, but it also helps to strengthen the independence and sovereignty of Cambodia as well," Banh said. The exercises, which
began on March 15
, were conducted under the banner of "counter-terrorism and humanitarian relief".
A joint press conference after the conclusion of the drills was highly scripted, with media outlets handpicked to ask pre-approved questions. When asked about the purpose of the exercise, Chinese People's Liberation Army Deputy Commander Zhou Songhe said the two countries "want to show external countries that China and Cambodia will cooperate with each other to maintain security and peace". "The importance of the military exercise is to get terrorists around the world to feel the threat," Songhe said. Jon Grevatt, an Asia-Pacific defence analyst for the publication IHS Jane's, said military exercises in Southeast Asia have been increasing in frequency, with China in particular holding drills with almost every country in the region. The exercises "are not just to show strength but also to have a degree of relationship between senior military personnel", Grevatt said. He noted that Cambodia's recent cancellation of annual military exercises with the US and Australia shows its growing closeness to China. "They are seeking to show a close and strong partnership, that they are in tune strategically, and that they have professional, well-equipped fighting forces," he said.
Sovinda Po, an international affairs expert at the East China Normal University in Shanghai, said in an email that the exercises gave China a stage to send "a clear message to the world, especially those China perceives as its rivals, that it is no longer a lonely superpower and Cambodia is always there for China". "As long as Cambodia is perceived as a good friend of and is able to maintain its benign relations with China, it is expected that the massive Chinese investments will be on the way," he added. However, Po said he harboured concerns that China will interfere in Cambodia's domestic affairs, such as demanding that Cambodia relax its environmental or labour laws to accommodate Chinese investments. "The risks associated with the Chinese engagement should not be blindly underestimated," Sovinda said.