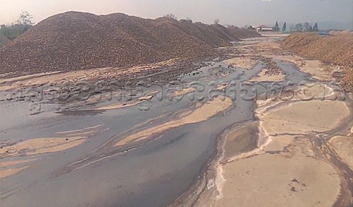 Officials in Battambang and Pailin provinces yesterday pointed to local cassava producers as the cause of water pollution there, which has killed fish and induced illness in families living along tainted streams.
Nine of the businesses in Pailin's O'Tavao commune that produce the root vegetable are located near two large creeks that flow through Pailin and Ratanak Mondol districts in Battambang, said Lor Thorn, deputy chief of O'Tavao commune.
"When it rains, the black, smelly water flows into the natural creeks," Thorn said yesterday.
"About 3 kilometres of the creeks were contaminated."
Before it is prepared for human consumption, cassava may contain dangerous levels of cyanide, a poisonous chemical, according to a World Health Organization report.
Adding to the cassava coming from the nine industrial warehouses, is debris of the plant from the adjacent Pang Rolim Market, which also fell into the water – especially during hard rains this month, said Kong Samnang, O'Tavao's police chief.
"[Warehouse workers] ground and chopped dried cassava before it was transported to Thailand, so the waste from this just fell into the creek," Samnang said yesterday. "But not only waste from the warehouses fell into the creek; waste from the market fell into the creeks as well."
Black water flowed through two villages in Ratanak Mondol district's Treng commune between Friday and Sunday, affecting more than 300 families in Battambang, officials said. It is not known how many families the foul water made ill in Pailin town's O'Tavao commune.
Villagers likely avoided drinking the fetid water, but came into contact with chemicals from it through fish from the creek they caught and ate, said Prom Oeurn, deputy chief of Treng commune's Svay Sor village.
However, even many of the dead fish from the water were visibly poisoned from it.
"Many fish died, and you could see that even their scales had fallen off," Oeurn said yesterday. "Some people picked these fish out of the water, cleaned, cooked and ate them, because they lacked other food; some of those families later got diarrhoea, and continue to suffer with it now."
Under advice from local authorities, owners of the nine cassava producers are building small dams to diminish the possibility of polluting the water, said Pailin Environment Department director Kem Sokha.
As Battambang and Pailin face these cassava-related problems, Ministry of Health and WHO officials are waiting for the results of tests they've conducted on water in Pursat province's Phnom Kravanh district. Three members of one family died suddenly of an unknown illness there within a week. Seven remain hospitalised.
Contact PhnomPenh Post for full article
Post Media Co Ltd
The Elements Condominium, Level 7
Hun Sen Boulevard
Phum Tuol Roka III
Sangkat Chak Angre Krom, Khan Meanchey


12353

Phnom Penh




Cambodia



Tel: +855(0) 23 888 161 / 162
Fax: +855(0) 23 214 318