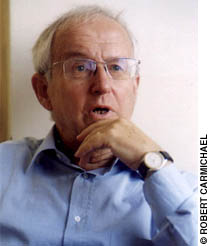 What are your goals for this visit, and how you have progressed so far?
The focus of this visit has been to follow up on my report to the UN General Assembly
which was discussed in New York last week, and to follow up on previous visits to
see what the results are, and whether action is taken on the points I am raising.
Very high on my agenda once again for obvious reasons is judicial reform. Also part
of the focus of my visit are land issues and housing issues. You may have seen in
my last report I looked into the relocations, and to that I am now adding, for obvious
reasons, forestry issues. Then there are the elections of course, and a few other
issues, namely human trafficking.
Peter Leuprecht
I think it has been very successful so far. Of course the results will have to be
seen. I had a very constructive meeting yesterday with Hun Sen, who seemed to like
my report and thanked me for what I am doing. I was pleased, because it has not always
been like that.
I've seen Prince Ranariddh, I've seen the new council for legal and judicial reform,
I have had numerous meetings with NGOs and civil society representatives. On Monday
I'm going to Kampong Speu in connection with land issues, [and] we had a consultation
with government and NGO representatives yesterday on prison conditions.
How much support have you had from the Cambodian government?
This time I have no complaints whatsoever. Everybody has been cooperative. When
I compare my situation with that of other special representatives, I'm in a relatively
privileged position. Some cannot even go into the country. It's my seventh visit,
and I can come when I want, I can see whom I want, I can go where I want. On the
whole the government are very open.
What progress have you seen with regard to the human rights situation in Cambodia
since your first visit?
Any progress here considering the conditions can only be very slow. I think [you
need to] take a more long-term perspective. If you look at the last ten years it's
certain that in many respects Cambodia has come a long way, but there is a lot more
to be done.
What I've said right from the beginning is you have a certain number of underlying
cross-cutting issues, or evils, which are poverty, corruption, violence and lawlessness.
What would you say are the most pressing rights issues?
What the country absolutely needs is a proper judicial system, otherwise there
won't be any real respect for human rights - an independent judiciary and a non-corrupt
judiciary. That is one of the pre-conditions for putting an end to impunity.
Unfortunately justice is not the same for people who are rich and powerful, and people
who are poor and weak. The law should apply to everybody in the same way, but it
does not. Very often people who have power because of their position within the state
are abusing that power. I think this is quite common, the abuse of power.
What key measures are needed to ensure the 2003 election is free and fair?
First of all I hope that the new [National Election Committee] will be independent,
impartial, transparent. Some people are very frank in admitting that it's very difficult
here to get the idea of independent bodies accepted, because people simply don't
believe it can exist. Everything and everybody is highly politicized.
As far as the issues of substance are concerned, I think it will have to be seen
how the NEC implements the amended election law and what internal regulations they
will adopt. I told them that they should make use of their powers, in particular
to act against intimidation and violence. That was one of my criticisms with regard
to the commune elections - the old NEC did not make use of their powers at all. There
are a number of provisions in the law which will enable them to act against perpetrators
of intimidation or violence.
Another very important point is access to the media. [The government] said with regard
to private media they can't do anything, but where they can and must do something
is with the state electronic media: radio and television.
I think it's well documented that for the commune elections there was no equal access
to those, it was very one-sided. At the commune elections I was not happy because
the NEC told me, "Yes, we will ensure equal access to the state owned electronic
media". But when I came again and met them the second time, I asked them about
it. Too my surprise the president said to me that giving politicians access to radio
and television might cause trouble, might excite the population - a quite impossible
view.
In your previous report, you stated that "an independent, neutral and transparent
National Election Committee could fulfill [a] valuable role". Do you believe
the recently elected NEC meets these stipulations?
Well I think it will have to be seen how they behave. Of course everybody knows,
and I'm not naive, that that they are more or less connected with political parties.
Now what I hope has real meaning, and it could be a pure formality, [is that the
NEC members] have to resign when they become members. That's not bad as a principle
- they have to resign for life from their political party. That is something that
should also be done for judges for instance, because judges also are very politicized.
Human rights NGOs here have said political killings have already begun - do you
share that opinion?
As I mentioned in my reports, according to what we have found [there were] 19
killings before the commune elections. The government had a tendency to say these
are not politically motivated. Now I don't go very much into this argument because
the fact is the victims happen to be people who are politically active or who are
candidates.
What you could also say if you want to see something positive, is that the number
of killings was lower then before the 1998 elections. So you might say that there
is a trend - a declining number of political killings. I would very much hope this
is true because every killing is one too many.
It is a country where there is still a lot of violence. But in cases where you do
not even know who the perpetrator was, it's a bit difficult to say what the motivation
was. But I think what is essential is to fight violence in general.
In your meeting with prison officials, what was discussed and what were the outcomes?
Well it was not just prison officials, we had the Ministry of Interior (MoI) and
the Ministry of Justice (MoJ). It is very specific issues, [such as] the appalling
state of health and health care in prisons. I think one of the reasons is there is
very bad coordination between the MoI, which is in charge of prisons, and the Ministry
of Health.
[There is] very poor nutrition, very poor water supply, it's unbelievable. And overcrowding
is terrible - people are like sardines, and there are prisons where they can't all
lie at the same time, so they do it in turns. While some sleep others have to stand
up, it's terrible. When you see it in a movie you will say it's grossly exaggerated,
but it's not, it's a very harsh reality.
One point we also raised is the non-separation of different kinds of prisoners, which
is contrary to international standards. They don't separate pre-trial detainees from
convicted prisoners. They don't separate minors from adults - you see very often
young boys who are in pre-trial detention because they stole a chicken, they are
in these terrible places where they have to live and to sleep next to convicted murderers,
rapists. I think the risk is the prison becomes a school of crime.
Did you feel the MoI and MoJ shared your opinion on this?
The officials usually don't deny that there are huge problems. What I find positive
is that whenever I ask to go into a prison, I've been allowed to.
Usually those in charge of prisons welcome criticism, because it will help them to
get more funds, and there is a terrible problem with a lack of funds. The state spends,
per day per prisoner, just 1,000 riel. It's absolutely disgusting they dont get enough
to eat.
What you also have in prison is a certain amount of corruption. Quite frequently
the families have to pay a certain amount of money to the prison guards in order
to get access to the inmates. Again you always come across the same issue - they
are very badly paid. And I think if you pay people at a level where they can't survive,
that incites favors and corruption.
Have you made that recommendation?
I mentioned before the need to increase salaries, for judges, for prison guards,
for teachers. They are now quite dramatically raising the salary of judges ... the
minimum salary for a judge will go up to something like $300, and so far a good salary
for a judge has been $30.
Hun Sen referred to a carrot and stick approach. He said to fight corruption in the
judiciary, on one hand the carrot is the increased salary. The stick will be - and
I hope it's happening, so far one has not seen much - will be severe disciplinary
action against judges who are found guilty of corruption.
Following the collapse of the Khmer Rouge tribunal talks earlier this year, there
has been speculation on the best way forward. What are your thoughts?
I think I've always made it very clear. First of all I was not happy about the
decision to pull out. The Secretary-General of the UN has said we'll come back if
we receive a mandate. Now there are efforts underway in New York at the General Assembly
to get a mandate adopted. So I still have some hope.
The big question last week was whether the Cambodians would co-sponsor the resolution.
When the UN pulled out in February, the Cambodian government was saying it was very
sorry and the door remained open. And what I said to them is if you are sincere,
if you really want a tribunal with UN participation and if you really regret the
pull out, then you can show that by co-sponsoring.
At least last week they did not seem willing to co-sponsor, but maybe they will come
around to it. I think if it is passed it should be passed before the end of this
General Assembly, before the end of December.
You have recently expressed concerns about the Montagnard refugees. Has the government
responded to this?
I've repeatedly raised the issues of the Montagnard refugees, and I must say that
for some time the Cambodian government behaved quite well. The unfortunate situation
now is that UNHCR, which is the UN agency to determine the status of these people,
at present does not have access to the border areas.
What also seems to happen is that people on the Cambodian side who had previously
helped refugees from the other side have been harassed and intimidated. They may
be frightened and less willing to help. It's not a happy situation.
In New York the Vietnamese representative took the floor and said these are not refugees
they are illegal migrants. I said three things. First of all, you cannot say whether
they are illegal migrants because these people have no opportunity to have their
status determined, because they can't gain access to UNHCR.
Secondly any repatriation, if it happens, can only be voluntary. And thirdly, you
don't send people back without having determined their status. I have reason to believe
in light of my discussions that the changed attitude of the Cambodian government
is due to a massive amount of pressure from Vietnam.
How should the government proceed to implement the changes needed to improve the
human rights situation?
Well, there is no simple answer to that. I think what is generally needed is a
coherent strategy and a strong and obvious political will on behalf of the government.
And I said that to Hun Sen yesterday, because he said he couldn't do everything.
I said, "Yes, but you can do a lot, and demonstrate strong and serious political
will to improve the situation."
Contact PhnomPenh Post for full article
Post Media Co Ltd
The Elements Condominium, Level 7
Hun Sen Boulevard
Phum Tuol Roka III
Sangkat Chak Angre Krom, Khan Meanchey


12353

Phnom Penh




Cambodia



Tel: +855(0) 23 888 161 / 162
Fax: +855(0) 23 214 318