12:19pm
That's all for our live updates for now. We will post any further news when we have it.
---
12:03pm
Meng Sopheary, a member of Sokha's defence team, told reporters outside court: "The Appeal Court decided to uphold the decision of the Phnom Penh Municipal Court. This means that the Appeal Court doesn't allow Kem Sokha to get bail. "There are three points for requesting bail. First, it is his health. Second, if he is still in prison there will be no way to find a solution to [Cambodia's] political situation. And thirdly, he did not commit the crime."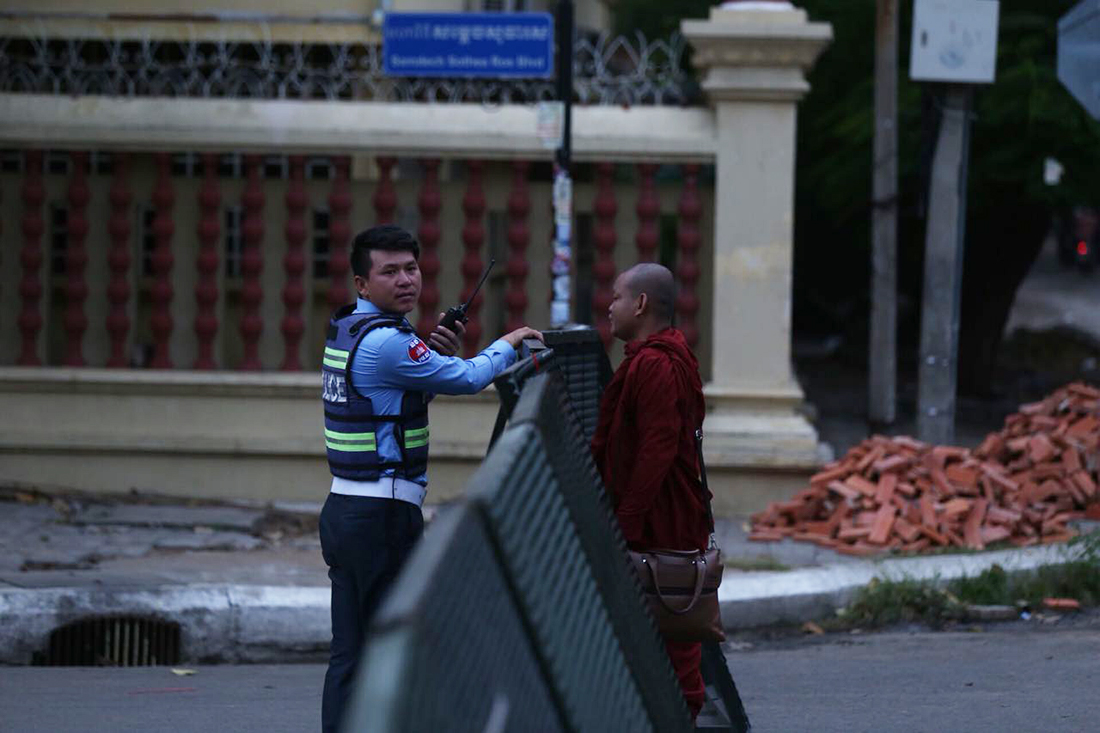 Sokha's lawyer Choung Choungy added: "The Appeal Court decoded not to release Kem Sokha and to keep him in prison. The reason is to protect his security. He did not commit the crime and has the support of millions of people, so there is no enemy for him."
---
11:35am
A convoy drives Kem Sokha from the Appeal Court after his request for bail was denied. This was as close as our reporters were allowed to stand.
---
11:30am
Kem Sokha's lawyer Chhoung Choungy confirms that his bail request has been denied. He has been driven from the Appeal Court. Updates to follow
---
11:10am
Sokha's wife and mother have been escorted into the Appeal Court carrying food. Sokha's daughter Samathida Kem, who is not in the country, posted this tweet:
#KemSokha's mother carried by his lawyers to see him for the first time after 4 months pic.twitter.com/u7QjMQDvmD

— Samathida Kem (@SamathidaKem) February 1, 2018
---
9:57am
Sao Nget, Kem Sokha's 92-year-old mother, is emotional outside the Appeal Court. "I want to meet my son. I want to go inside the court to meet my son," she said.
---
9:32am
---
9:01am
Photographs posted to pro-government news site Fresh News appear to show Sokha in court this morning.
---
8:30am
---
7:50am
---
7:01am
Kem Sokha, the jailed former leader of the
now-dissolved
Cambodia National Rescue Party, has been brought to Phnom Penh Appeal Court for a bail hearing. He was driven to the court at 5:40am escorted by a convoy of security vehicles. Sothearos Boulevard is currently blocked around the entrance to both the Supreme Court and Appeal Court, but traffic is moving on Sisowath Quay. Around two dozen security officers are stationed by the courts on both roads.
This is the first time that Sokha has left Trapaing Phlong prison in Tbong Khmum, where he has been jailed since his arrest during a midnight raid on his residence in Phnom Penh on September 3. He has been provisionally charged for "treason" in relation to a 2013 video where he claimed to have received advice from the United States to plan his political trajectory.
We will post updates throughout the day here when we have them.