Logging tycoon Try Pheap has come under fire from two separate reports alleging that he is using his vast network of concessions and licences to decimate protected forests across Cambodia.
One of the reports, an exhaustive four-month investigation by a local NGO, also looked at the rapid destruction of the Snuol Wildlife Sanctuary, which a forestry official conceded yesterday had been 90 per cent deforested.
The National Resource and Wildlife Preservation Organization (NRWPO), in a letter sent to Prime Minister Hun Sen following its months-long investigation, called on the government to demarcate the borders of the country's 30 national parks and wildlife sanctuaries.
Chea Hean, the director of NRWPO, said the investigation had discovered illegal logging in every protected forest in the country.
"My team spent four months investigating, and we figured out that all the royal-decree-protected areas located throughout the country have been logged and cleared haphazardly without any interventions," he said.
"That is why that we sent the letter, and we hope that [government] intervention will save the rest," he added.
Despite being guaranteed by the 1993 Royal Decree on the Protection of Natural Areas and subsequent laws enacted in 2007, a failure to make demarcation of land a statutory requirement has meant companies are able to log outside of their agreed-upon concession areas.
Huge areas of formerly protected sanctuaries have been reclassified and divvied up for economic land concessions over the past several years, leaving just small areas protected. Those remaining areas, however, are increasingly threatened, according to a report released in August by the Cambodian Center for Human Rights.
In February, the Ministry of Agriculture, Forestry and Fisheries granted Pheap an exclusive licence to collect and buy timber from economic land concessions in Ratanakkiri.
"Those areas will become [ecologically] impoverished, and then they will ask permission to invest in those areas for rubber and sugarcane plantations," the NRWPO letter states, adding that Pheap should be investigated for allegedly allowing local people to fell trees in protected areas to sell to the company.
In a separate indictment of Pheap's conglomerate yesterday, MDS Import Export Co, Ltd was accused of using an ELC to develop a special economic zone in Pursat province's Veal Veng district as a cover to illegally buy and transport rosewood and other luxury timbers.
On Sunday night, local residents reported seeing trucks transporting timber from the SEZ site in Thmor Da commune; a common occurrence, they said.
Phan Channa, 51, said locals regularly saw MDS trucks bringing timber out of the export zone.
"They have bought the timber from people felling trees to sell, and they take it to store in the company premises. They hide it in the ground when they know organisations come to [inspect the site]," she said.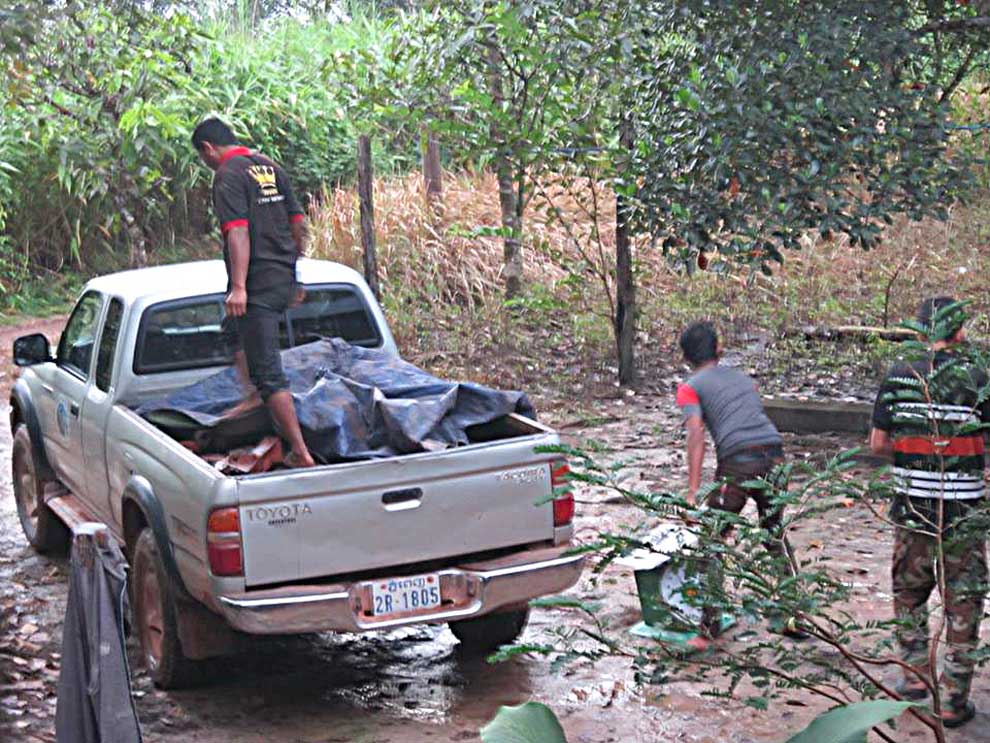 "When people felled trees, if they did not sell to them, they would be arrested by the authorities.
"Some felled luxury wood in Thailand," she added, "and when they returned, a border commander . . . seized it."
A Pheap company representative, who declined to be named, yesterday denied all of the allegations of illegal logging and transportation, saying the firm was sticking to its agreed-upon concessions.
"I would like to deny all accusations against my company. What my company has done follows the agreements with the government," he said.
As part of the NRWPO project, Hean disguised himself as a worker and gained access to the Snuol Wildlife Sanctuary in Kratie province earlier this month. He told the Post that large areas of the sanctuary had been cleared by Vietnamese and Cambodian workers who paid officials $50 per month to let them log – a claim vehemently denied by the sanctuary director.
Kong Ngim, Snuol Wildlife Sanctuary director, blamed the deforestation on local villagers and migrants hungry for land and firewood.
"The Wildlife Sanctuary was 75,000 hectares in 2001, but now it is between 6,000 and 7,000 hectares after being cut for companies and cleared by migrants," he said, adding that when his 20 employees tried to stop the logging, they had been chased with machetes and axes.
"I'm not sure, but if [wildlife officers] are involved and I have enough evidence, I will fire them outright," Ngim said.
A Post investigation in April found that about 60 per cent of the 75,000-hectare sanctuary's evergreen forest had been cleared since 2009 by companies operating the 10 ELCs known to exist there. Only a fraction of the 55,135 hectares of known granted ELCs remained green in satellite images sourced from NASA.
Phoung Sothea, a coordinator of the rights group Adhoc in Pursat, said: "The authorities do not prevent the logging, but they are conspiring with the company to destroy the forest."
In February, Prime Minister Hun Sen laid the blame for illegal rosewood logging at the feet of local military commanders. Prom Nhon, the local commander in Thmor Da commune, could not be reached for comment.
Contact PhnomPenh Post for full article
Post Media Co Ltd
The Elements Condominium, Level 7
Hun Sen Boulevard
Phum Tuol Roka III
Sangkat Chak Angre Krom, Khan Meanchey


12353

Phnom Penh




Cambodia



Tel: +855(0) 23 888 161 / 162
Fax: +855(0) 23 214 318