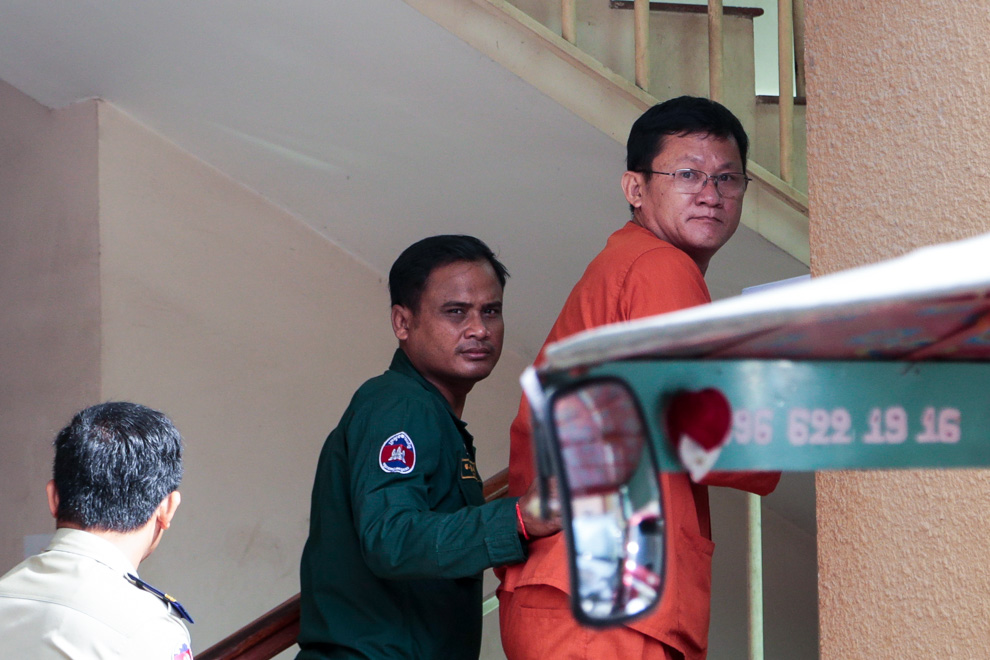 The fate of Ny Chakrya, the former Adhoc staffer and current National Election Committee (NEC) member who on Thursday was sentenced to six months in prison, will determine the political independence of the NEC, analysts said yesterday.
Chakrya was convicted of defaming two Siem Reap court officials after he publicly criticised their decision to charge two villagers with incitement for their involvement in a high-profile land dispute. Chakrya's lawyer is now appealing that verdict.
Until the court makes a final decision on the appeal, the NEC will not seek to replace Chakrya or revoke his salary, NEC spokesman Hang Puthea said yesterday. But if he is ultimately determined to be guilty, Chakrya will be barred from reassuming his position even after his jail term is completed.
Such an outcome would effectively muzzle any official brave enough to step into Chakrya's shoes, said political analyst Ou Virak.
"People will be a lot more careful and fearful, and that will create problems for the NEC," Virak said. "It would mean there is no free place in Cambodia's political context."
A position within the NEC is already considered to be a high-risk and poorly paid job, Virak added. If an official is then sent to prison, it would further deter qualified candidates from applying.
"We have to keep in mind that there aren't many qualified candidates in Cambodia," Virak said. "And I wonder if any good candidates would take this job . . . So we would have a mediocre candidate who comes in knowing that they have to self-censor."
Sam Kuntheami, executive director of election watchdog Nicfec, meanwhile, said Chakrya is being unfairly targeted for his role as a human rights advocate.
"The court did not have strong evidence against him," Kuntheami said yesterday. "I think authorities were unhappy with him from his time at Adhoc."
Sam Kong, Chakrya's lawyer, said yesterday that he plans to file a complaint to the court of appeals in early October.
"I will go to the court to meet him [Chakrya] on Monday to tell him about the plans to appeal after the Pchum Ben holiday," Kong said, adding that the verdict violated his client's right to free speech.
But no matter the outcome, he is likely to remain in jail for the foreseeable future. Chakrya is currently in pre-trial detention along with four Adhoc staffers on unrelated accusations of bribing the alleged mistress of acting CNRP president Kem Sokha.
Contact PhnomPenh Post for full article
Post Media Co Ltd
The Elements Condominium, Level 7
Hun Sen Boulevard
Phum Tuol Roka III
Sangkat Chak Angre Krom, Khan Meanchey


12353

Phnom Penh




Cambodia



Tel: +855(0) 23 888 161 / 162
Fax: +855(0) 23 214 318