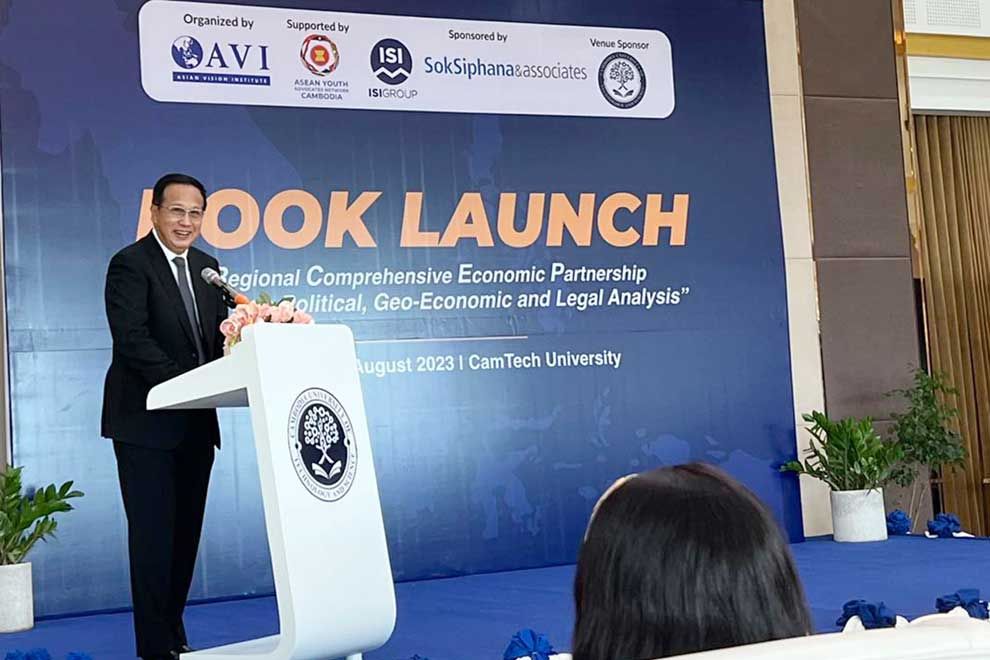 In a recent book launch at CamTech University in Phnom Penh, former commerce minister Pan Sorasak hailed the release of RCEP: Part 1: Geo-Political, Geo-Economic and Legal Analysis.
The book aims to enlighten the private sector on the potential benefits of the Regional Comprehensive Economic Partnership agreement (RCEP) and its potential to foster greater prosperity for Cambodia.
The work is a collaboration between Sok Siphana, chairman of the Asian Vision Institute (AVI) and its president Sok Rosette.
Sorasak noted his profound interest in RCEP during his time as commerce minister, emphasising its significance.
"RCEP is expected to integrate ASEAN into the world economy, promoting growth that's sustainable, inclusive and resilient, while countering anti-globalisation and protectionism trends. It's currently the largest trading bloc globally, comprising 15 nations with a combined GDP of $26.2 trillion," explained Sorasak.
Highlighting its expansive reach, he added: "RCEP accounts for 30 per cent of the world's GDP, 28 per cent of global trade, and 32.5 per cent of worldwide investment."
Historically, Cambodia has played a pivotal role in championing agreements among ASEAN trade partners. This advocacy, initiated during its 2012 ASEAN chairmanship, eventually culminated in the RCEP agreement. After more than eight years of negotiations, the agreement was ratified by Cambodia on January 1, 2022.
With its 15 members including China, Japan, and Australia, the RCEP stands as the world's most extensive trade agreement.
Minister of Agriculture, Forestry and Fisheries Dith Tina also praised the book's authors, lauding their deep dive into geo-political, geo-economic and legal facets of the RCEP.
"Congratulations … on the publication of their insightful book delving into geo-political, geo-economic, and legal analysis. A remarkable contribution to understanding complex global dynamics," he said in a social media post.
On the subject of the RCEP, Lim Heng, vice-president of the Cambodia Chamber of Commerce (CCC), acknowledged that the agreement poses challenges for Cambodia.
The nation faces stiff competition, particularly from neighbouring agricultural powerhouses such as Vietnam and Thailand.
"While we benefit from exporting agricultural produce under the RCEP, we must also refine our processing of these raw materials," he said on August 21.
Ky Sereyvath, an economist and director-general of the Institute of China Studies at the Royal Academy of Cambodia, observed that RCEP grants Cambodia unrestricted goods exportation to all 10 ASEAN member states and their five free trade partners.
However, Sereyvath believes that a four-pronged approach is crucial for Cambodia to truly elevate its export game.
The surging real estate sector has led many wealthy individuals to divert their investments from agriculture to property, he said.
"To counterbalance this shift, we need to cultivate a more skilled workforce, advance our technological production capabilities, regulate chemical usage, and tackle corruption within the tax sector to ensure a level playing field," he advised.
Recent figures from the commerce ministry indicate a flourishing trade landscape for Cambodia.
In just the past seven months, exports to RCEP member nations reached $4.59 billion, marking a 21 per cent surge compared to the same period in 2022.