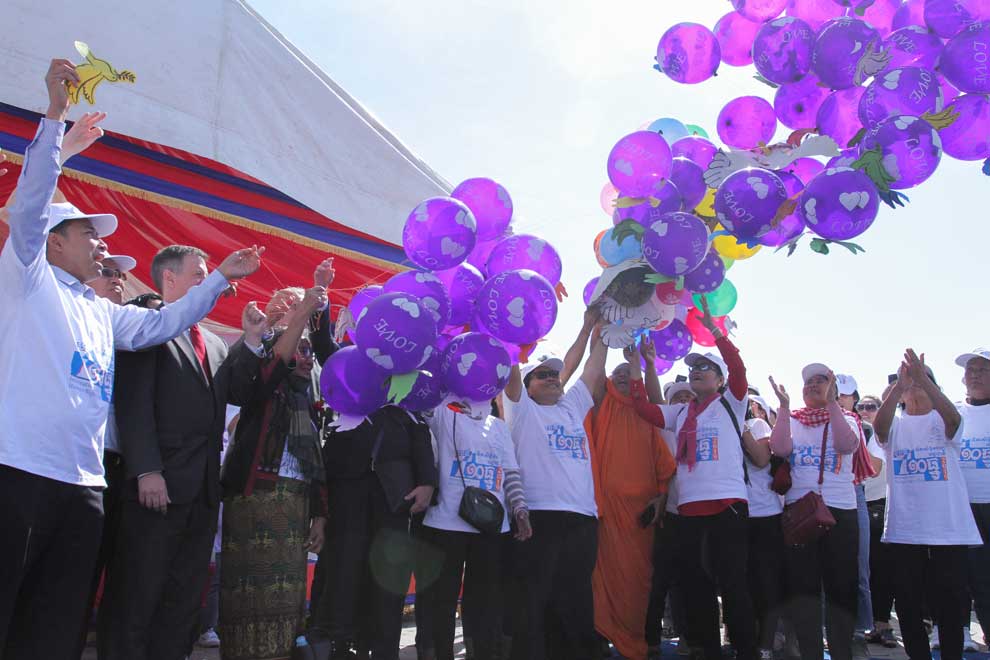 The UN in Cambodia, local NGOs and the government's Cambodian Human Rights Committee (CHRC) will observe Human Rights Day online and in small groups following instances of Covid-19 community transmission last week.
UN in Cambodia staff said they will celebrate human rights day virtually, with the theme The Right to Create (a better world post-Covid-19), where human rights are placed at the heart of the recovery.
The theme was selected to aspire that every child, woman and man may truly enjoy the rights and freedoms enshrined in the Universal Declaration of Human Rights 72 years ago, said Pauline Tamesis, resident coordinator for the UN in Cambodia.
She said the events will be held in partnership with the Delegation of the European Union to Cambodia and the Swedish embassy.
"The digital campaign to celebrate human rights day in Cambodia will be released throughout the month of December and will feature the work of talented artists, musicians, performers and dancers based on a participatory process of art production into a musical-visual experience," she said in an email.
Globally, celebrations of Human Rights Day are being held being under the shadow of the Covid-19 pandemic and focus on the need to "Build Back Better" with human rights being central to rebuilding the world economy. The ceremonies aim to reaffirm the importance of human rights and highlight the need for global solidarity and interconnectedness with a shared vision of humanity, Thamesis said.
CHRC spokesman Chin Malin said: "In the past, we gathered and issued messages to educate the public about human rights. Due to the Covid-19 situation, there will be no gathering this year. Instead, we will release educational videos about human rights, including a message from the CHRC president about the current human rights situation in Cambodia."
Last week, the Phnom Penh Municipal Hall rejected a request from local and international NGOs seeking permissions to hold an event in the capital's Freedom Park with 1500 participants.
Sotha Ros, senior adviser for the Cambodian Human Rights Action Committee (CHRAC), a coalition representing local NGOs, said on December 6 that the organisations agreed with the municipal administration to postpone the mass gathering.
Celebrations on the day of the memorial would now be conducted by individual NGOs in small groups so as to abide by Covid-19 preventative measures.
The originally planned mass gathering will be delayed but will still go ahead, Ros said. Organisers are set to meet with municipal hall officials again on December 15 to discuss plans for assembling at Freedom Park on December 20.
"We don't want to miss commemorating this important day because human rights pertain to all of us and it's a basis for our country's development. Cambodia endured a protracted human rights tragedy – for three decades – and we must remember this. If the Covid-19 situation is not too serious, we should continue with our plan to gather.
"The Covid-19 problem will not go away entirely soon – it could be anywhere – and it's important that we remain vigilant, [but] we also should not let Covid-19 hinder the development of our country. We can be cautious, but if we are too afraid of Covid-19, everything will be paralysed, not only in terms of human rights celebrations, but all other social development as well," Ros said.
Meanwhile, the US embassy in Phnom Penh is dedicating December for "Democracy and Human Rights" while celebrating 70 years of US-Cambodia diplomatic relations. The topic was selected in connection with UN Human Rights Day on December 10.
The theme elicited a reaction from justice ministry spokesman Malin, who last week said the topic was impertinent to the situation in Cambodia, in light of the current Covid-19 outbreak.
In response via an email to The Post, US embassy spokesman Chad Roedemeier said since the pandemic began, the US had donated more than $11 million in Covid-19-related assistance to Cambodia, much more than any other country.
He said the US Centres for Disease Control and Prevention (CDC) and other US health agencies have longstanding partnerships with the Cambodian Ministry of Health, including programmes to develop surveillance and contact-tracing capacities.
"Our partnership with the Cambodian people is multi-dimensional. In fact, even during the pandemic, the United States has contributed $700,000 to meet emergency needs in communities impacted by significant flooding," he said.
Since 1992, the US has invested more than $1 billion in Cambodia in programmes promoting health, education, improved agriculture, environmental protection and human rights, Roedemeier said.