Three Cambodian peacekeepers have been confirmed dead in Central African Republic, a day after they went missing following an attack on their convoy by a Christian militant group.
The three men, Mao Eng, 37, Seang Norin, 35, and Mom Tola, 31, were shot to death and buried 2 kilometres from the scene of the guerrilla ambush, in which their compatriot Im Sam, 36, was also killed.
Cambodia's National Centre for Peacekeeping Forces (NPMEC) and the UN confirmed the Anti-Balaka terrorists – a group made up of Christians and animists who are involved in violent clashes against the Muslim Seleka militiary – were behind the killings.
NPMEC spokesperson Kosal Malinda said a bishop and his church group negotiated with the armed group to have the bodies dug up and returned.
Eng's father, Keng Kit, said he was left speechless after hearing the news from his daughter-in-law that his son, a nurse, was killed. Speaking in his Phnom Penh home lined with faded family portraits, Kit sank to his knees and sobbed.
"I am so grateful to my son for devoting himself to serve the nation," he said. Eng's mother, Sok Sokorn, described him as a helpful, friendly son devoted to healing others. "He wanted to be a nurse or a doctor since he was young," she said.
Thumbing through a plastic album full of photos from Eng's wedding, Kit ascribed his cruel loss to fate. Eng is survived by his wife, Chhay Chamroeun; his two sons, aged 16 and 14; and his12-year-old daughter.
Tan Phearath, the wife of Sam, who was confirmed dead on Tuesday, was left shaken after hearing the news of his death. She said her husband – a bulldozer driver – was "a good man and a good person; he never hurt anybody".
"I am very sorry to lose him," she said. "He was on mission abroad most of the time even the day I delivered our baby he was not in Cambodia." Their son is not quite 3 years old. "He told me he would not go back and would stay home after his mission finished in November," she said.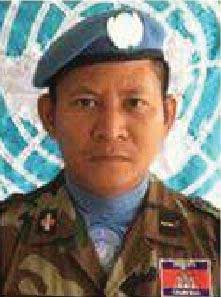 The bodies of the deceased were being sent to CAR's capital, Bangui, yesterday for a casualty report, and are expected to be repatriated to Cambodia in around two weeks.
Another Cambodian, Thuch Thim, was injured in the assault along with seven Moroccans, who were guarding the convoy. One other Moroccan soldier is still missing in action.
The murders were strongly condemned by the UN and the Cambodian government. But Prime Minister Hun Sen showed no signs of scaling back the Kingdom's peacekeeping efforts in light of the tragedy.
"We will not step back or stop joining with UN peacekeeping operations, but [instead] I reaffirm to the UN that Cambodia commits to send more peacekeepers to help [our] friends [in other] countries," he said.
"We do not surrender to any terrorism and we do not surrender to any attack."
Speaking with reporters on Koh Pich, Defence Minister Tea Banh said the ambush was clearly an act of terrorism and "the worst case" Cambodian peacemakers had faced in the decade they had been serving abroad.
He stressed the need to protect Cambodian engineers and their equipment. According to NPMEC, Cambodia has sent 816 troops abroad this year, and a total of 4,689 since the Kingdom began contributing personnel to UN peacekeeping missions in 2006. Yet peacekeeping can be problematic, as Dr Paul Chambers, from Naresuan University in Thailand, suggested this week.
While lower-income, post-conflict countries often bore the personnel burden of UN peacekeeping, there was also a strong financial incentive that attracted the Royal Cambodian Armed Forces. The arrangement, however, also sees lower-level soldiers placed in dangerous locations while their superiors reap the rewards of a bump in prestige from having their forces around the world.
"It's a political economy issue," he said. A list of UN peacekeeping personnel, published in March, shows that countries such as India, Ethiopia and Rwanda have thousands of bodies on the ground in war-torn nations, while wealthier countries, such as Denmark, Australia, Russia and the United States, have fewer than 100.
Countries volunteering personnel are reimbursed $1,332 per soldier, per month – an amount that Malinda, of NPMEC, said was then directly diverted to the soldiers in addition to their regular RCAF salary.
Jon Grevatt, Asia-Pacific industry reporter for defence analyst IHS Janes, said the rewards of peacekeeping are more than financial for a country.
"It boosts its reputation in the international community, and it also boosts the reputation of RCAF within Cambodia itself, which is always an important aspect of this," he said.
Cambodians were right to be proud of their demining expertise and peacekeeping efforts, he added.
Grevatt's sentiments were echoed by social researcher Meas Ny, who said on Tuesday that Cambodia was also spurred by a sense of obligation after the assistance the Kingdom received in the 1990s.
"Following social media and Facebook, I don't see anyone having a negative reaction on peacekeeping overseas. They share their mourning and sadness, but I think Cambodians still express pride, to show that heroism," he said.
Even in the raw moment of his loss, Eng's father, Kit, agreed with the prime minister's decision to send more troops to conflict-ridden nations. "When we send our people abroad, it promotes Cambodia," he said.
Additional reporting by Mech Dara
Contact PhnomPenh Post for full article
Post Media Co Ltd
The Elements Condominium, Level 7
Hun Sen Boulevard
Phum Tuol Roka III
Sangkat Chak Angre Krom, Khan Meanchey


12353

Phnom Penh




Cambodia



Tel: +855(0) 23 888 161 / 162
Fax: +855(0) 23 214 318