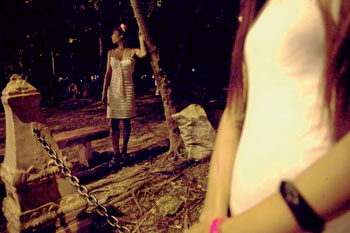 Months of police raids on brothels have driven prostitutes onto the streets and into conflict with local authorities; but despite the nightly arrests, the situation is not improving
Photo by: VANDY RATTANA
Sex workers wait for customers in Phnom Penh's Wat Phnom district. 
MONTHS of brothel busts have led to a sharp spike in street-based prostitution, pitting gangsters and pimps against local authorities in a battle for control of the capital's streets and parks.
But as local authorities struggle to maintain public order, nightly arrests and well-publicised rights abuses at detention centres are making prostitutes and their pimps fight back with an unprecedented vengeance.
"I have become the target of the pimps. They sometimes want to murder me," said Pich Socheata, Daun Penh district's  deputy governor who leads street patrols to crack down on public soliciting.
The Kingdom's new anti-trafficking legislation came into effect in February, and punishes soliciting sex with one to six days in detention or a 3,000 to 6,000 riel (US$0.75 to $1.50) fine.
But rights groups claim the legislation has been used by police as a licence to rape and rob. Two Ministry of Social Affairs detention centres - the Phnom Penh Social Affairs Centre and Kos Romdoul Centre - have been singled out for the abuses of detainees there.  
Rights groups add that the detainees have not been charged with a crime.
"I was arrested while I was out walking with some friends," said Srey Ni, 27, a sex worker who was held at the Ministry of Social Affairs-run rehabilitation center Prey Speu for four months.
"The conditions were horrible, like I'd imagine it was at Tuol Sleng. I received no education and was only let outside once during the time I was there, to cut the grass with scissors. I was released when the staff felt I had finished my sentence," Srey Ni said.
Ineffective approach
Authorities say the crime problem leaves them overstretched and with no choice but to hold offenders in detention centres.
The conditions were horrible, like I'd imagine it was at tuOl sleng.
"Robbery and prostitution have increased by two percent in our area compared with last year," said Deputy Governor Pich Socheata.
According to Daun Penh district statistics, a street patrol last year - which in Daun Penh cover streets 108, 106 and the area around Wat Phnom - would net between 10 and 15 cases of robbery and prostitution. This year they are arresting about 30 prostitutes per night.
Despite the number of arrests, the authorities acknowledge the current approach isn't working as a long-term solution.
"We send those women to different organisations whose programs support women's basic rights. But they just return to their old jobs after two or three months," said Pich Socheata.
But the spike in crime caused by the rise in street-based prostitution leaves them with little option but to continue with nightly arrests.
 "We would like NGOs to come with us when we try and arrest these girls so they can see how difficult it is," she added.
Too much to handle
Even the five NGOs mandated to work with Social Affairs Ministry on the rehabilitation of sex workers admit the approach is a problem.
According to Nop Sarin Sreyroth, secretary general of the Cambodian Women's Crisis Centre, moving the battle over prostitution onto the streets has failed.
Already overstretched local authorities have no choice but to try to remove the sex workers from the area due to the public order implications of their soliciting.
In the process, the sex workers themselves are made far more vulnerable to theft and gang rape.
For the month of October, CWCC received 19 people who were sent from the ministry and all of them returned to the street, said Muong Mearadey, head of CWCC's Phnom Penh office.
"We offer counseling and vocational training programs, but most girls do not want to stay in the organisation so we send them back to the streets," she said.
According to Naly Pilorge, director of Licadho, the government needs to radically change the way it deals with homeless people in Phnom Penh's streets.
"Arresting them and locking them up in so-called social affairs centres, where they are at high risk of physical and sexual abuse by the staff, does nothing to address the real issues of why people are living or working on the streets," she told the Post on Tuesday.
Mu Sochua, the Sam Rainsy Party's deputy secretary general, also said that the government needed a clear strategy if it were serious about curbing street-based prostitution.
"I think the government has not had any proper solution to the problem because it has existed for 10 to 20 years already," she said.
A total of 537 women were arrested for soliciting  in the first nine months of the year,  according to statistics from the anti-trafficking NGO Afesip.
Contact PhnomPenh Post for full article
Post Media Co Ltd
The Elements Condominium, Level 7
Hun Sen Boulevard
Phum Tuol Roka III
Sangkat Chak Angre Krom, Khan Meanchey


12353

Phnom Penh




Cambodia



Tel: +855(0) 23 888 161 / 162
Fax: +855(0) 23 214 318