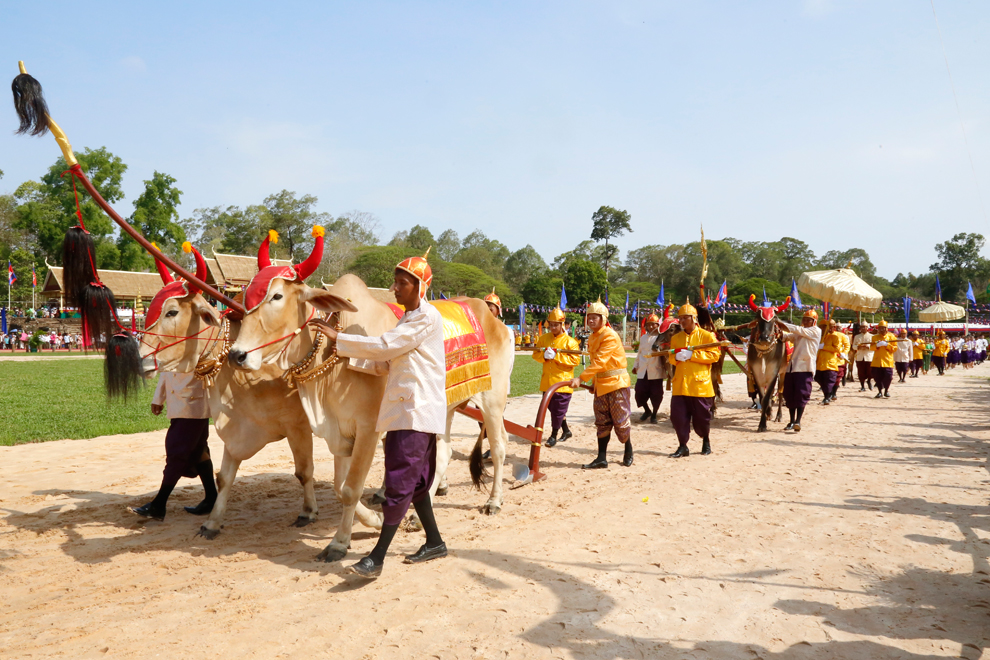 This year's Royal Ploughing Ceremony on May 22 will be held in Takeo for the first time since the Prince Norodom Sihanouk government was overthrown in a coup in 1970, with the provincial governor and his wife chosen by the King to perform the tilling and sowing rituals.
Chhin Ketana, secretary-general of the National Committee for Organising National and International Festivals, told The Post on Wednesday that Governor Ouch Phea had been chosen to perform the ploughing ritual.
"King Norodom Sihamoni will preside over the Royal Ploughing Ceremony this year at the stadium of Kirivong Sok Sen Chey football club in Takeo province's Donkeo town," Ketana said.
Last year the ceremony was held in Svay Rieng province. It had traditionally been held in Phnom Penh at Veal Mean, the park in front of the National Museum.
"I have just received information that the Royal Ploughing Ceremony this year will be held in Takeo province. My wife and I are very happy to be appointed by the King to perform the ploughing and sowing rituals, and we vow to make every effort to fulfil this duty well," Phea told The Post on Wednesday.
The Royal Ploughing Ceremony is held every year on a date set by Royal Palace astronomers.
As part of the ceremony, the royal cows are offered rice, corn, beans, sesame, grass, water and rice wine, with tradition dictating a bumper harvest for the foodstuff they eat the most of.
However, if the cows eat the grass, it will mean the outbreak of dangerous diseases, while if they drink rice wine, it will lead to social unrest. Drinking the water means there will be flooding due to heavy rains.