After maintaining a robust trade ties with Cambodia for almost a quarter century, Malaysian business community remains upbeat about the Kingdom's economic growth and wants to take bilateral relations to a new height.
The Malaysian Business Council of Cambodia (MBCC) that has been instrumental in cementing business ties between both countries since 1993, continues to see Cambodia as a potential trading partner, as the domestic economy flourishes under development-friendly investment policies.
The council's President Teh Sing said Malaysian companies operating in Cambodia have been part of the nation's growth story and are ready to share their expertise to further advance the economic progress of the country with over 15 million people.
The two-way relations of both the trading nations have stood the test of time and continue to thrive over the decades.
"MBCC is as old as the government of Cambodia, having been formed in 1993. That itself is a testament that Malaysia, be it the government or the private sector sees Cambodia as a strong ASEAN partner and sees Cambodia's potential, and wants to be a part of her new history," said Teh. 
He said MBCC is optimistic of Cambodia' growth under Prime Minister Hun Sen's leadership and aspires to assist more Malaysian businesses and impart best practices, while being a good role model for foreign businesses here through its contribution in business and community work.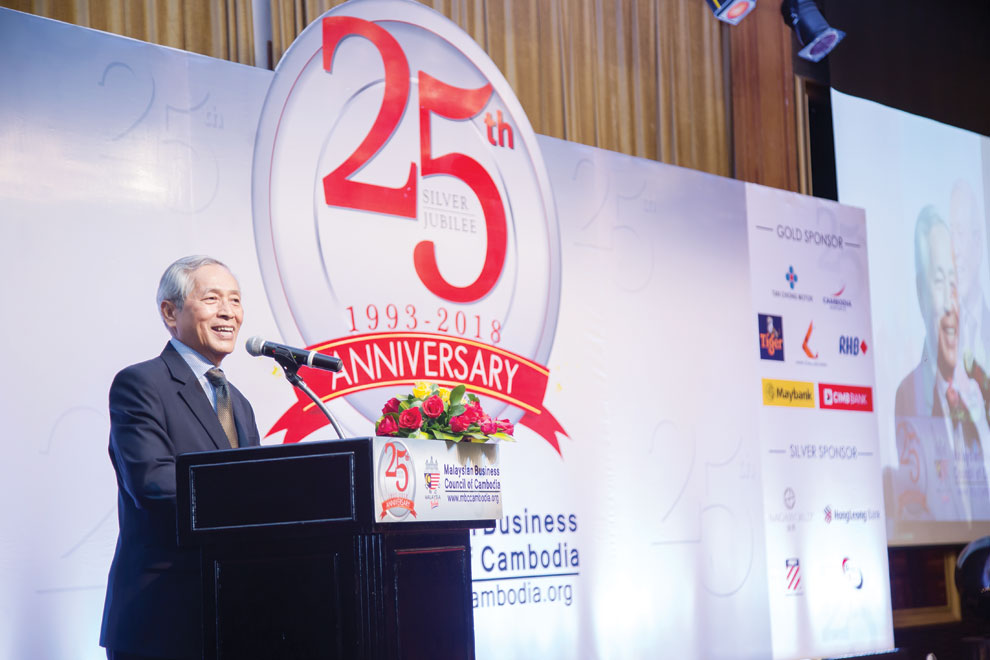 Nearly 200 guests from the business circle celebrated MBCC's 25th anniversary in Phnom Penh on September 29th.    
"Twenty five years is a very historic milestone for a company but even more meaningful for a business council like MBCC, which is run by volunteering members. 
"The business council and how the Malaysians run their businesses here demonstrates the 'Malaysia Boleh' spirit or translated as 'Malaysia Can', the unwavering spirit; not giving up and striving to achieve greatness, which the Malaysian business community hold dear to. 
"You can see it here because many of the Malaysian businesses are successful and making a positive impact in Cambodia," said Teh.
Malaysia-Cambodia trade relations have been on a positive trajectory, with trade volume growing steadfastly as Malaysia is now the Kingdom's 16th largest trading partner.
Last year, total trade between both nations touched $455.7 million, an increase of seven percent from the previous year. While, the total value of Malaysia's investments in Cambodia reached $3.39 billion until end of last year. 
Malaysian businesses in the Kingdom are very much diversified — banking, accounting and tax consultants, telecommunications, energy, manufacturing, food and beverage sector. 
In October this year, the World Bank projected that Cambodia's economic growth will hover around a healthy seven percent in 2018, largely driven by garment, travel goods, and footwear exports, and also tourism. 
Besides business, the Malaysian community has also been active in local community projects, improving the lives of many Cambodians through sustainable charity work and community services. 
"We share our experiences and knowledge from Malaysia and try to add value where we can," added Teh. 
In the past, the council's members have been active in various areas to improve and develop good business governance, trade and tax laws, and labour laws in Cambodia – mainly by participating in public-private sector forums, working groups, dialogues and talks organised by the government.