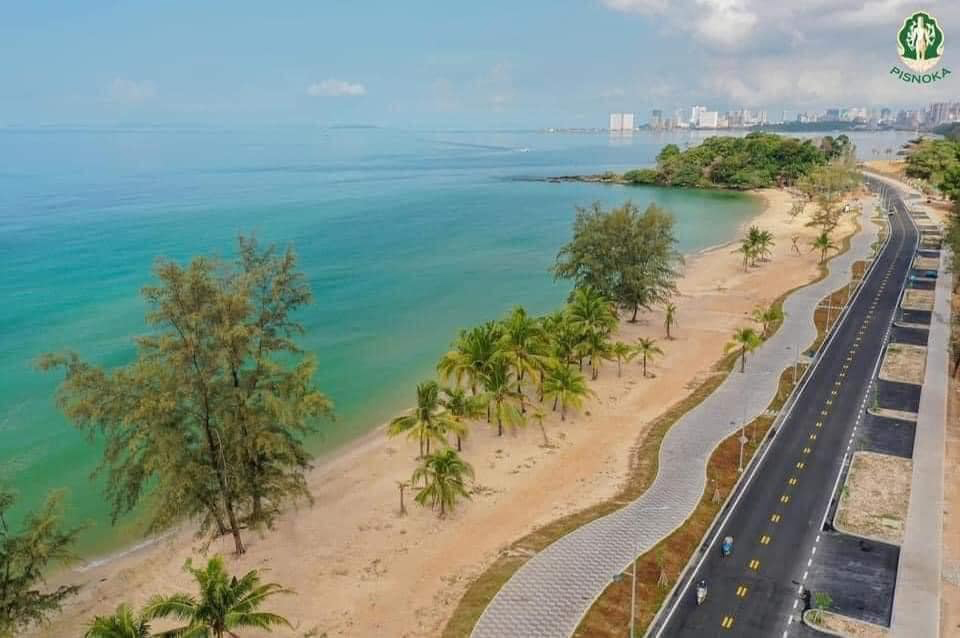 The global Covid-19 pandemic eroded land prices in Sihanoukville and Siem Reap town in 2020, while Phnom Penh managed a modest increase over 2019, according to a new research report by real estate company Key Real Estate Co Ltd.
At a presentation on the "Real Estate Market Updates during Covid-19" report, organised by the Cambodian Valuers and Estate Agents Association (CVEA) on May 20, Key Real Estate director Sorn Seap said the spread of Covid-19 had slowed the movement of international investors, leading to a slowdown in buying and selling activities last year.
Key Real Estate research found that as of end-2020, land prices in Sihanoukville and Siem Reap averaged $1,240 and $1,520 per square metre, down by 10.1 and 5.0 per cent from $1,380 and $1,600 at end-2019.
As a diversified business centre, the capital saw land prices average $2,110 per square metre at end-2020, up by 1.9 per cent year-on-year from $2,070. Average rates increased by 17.9 per cent in Dangkor district, 7.3 per cent in Sen Sok district, 6.5 per cent in Prek Pnov district, and remained flat in the central districts – Chamkarmon, Boeung Keng Kang, Daun Penh, Prampi Makara and Tuol Kork.
Seap said the drop in land prices seen in Sihanoukville and Siem Reap was "strongly linked" to the Covid-19 outbreak, which made it difficult for international investors, especially the Chinese, to travel to the Kingdom.
He voiced optimism, however, that the situation would improve soon, pointing out that Cambodia is working to promote economic growth, as well as domestic and foreign investment.
"Land prices in Cambodia will rise again by the end of 2021 or early 2022, because with good diplomatic and trade cooperation with major countries – especially evident in the establishment of Cambodia-China Free Trade Agreement – will make Cambodia a potential location to attract more investors after Covid-19 ends," Seap said.
The government has been allocating more fiscal resources toward infrastructure to provide the reliable, efficient and sustainable road networks that investors need to transport economic goods.
For example, the government broke ground on a $300 million project to build and upgrade 34 roads in Preah Sihanouk in November 2019 and is further developing the province as a model of sustainable development for the Kingdom's coastal areas and special economic zones.
A year later in November 2020, it broke ground on a similar $150 million project to construct and revamp 38 roads in Siem Reap province, measuring a total 108.74km.
CVEA president Chrek Soknim said the impact of the restrictions on international travel left a significant mark on the Cambodian real estate sector last year and in early 2021, noting that most investment comes from international sources.
He said, however, that there's been a significant increase in investment from local investors as of late.
With Covid-19 vaccination campaigns gaining steam in many countries, including Cambodia, Soknim expects the market to recover soon.
"Foreigners may start to invest in Cambodia in the next three or four months, but investment from locals is back to normal," he said.
Capital investment in the Kingdom's construction sector in the first nine months of last year fell 9.6 per cent to $5.868 billion from $6.494 billion in the same period in 2019, the Ministry of Land Management, Urban Planning and Construction reported.