Golden Land, the exhibition that opened last Sunday at Sangker Gallery in Battambang, is named for its roots in one of Cambodia's most fiercely contested resources: arable ground.
The paintings by artist Koeurm Kolab and her husband, Poy Chhunly, are intended to relay to viewers the specific plight of indigenous communities living in Ratanakkiri province.
At Sangker this week, the couple explained the roundabout route by which Golden Land had come to be. Last year, Chhunly said, they travelled to Ratanakkiri on the advice of Mok Rotha – the gallery's French-Cambodian founder.  
"He had the idea to find Van Gogh in Ratanakkiri," Chhunly said, elaborating that Rotha's vision was for them to apply the Dutch post-impressionist's distinctive stubby brushwork to the rolling hills of the mountainous province.
"But I said, 'no, we are artists, I want to do what I want'," he said smiling.
Instead, the inspiration that the couple found was of subject rather than style: both were appalled by the desperate situation of villagers who had sold the land they lived and worked on, seemingly under duress, to large companies.
The paintings, eight by Kolab and three by Chhunly, are sometimes literal: a woman tapping a tree for rubber, or crouched to sell bananas at the market. Others are figurative. One striking portrait by Kolab is of a hunched woman, her worries symbolised by houses tethered like balloons to the basket on her back.
Despite being made by two different artists, there is a striking visual unity to Golden Land. Both painters favour flat backgrounds – almost always in a golden yellow – with clearly outlined compositions in the foreground.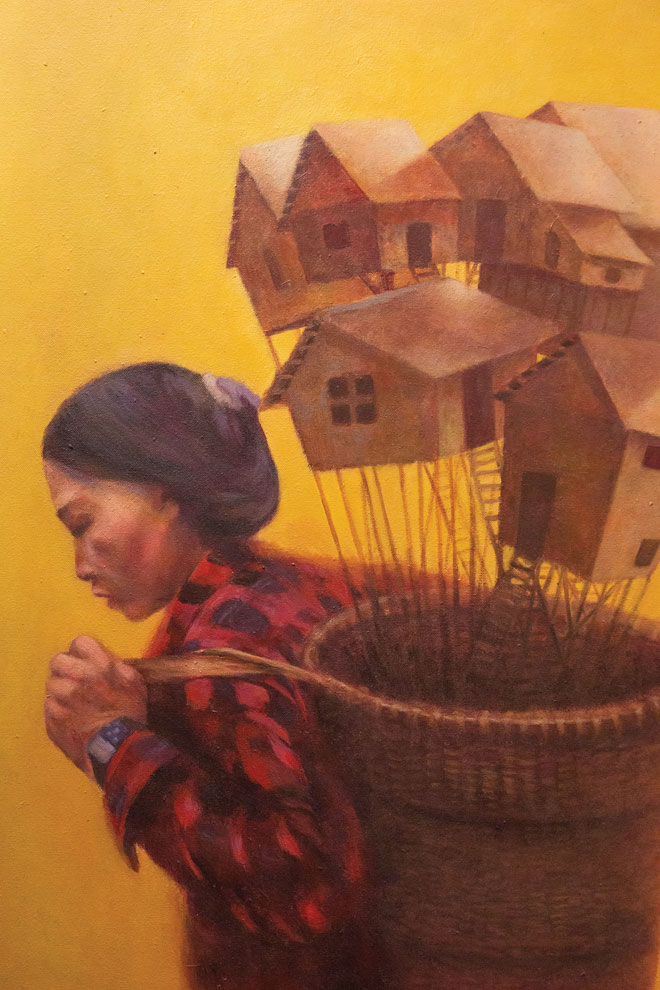 Similarities are perhaps to be expected. As well as being married, Chhunly and Kolab trained under the same teachers at Phare Ponleu Selpak and both make a living teaching animation.
The influence of their day job shows itself in the paintings' intentionally limited depth of field.
The difficulty of running a community-focussed art space in Battambang was highlighted recently by the announcement that Sammaki, mainstay of the local scene, was to close at the end of the month.
Laura Petit, general manager at Sangker, said that her gallery was shielded from some of the financial pressures because their founder Rotha paid rent and utilities for the space.
But Petit said that she understood the nearby gallery's plight: "Battambang is a great city for art, but I think buyers and collectors go to Phnom Penh, too, and not Battambang," she said.
She said she nonetheless had reason to believe that things were looking up, pointing out that some paintings from Golden Land have already been sold. The most unusual buyer for the new works, she said, was an employee of the Ministry of Defence.
Despite the politically sensitive nature of Golden Land, Petit didn't suggest any untoward motivations for the visit.
"It just seemed like the guy was really interested in art," she said. "He spoke French, made comparisons with different artists and then brought two paintings."
Golden Land is on at Battambang's Sangker Gallery, Street 1.5, until May 27
Contact PhnomPenh Post for full article
Post Media Co Ltd
The Elements Condominium, Level 7
Hun Sen Boulevard
Phum Tuol Roka III
Sangkat Chak Angre Krom, Khan Meanchey


12353

Phnom Penh




Cambodia



Tel: +855(0) 23 888 161 / 162
Fax: +855(0) 23 214 318