$1.50 or under
1. Meat skewers at Yee-aw Sok Sor. $0.60
Sach ko ang jakak, Cambodia's answer to Vietnamese banh mi, can be found in most of the city's markets. But one Street 51 vendor gets the recipe – beef skewers marinated in kroeung – just right. After soaking the slabs of meat in a spice mix made from lemon grass, turmeric and galangal, the ladies at Yee-aw Sok Sor ("white-haired grandma") toss them onto the grill and watch them sizzle. Serving is a DIY affair: fork the bright red meat into a crunchy baguette, add a dab of red chili and some papaya and carrot strips. Finally, enjoy the sandwich which, thanks to the drizzle of yellow ber made from butter, sugar and egg, is as sweet as it is juicy.
​​ #35 Street 51. 12pm-9pm
2. Kuy teav near Capitol Guesthouse. $1
Kuy teav, the Cambodian version of pho, is among the Kingdom's most common breakfasts. While finding it is easy, one of the best in Phnom Penh can be found down an unassuming alleyway a block north of the Capitol Guesthouse. Served in pork broth, the soup consists of thin rice noodles and spongy beef patties. A regular bowl should set you back a dollar.
Just north of the corner of Streets 111 and 198. 5:15am-10:30am
3. Roti canai at Mamak's Corner. $1
Tear into a roti canai at this Malaysian restaurant, which serves the snack with a bowl of creamy curry for $1. Add meat or egg for an extra $0.50 cents and you have yourself a meal. The mee goreng ($3.50) also comes highly recommended while the mee beehoon, a rice vermicelli noodle with your choice of seafood, chicken, veggies or egg ($3.50) is a dish big enough for two. At lunchtime a self-serve deal gives you a piece of meat (chicken or beef) and rice for $3.50.
#17 Street 114. 8am-7pm. 012 777 990
4. Spicy mee nhorm at Bong Lin's House. $1.25
Spicy Thai-style noodle dish with meat or vegetables priced at either $1.25 and $1.75 for small or big portions. Adjust the spice to your liking.
Street 130, Psar Kandal.
5. Dumplings at Chinese Noodle Restaurant. $1.50
A long-time favourite of back-packers and expatriates alike, pretty much everyone has heard of the Chinese Noodle Restaurant, but no cheap eats guide would be complete without it. The hearty pork and chive dumplings go down a treat at only $1.50 for a plate of 12, while the beef and hand-pulled noodle soup, $2 for a large bowl, is a reliable staple.
#553 Monivong Boulevard. 6am-10pm. 012 937 805
6. Bay kor dot at Central Market. $1.25
Arriving on a steaming hot plate, bay kor dot is a protein-lover's dream. Fried beef, chicken and egg are served up piping hot, sprinkled with onion. Priced at $1.25, including rice – and they deliver at no charge.
#49E Street 118 (corner of Street 61). 6am-2pm. 012 977 588/010 977 588
7. Mee kola at Mlop Mean Restaurant. $1.25
Famed Battambang special mee kola tastes as good at this Street 578 eatery as it does up north. The steamed noodle dish comes with boiled pork and egg, as well as carrot and cucumber pickle. Pick it up at Mlop Mean Restaurant for $1.25.
#10 Street 578. 4pm–9pm. 093 678 093/089 535 565
8. Khmer curry at Phsar Kabko Cafe. $1.25
Across the street from the bustle of Psar Kabko is a café that offers clean and flavoursome Cambodian dishes. Choose your main from an array of curries and stir fries on display at the front and mix with rice for about 5,000 riel. Every second day or so, the staff serve up an excellent tofu, chicken and morning glory variety but the chicken and beef are also solid choices.
Street 9 (opposite Psar Kabko)
9. Yakitori at Toritetsu. $1
For cheap Japanese food and cold beer, the best bet is Toritetsu's cold mugs of Angkor and grilled yakitori meat skewers. The juiciest meat on offer is the skewered grilled chicken skin ($1), although the grilled asparagus and bacon ($1.50) is a close second. A wide range of sake is also available.
#D186 E1 Street 302. 5pm-11pm. 023 214 762
10. Dosas at Dosa Corner. $1.50
Tuck into dosas at this South Indian venue, which offers a variety of fillings – from egg to onion to masala, accompanied by chutney and curry. Prices range from $1.50 to $3. Their masala (chicken $3, mutton $4.5) is also recommended. Best enjoyed with a mango lassi ($2).
#5 Street 51. 8am-2pm, 5pm-10pm. 012 673 276
11. Yao horn at Tbal Khmer. $1.25
Favoured by young Cambodians, Tbal Khmer's yao horn is a spicy orange hot pot packed with garlic, galangal root and chili. Customers throw in vegetables and meat including seafood, beef and pork.
#40B&C Street 432, behind Tuol Tompong pagoda.
12. Dumplings at Zepplin. $1.50
The plates of dumplings at Zepplin – also known as the Rock Bar – on Street 51 are famously delish. Whether that is because the diners have been indulging the bar's also famously cheap booze has not been independently verified.
#9c Street 51. 6:30pm-4am. 012 881 181
$3 or under
13. Barbecue pork roll at Sonoma Hoagies. $2
The best bahn mi you can get without catching a bus over the border. The crispy baguettes at Sonoma Hoagies come with a choice of barbecue pork, ham, chicken, beef or meat balls (all $2 except beef and grilled pork, $2.50) are delicious, stuffed full of daikon and carrot pickle, cucumber, special butter/mayo sauce, shredded chilli and topped off with a few coriander stems. Fresh and tasty, one is enough for most appetites and two will stuff even the hungriest. Street 51 (at Golden Soriya Mall). 8am-9pm. 077 207 236
14. Beef pho at Special Pho. $2.50
There are so many pho restaurants in Phnom Penh, everyone seems to have their favourite, but Special Pho near Riverside is a safe, reliable choice and easy to find. Their broth is full-flavoured, herbs fresh and condiments varied and numerous.
#11 Street 178. 8am-9pm
15. Tamarind beef at Warung Bali. $3
Just off the riverside in a nondescript shophouse is the capital's best blink-and-you'll-miss-it Indonesian restaurant. As the name suggests, the restaurant specialises in traditional Balinese dishes, although pork, a favourite in Hindu-majority Bali, has been substituted with beef to make the food halal. Among Warung Bali's best offerings is daging bumbu bali – slices of beef with a spicy tamarind marinade ($3).
#25 Eo Street 178. 8am-3pm, 5pm-9pm. 012 967 480
16. Whole salt-grilled fish at Russian market. $3
Snacking on the whole fish served at Russian market, the Post wrote a few years back, is "more than a meal – it's a culinary experience". It holds true today, though much has changed in the evolving neighbourhood. At sundown each evening, on one stretch adjacent to the market, plastic seats start filling and grills sizzle with squid, prawns, stingray and clams. Best are the whole fish, slathered in salt and cooked with lemon grass ($3).
Street 450. From 5pm.
17. Crispy golden tofu at The Vegetarian. $2.75
Not just for vegetarians. Of particular note is the crispy golden tofu with mushroom sauce ($2.75) – the softly roasted soya doesn't try to be anything it isn't, but still manages to pack a hearty, protein-rich meal with the savoury flavours of the sauce.
#158 Street 19, 10:30am-8:30pm. 012 905 766
18. Relax Cafe lunch buffet. $2.50
Where office workers in the nearby Phnom Penh Centre come for downtime. Stand in line and pile your plate with fresh fish, mango salad, Khmer curry and more in a school-cafeteria-style setting that thankfully doesn't extend to the taste of the food. Get in early, because dessert (often a sweet and creamy pumpkin rice pudding) tends to runs out.
Phnom Penh Center, Sothearos Blvd, corner of Sihanouk. Lunch buffet runs Monday to Friday, 12pm–2pm. 067 757 677
19. Chicken salad at Eleven One Kitchen. $2.50
Eleven One used to be one of the hidden gems of the Russian Market area; a little converted shophouse serving fresh, good quality Cambodian food at an affordable price. They've since moved into larger premises in a more prominent location – just down the road from Alma and Brooklyn Pizza – but the food is still good and cheap. Most menu items come in at less than $5, but a standout is the $2.50 chicken salad – grilled chicken, carrot, capsicum, purple cabbage and basil leaves – which manages to be substantial but still light and healthy.
#37 Street 123 corner 460. 7am–10pm. 086 619 111
20.Singaporean chicken at Barn Barn. $3
This humble restaurant dishes up all your regional favourites, from Cantonese rice porridge (chicken, fish or beef – $2) to Pad Thai (chicken or pork – $2.50) to their specialty the Singaporean chicken ($3). Covered in a sweet but tangy barbecue sauce, the chicken is so soft and juicy watch out or it may just slip out of your fingers.
#79A, Street 174454. Open Monday to Saturday, 8am-5pm
21. Satay chicken at Asian Spice Café. $2.80
Serving a mixture of mostly Singaporean/Malaysian dishes, the Asian Spice Cafe is well-known for its good value food, yet is rarely busy. Favourite dishes include the satay chicken and the broccoli stirfry, both $2.80.
#79 Street 111. 6:30am- 9:30pm. 012237113.
22. Buffalo meat near Wat Botum. $2.50
A beloved Cambodian beer snack. Strips of beef are served at several joints on Street 19, near the cross-section with Street 240. The chewy meat is served with dried lemon grass and a sugary vinegar sauce and is best washed down with a cold Angkor. $2.50 for four strips.
Street 19 near St 240. From 5pm
23. Hotdogs at Midnight Train. $2.50
Appropriately located across the street from Pontoon, the Midnight Train food truck caters to the Street 51 punters on the hunt for a drunken grease fix. The affable proprietor, who is known alternatively by his customers as "Dr Burger" or "Hot Dog Guy", serves cheap, well-prepared hotdogs covered in the sort of condiments you'd find at the stall's New York counterparts.
Street 172, across from Pontoon Club. Open from 9pm-sunrise. 012 728 638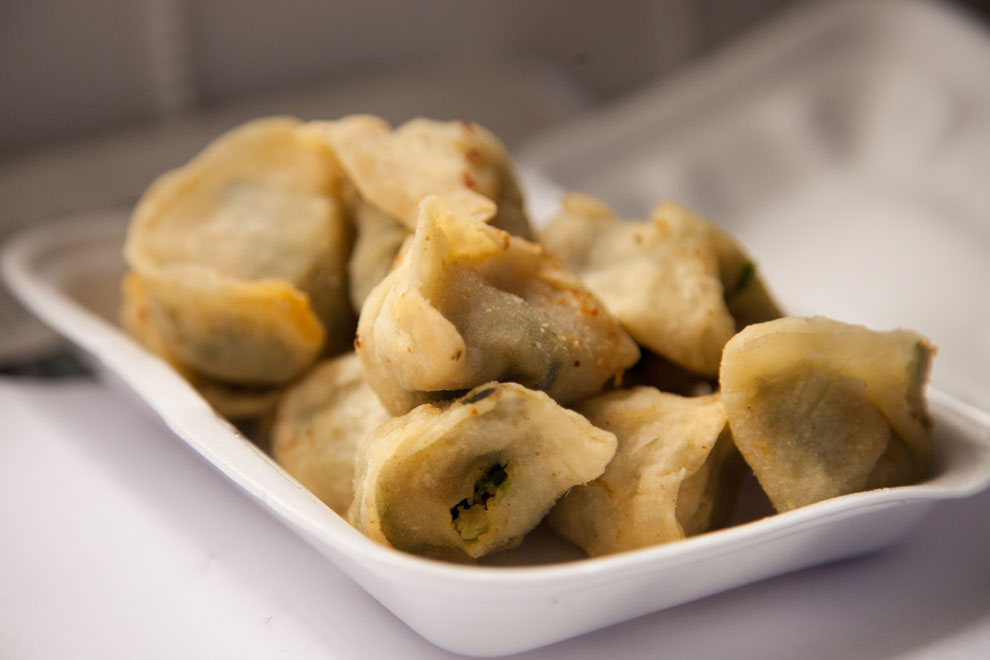 24. Burmese lunch set at Irrawaddy $2.50
As the only Burmese eatery in town, Irrawaddy on Street 334 has the market cornered. The restaurant is a simple, laid-back affair, set inside an art gallery decked out with paintings of idyllic rural scenes. The main dishes are reasonably priced (between $2 to $5) but nab the $2.50 lunch special for the best value. The menu changes daily and always includes a main dish – look out for the spicy cat fish and prawn curry – as well as soup and a miniature salad. Particularly recommended among the latter are the crunchy long bean and, for the more adventurous, the pungent fermented tealeaf salads. The staff brings out a little plate of fruit for dessert, but don't leave before washing it all down with a steaming mug of milky, sweet Burmese tea.
#24 Street 334. 10am-9pm. 0 12 936 786
25. Pad Thai at Boat Noodle on Street 63. $2.50
The smaller sister restaurant of the famous Sothearos Boulevard restaurant provides the same Thai cuisine menu at a lower price. The Pad Thai is among the best at any restaurant in the city, and, at $2.50 for a plate, it some of the cheapest too. Other cuisines, such as Cambodian and Vietnamese, also make an appearance on the menu.
Corner of Streets 63 and 288. 8am- 10pm. 12 774 287
26. Fried chicken at Malaman. $2
Satisfy all your deep fried cravings with some of the best fried chicken in town. Malaman serve it in a variety of forms: with salad ($2), in a sandwich ($3), with curry ($5) or the set ($5). Also dish up an array of non-chicken Japanese curries, hot and cold snacks and dumplings ($2.5).
#128A Street 19. 10am–10pm. 078 646 524
$5 or under
27. Burger at Brown. $3.95
The Brown Roastery on Street 57, or "Mega Brown", is a vast, two-level affair with enough seating for an orchestra. But the largeness of the places belies the modest portions of its food. Take the Brown Burger, which is somewhere on the size scale between a slider and a Big Mac. With a mushroom as one of the toppings, and a tiny container of crispy fries to go with it, the burger is perfect for those who want to indulge, but indulge modestly. At $3.95, it's fast food you can live with.
Brown Café, Street 57 corner Street 294.
28. Chicken rendang at Padang House. $3.50
New in town, the friendly owners of this Indonesian go big on hospitality and spice. Their chicken rendang ($3.50) comes with a hefty kick, but if that's not enough, there's sambal sauce on the side.
Next to Himawari Hotel, #313 Sisowath Quay. 10am-8.30pm
29. Pasta at The Willow. $3.50
Pasta dishes don't often come cheap in Phnom Penh but on Thursdays you can satisfy your hankering for the Italian staple at the Willow Boutique Hotel for only $3.50 a plate. A couple of different dishes are offered each week along with salads and desserts.
The Willow, #1 Street 21. 092 553743.
30. Sandwiches at Grab and Go. $3.75
Cheap, quick and hardy, Grab & Go allows customers to customise their sandwiches however they want. Fancy a chicken shawarma? How about a beef burger? Or perhaps a chicken bagel smothered in barbecue sauce? All chicken sandwiches are $3.75, while beef dishes are $4.75. The chef, who comes from Iran, boasts of the "secret" marinade she uses in all her meats with traditional Persian spices.
#23 A, Street 57. 9am-10pm. 086 300 066
31. Phat Krapao with rice and egg at Tom Yung Kung. $3.50
Phat Krapao – holy basil stir fry – is one of the simplest and most delicious classic Thai dishes, and teamed with a fried egg and rice makes for a satisfying meal any time of day. Tom Yung Kung's version is as authentic as you could hope for, with a perfect balance of sweet, hot, salty and sour flavours and is one of Phnom Penh's best value dishes at only $3.50. The restaurant is always busy with plenty of Thai faces in the mix – which is a good sign – but never so full you can't get your fix. Other tasty dishes are the som tam ($1.50) and panang curry ($3). With Ayuthaya, which featured on last year's Cheap Eats list, closed down, Tom Yung Kung is our pick for cheap, tasty Thai food in Phnom Penh. They also do delivery for 2,000 riel.
#10 Street 278. 7am–10pm. 023 720 234
32. Beef noodles at Yi Sang. $3.80
Don't let appearances fool you: despite its ritzy atmosphere and the fact it is owned by one of Cambodia's most renowned chefs, Luu Meng, Yi Sang does not break the bank. The pan-fried flat noodles with beef ($3.80) has many of the flavours of the cheap Chinese noodle eateries along Monivong but without the greasiness. A vast array of dim sum is on offer as well, including steamed pork dumplings with veggies ($2.80) and crispy seafood spring rolls ($3).
Corner of Streets 278 and 63. 6am-9pm. 023 221 522
33. Eggplant and pork at Street 63 Restaurant. $3.50
Eggplant and minced pork is a common Cambodian dish – you can get a plate with rice for about $1 from plenty of places around the city – but the famously budget-friendly Street 63 Restaurant's sweet and smoky version ($3.50) is particularly good, with the pork actually served in a scooped out roasted eggplant. For something hotter, try the char kdao spicy chicken with heaps of ginger.
#179EO Street 63. 11am–12am. 015647062.
34. Pork and egg rice at The Asian Kitchen. $3.20
An eggy bowl of rice with pork is a snatch at $3.20 at The Asian Kitchen, a Singaporean joint now at Aeon Mall.
#335 Monivong Blvd and on the second floor of Aeon Mall. 7am–10pm. 093 330 000
35. Bibimbap at Bayon Korean restaurant. $4
More than one person urged us not to include Bayon Korean in this list. It's a small, quiet, innocuous little place normally empty apart from a couple of weathered older guys sitting in the back smoking cigarettes while a television on the wall shows Korean cable news. You could easily think you were visiting a mom and pop eatery in a Seoul back alley. The menu item we can't go past is the bibimbap (mixed rice): a big bowl of chopped lettuce, minced pork, salad and vegetables, over warm white rice and with a fried egg on top. Once you get it you stir it up and dig in. It's served with four types of kimchi and makes for a filling meal that leaves you satisfied rather than bloated.
#68 Street 111. 097 791 5785
36. Lunch set at Himajin. $5
Himajin, the name of the Japanese restaurant on Street 200, translates to "man of leisure". It's an apt moniker for the dimly lit smoking restaurant, which with its cozy benches and businessmen lingering by the bar over newspapers, invites long lunches and cock-eyed evenings. The $5 lunch set gets you a hearty bowl of miso soup, a side plate of tofu, rice and a main - anything from smoked mackerel to barbecued chicken. Ask for the room at the back for the ultimate conspiratorial atmosphere.
Himajin #131 Street 200. 11.30am–2pm, 5.30pm–10pm. 023 214 641
37. Gumbo cup at Lone Pine $3.75
A newcomer to the Phnom Penh restaurant scene, the Lone Pine Cafe has quickly developed a reputation for hearty regional cuisine from all over the US. A highlight of the menu is also one of the few items that comes in under the $5 mark, the gumbo cup ($3.75), a Louisiana stew with hunks of chicken and flavoursome andouille sausage.
#14 Street 282. 078 949 398
38. Pork kimchi lunch set at Yakiniku Garden Shiki. $3.50
Yakiniku Garden Shiki's substantial lunch sets (available 11:30am until 2pm) come with rice, shredded cabbage, a small soup and an iced coffee and are only $3.50. You'll be waddling back to work. Our favourite is the deliciously spicy kimchi with pork belly.
#24 Street 294. 023 223 018
39. Calzones at Nike Pizza House. $3.50
Your new hangover cure. To fix up a morning of doom – or for a case of late night craving – there's nothing like a deep-fried blue cheese Calzone from Nike Pizza House. These juicy beasts are all crunchy goodness on the outside and oozy in the middle. Order them baked instead of fried for a slightly less guilty pleasure. Vegetarian options are priced at $3.50, while the addition of pepperoni or ham will bring it up to $4. The generous servings of pastas (about $3.50) are equally good value, especially the fluffy but firm gnocchi – they must be using the right potatoes.
#21 Street 282. 9am-11pm. 012250295
40. Noodles at Mama Wong $3.50
It didn't take Mama Wong, which opened at the start of this year, long to become one of those well-loved dinner spots that rolls off the tongue on an evening. Wong's tonight? Can't go Wong. The main reason to stop by the upcoming Street 308 'hood – other than the squillions of new hipster bars – is for Wong's hand-pulled noodles, made fresh on site as you watch. Order them served in soup stir fried or cold tossed with pork, chicken or beef. Simple, comforting stuff.
#41 Street 308. 9am-11pm. 0978508303
41. Banh xeo at Magnolia. $3.50
The banh xeo (Vietnamese stuffed pancakes) at Magnolia are enormous – the crispy yellow edges hang off your plate, with the centre stuffed to bulging with bean sprouts and minced meat or seafood. And they come served with a plate brimming with salad leaves and fresh herbs. Price varies with choice of filling, but the straight pork ($3.50) is our favourite.
#55 Street 51 and #253 Street 63. 6am-midnight. 012 529 977
42. Burrito at Alma. $4
For homemade Mexican, Alma has your breakfast and lunch needs covered. Whether you are hankering for a breakfast burrito stuffed with scrambled eggs, beans and chorizo ($4) or are in need of a filling lunch, menu changes daily ($5). The best thing about this place – aside from the bottomless aguas frescas ($1) and delicious cakes ($2) – is the changing menu, best to check Facebook to see what is cooking.
#43 Street 123/454. 8am-2pm. Closed Tuesday. 092 424 903.
43. Subs at Fatboy $3.75
The closest you'll find in Cambodia to a Subway sandwich shop, Fatboy provides the capital with its fix of decadently greasy subs. The six-inch bacon and tuna sandwich ($3.75) is plenty to settle even the most gluttonous appetites. Choose your bread, sauces, cheese and veggies and you're set. Add $1 for extra cheese or bacon.
#124 Street 130. 11am-10pm, 2pm-9pm on Sundays. 023 991 430
44. Pizza at Pizza Pram. $5
Still one of the best places to get late-night pizza. It's not the most sophisticated you'll ever eat, but the bases are thin and crispy and the toppings light – so you won't wake up with too much regret. That's unless you go for one of the many unusual options – amok chicken, croc pizza – the results of which are not guaranteed.
#81 Street 130. 12pm-12am. 067 890 005 or 016 435 126.
45. Superfoods salad at ARTillery. $5
Maybe we're suckers for a wholesome-sounding name, but this cracking ensemble sure makes healthy eating seem easy. With heaps of greens including baby spinach and salad leaves, as well as lentils, chickpeas, cherry tomatoes, almonds, raisins, dates and a drizzle of sharp lime dressing, the Superfoods has most of the bases covered on your way to five-a-day. Pair with a Vitamin Vitaliser smoothie for extra health cred. Special mention to the herb falafel plate.
Street 240 and a half. 7.30am- 9.30pm. 078 985 530
46. Spring onion pancakes with eggplant mash at Jiang Ren Su Jia. $4
After a few visits to this amazing, cheap Chinese joint, we came up with what we call the "Chinese taco". Take a delish deep-fried spring onion pancake ($1.50) wrap it around a couple of spoonfuls of mushy eggplant mash ($2) and shove it in your face. Smashing.
#246E0 Monivong Boulevard. 011 435 669
47. Eggs with chorizo at Latin Quarter. $4.20
For a Spanish twist on breakfast, try the eggs at Latin Quarter. The chefs, who hail from Spain and Colombia, serve poached eggs on top of fried diced potatoes and chorizo slices. Although designed as tapas, the dish can adequately feed one person for a light meal. Also on offer is the Spanish omelette for $3.
Corner of Streets 178 and 19. 093 319 081
48. Coconut beef at Duong Kraob Restaurant. $5
Beef doesn't get much better than this: cooked in a whole coconut. Turn up in the evenings and you'll spot the place – it's usually crowded out.
Street 99 near corner with 101. Open from 5pm
49. Lasagne at Jars of Clay. $5
Selling baked goods of all kinds – from pre-prepared meat pies to cakes, brownies and slices – Jars of Clay is a pasty paradise. A vegetarian or meat lasagne ($5) comes stacked high and with a generous portion of salad on the side. #39b Street 155. 7.30am-9pm Monday to Saturday. 012 800 160
50. Udon noodles at Iyo Udon (Sanuki Kamaage Udon). $5
We've heard good things about the sushi, but the enormous bowls of chewy, flavourful noodles at Sanuki Kamaage Udon at the Japanese food court in Aeon Mall are a great bang for your riel. Try the $5 large Niku Udon, a salty and savoury collection of noodles, seasoned beef, chives and small bits of onion, all dropped in a steaming broth. For the less starving, the "regular" is only $4, and not much smaller. With $1 leftover, you can purchase one of many tempura choices, including pork and asparagus.
Second floor, Aeon Mall, #132 Sothearos Boulevard.
Contact PhnomPenh Post for full article
Post Media Co Ltd
The Elements Condominium, Level 7
Hun Sen Boulevard
Phum Tuol Roka III
Sangkat Chak Angre Krom, Khan Meanchey


12353

Phnom Penh




Cambodia



Tel: +855(0) 23 888 161 / 162
Fax: +855(0) 23 214 318